For many sports fans getting on the jumbotron is the ultimate sports fan goal.
Alyx Delaloye accomplished that goal when she was only seven years old and in the process, she captured the hearts of many. What transpired after her first appearance on the jumbotron at a Winnipeg Jets hockey game will bring a smile to your face.
In July 2014 Alyx was diagnosed with leukemia.
The diagnosis was tough on Alyx's family, and what made it even more difficult was the 100-mile drive her mother Jody Delaloye would make several times a week in order for Alyx to receive treatment.
"We've had a pretty rough few months," Jody told Virgin Radio in 2015. "You just never think your kid will be the one with cancer."
After receiving the devastating news, the little girl's uncle organized an event where she won tickets that had been donated to a Winnipeg Jets game.
Shortly after her diagnosis, she attended a hockey game with a homemade sign.
Alyx received permission to attend the hockey game and showed up to the February matchup with a sign that read, "Chemo by day…. Jets fan by night."
Her sign caught a lot of people's attention. In fact it was so popular she ended up on the jumbotron and received a round of applause from the crowd and players.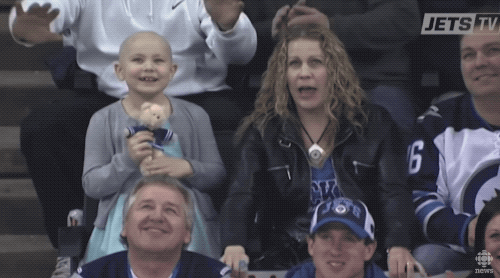 "Just seeing her on the big screen and the smile on her face, she was so excited and it was just nice seeing her smile through all these rough times," her mother told Global News.
The Jets invited her to another game a few days later.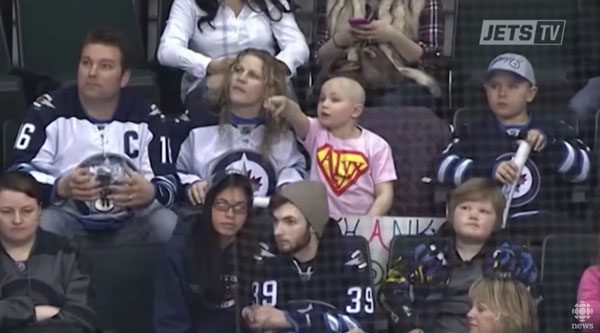 When Alyx and her family attended a second Jets game, the 7-year-old girl was prepared for an appearance on the jumbotron with yet another sign. This time it read, "Thank you everyone!"
She wanted to thank the strangers who donated $17,000 after a radio station organized a fundraiser to help her family.
But that wasn't the most heartwarming moment that was captured on camera.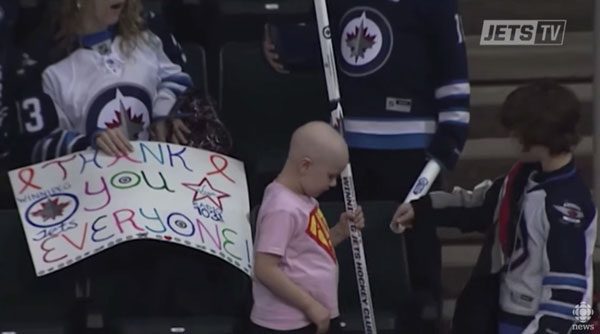 At the end of the game Keaton Hamin, a 9-year-old boy won a signed hockey stick. He was excited, especially since his sister had been a previous winner.
Alyx, who was sitting a few rows behind Keaton, went down to take a look at the boy's prize. After admiring it for a moment, she went back to her family.
Keaton followed Alyx back to her seat after she took a look at his prize.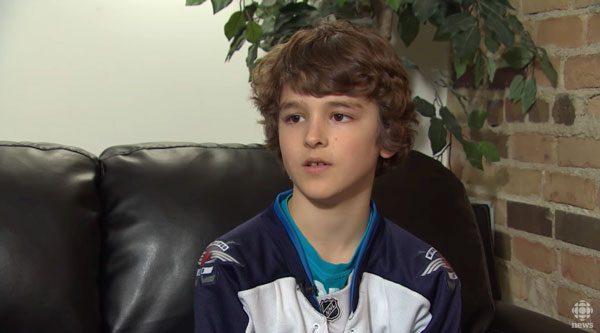 Despite being the proud new owner of a signed hockey stick, Keaton decided Alyx deserved it more than he did.
"Right away my instinct knew I had to give it to Alyx," the 9-year-old told CBC News in March 2015.
"Oh Dad, I felt so good inside after I did that," his father, Ken Hamin, recalled Keaton telling him after he handed over the stick.
Alyx continued to receive support from the Winnipeg Jets during her battle with cancer.
Alex Delaloye and her brother Hayden handed out 'Super Alyx' T-Shirts to the #NHLJets when the family met the team. pic.twitter.com/AHx49oNDqm

— Josh Crabb (@JoshRCrabb) March 2, 2015
Following Keaton's kind gesture, the two children attended a game together where the 9-year-old received another hockey stick as a thank you. He was speechless.
Several players even showed up to her last treatment.
Nearly two years after Alyx first made her way into the hearts of many hockey players and fans, she still had the support of many.
On the day of her final treatment for leukemia, several Winnipeg Jets players showed up to surprise Alyx.
"It's a really unbelievable how many people actually care about my daughter, who they never met and they don't even know who she is," Jody said. "It's just amazing that that many people will look out for her, care for her and just pray for her. It means the world to me and my whole family."
Alyx was declared cancer-free in late 2016.