School English teacher Bonnie Davis from Richmond, Virginia, was born to a 15-year-old mother, and was given up for adoption not too long after.
Because of this, Davis never knew her real mother, or any of her biological family members. By the time she turned 50 years old, and her adoptive parents had passed away, she was still trying to look for her birth mother, or any clues to her family tree.
Davis turned to the internet to help her find her biological family.

Davis tried using Ancestry.com to find her family tree. The website gives you an option to use your DNA to find any potential family members that match it.
Three weeks after she submitted her DNA for analysis, she received a text saying how her DNA had matched with over 300 people that could be her cousins. This was the first hint she had ever received that she could maybe one day find her family.
After contacting some of her potential cousins, one of them gave Davis a call she had been waiting years to get.
The cousin told her that she might know who her mother is.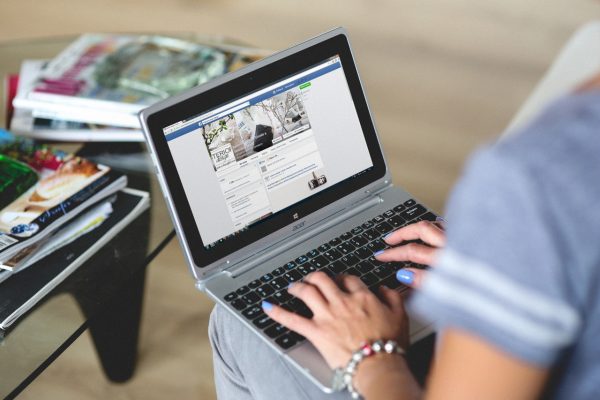 Davis took the information and went on to Facebook to try and search for her mother. The name she was given was Sheila Richardson.
She found her—and taking a deep breath, she reached out to her.
"I sent her a text message and it said, 'You are a very beautiful lady. I don't want to scare you, but look at these pictures and tell me what you think," she told CBS6 News.
Davis was in church the next day when she got a reply. Overcome with excitement, she rushed out of church in the middle of the service and immediately called her mother.
They both broke down in tears over the phone upon realizing they had found each other.
A six-hour drive to South Carolina later, and Davis was finally reunited with her birth mother, Sheila.

Richardson had also tried to find her daughter, but without luck.
"I tried to search when I was younger after I was grown enough to make that search but the doors were closed, her birth records were sealed they wouldn't divulge any information," said Richardson. "I didn't think it would ever happen I didn't think it was possible," she told CBS6 News.
She promised her daughter, "If I don't live one more day I'm going to spend it loving the hell out of you."
She had always had her son—and Davis's biological brother—Courtney, to take care of her, but Davis swore to her that it was her turn to take care of her now.
Courtney was just as excited to find his sister. "I'm overjoyed that one she's been found and we're together, we're complete, mom is complete," he told CBS6 News.
Richardson also revealed that Davis's original name was Latonya Dean, and that the adoptive parents changed it to Bonnie.

The reunion looked to be everything that the both of them had wanted for decades.
Davis decided to get her named changed back to Latonya Dean, showing just how much she cherished finding her birth mother.
Not long after, she drove to Fort Washington, Maryland, to meet some of her new extended family in an emotional reunion.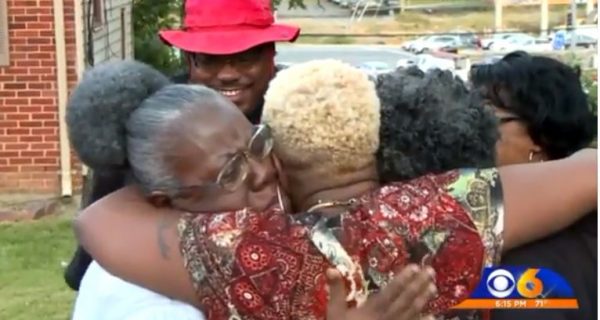 Finding her family now is all the more special, as she plans to get married next year and thought she'd have few people to attend the wedding. Now the venue will be full!
But that wasn't the end of the story … she asked her mom about her dad.
"Your dad is dead," her mother explained, according to CBS 6 News.
As a 15-year-old girl, Richardson had been abused by an older man. She had assumed he was the father of Latonya.
She also had a sweetheart at the time, John Bowling.
But then a relative of Bowling's saw a photograph of Davis and immediately recognized the family resemblance.
Richardson got in touch with 76-year-old Bowling, who lives in Kentucky, and he was delighted to hear from her. He willingly submitted a DNA test to Ancestry.com and they anxiously waited for the results.
Bowling was her dad!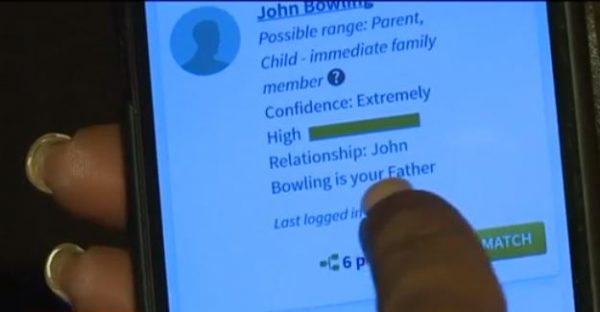 "As soon as I hit the button I saw his name and I just started screaming," Davis told CBS 6 News.
She video-called her father and the both immediately saw the resemblance. She found out she had another three sisters and eight brothers.
"In a matter of less than 90 days, I've gone from me and my 3 children to me, mom, grandma, dad, sisters, brothers, aunts and uncles," said Davis.
"To find mommy was beautiful enough but to find daddy and know I have all of these siblings. I feel so whole and complete."
Richmond teacher meets family for first time

There was a lot of hugging, a lot of tears, and a ton of happiness at a family reunion in Maryland on Saturday evening. However, for Richmond teacher Bonnie Davis, now going by her birth name, Latonya Dea, it was more than a reunion.She met her birth family for the first time: Story ==> http://via.wtvr.com/o6p2G

Posted by WTVR CBS 6 News on Tuesday, October 3, 2017