Chef Dan Kirsh is a man known for his French toast. The popular brunch dish at his Upper West Side restaurant draws a line of hungry New Yorkers on weekends. And he cooks up not just one version: The tender, moist milk bread, fried to a pale golden yellow with none of those usual burn spots, is versatility itself. It's paired with anything from lobster, lemon butter, and tarragon to chocolate and peanut butter.
His latest foray, though, takes him from brunch to dinner service, from the business of eggs, milk, and flour to a vibrant palette of vegetables.
In some of the most interesting dishes on the new dinner menu, Kirsh channels touches from his native Israel, where he owns a restaurant in Jerusalem that's open 24 hours a day, seven days a week, called Zuni.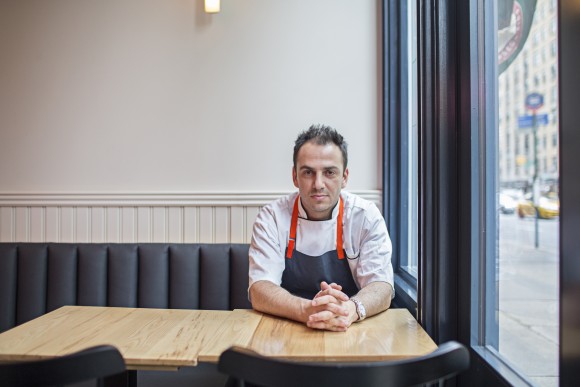 A deep appreciation of nature's bounty goes hand in hand with understanding its very ephemerality. "A season is a season," Kirsh said. Once the season for a vegetable or fruit is over, you won't see it again until the following year—unless, that is, you preserve them.
And so, Kirsh pickles and confits his way around various dishes, to good effect. On the dinner menu, he offers, for example, a superlative eggplant dish ($12), its smokiness balanced out by a silky garlic aioli made with sour cream (using sour cream was initially a kitchen mistake, he explained, but "a nice mistake") and a confit of tomatoes. The confit process, which involves soaking the tomatoes overnight in a bit of balsamic vinegar and brown sugar and then cooking them in the oven for hours, elevates the tomatoes' sweetness. The whole dish, finished with a generous drizzle of olive oil, is a velvety delight, with flavors in harmonious balance.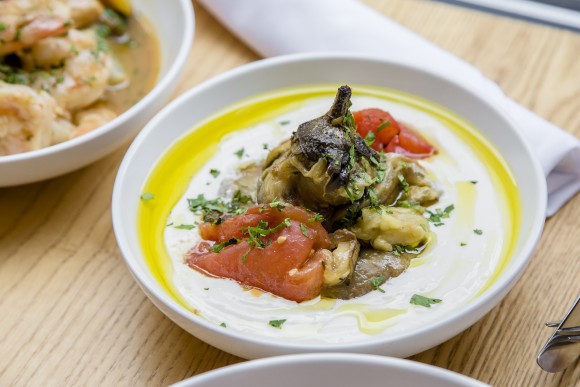 Much more mouth-puckering are the lemon pickles he adds on the side of the Sautéed Wild Shrimp & Artichokes dish ($17). Garlic gets a confit treatment—in this case, to bring out its sweet, mellow side. The lemon slices, whose skins have been tempered in the pickling process, can be eaten whole, bringing acidity and saltiness together in a bite that also contrasts with the sweet shrimp and earthy artichoke. This lemon may be too much for some, but for Kirsh, it's a taste that's common in Israel.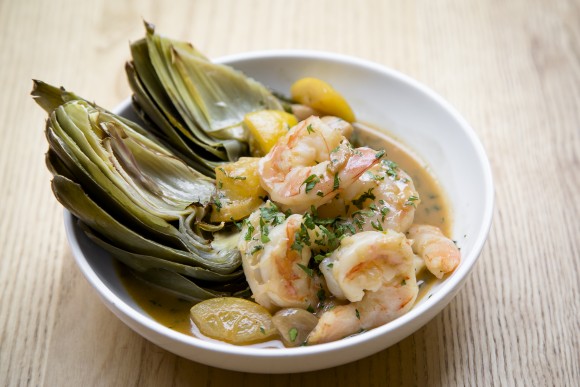 For a mild, fresh veggie option, you can also try the Raw Root Vegetables & Gorgonzola dish ($16). Winter would typically call for roasted or braised roots, but when they're eaten raw, with the addition of some champagne vinegar, hazelnut oil, gorgonzola, and honey, they make a delicately flavored salad with a pleasant crunch—hinting of the spring season to come.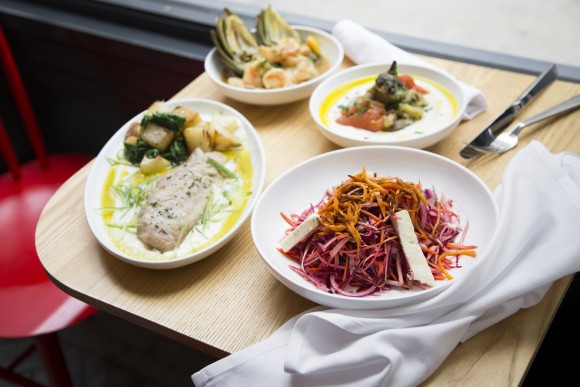 How to Make Pickled Lemons
For those curious about making pickled lemons at home, it's an easy endeavor. Chef Dan Kirsh's instructions are to take a whole lemon, wash it, and then give it two perpendicular cuts from the top or the bottom, but not all the way through, "like a flower." In each opening, where the cuts meet, add two tablespoons of kosher salt. Fill a sanitized glass jar with the lemons that you've cut and salted, making sure to squeeze them tightly into the container. Then, fill the jar halfway with fresh lemon juice. Wait two weeks and your pickled lemons are ready, though you can also let them pickle for up to three months.
Kirsh Bakery & Kitchen
551 Amsterdam Ave. (near West 87th Street)
Upper West Side
212-951-1123
Kirsh.nyc
Hours
Daily, 7 a.m.–11 p.m.