Erin Bratton, from Phoenix, Arizona, has a long history with the Phoenix Children's Hospital. It's where she was born—six weeks premature, requiring a stay in the newborn intensive care unit.

And it's where, only four years later, she received life-changing news. Her parents brought her to a doctor thinking there was something wrong with her hand muscles. But after examination at the hospital, doctors discovered it was a symptom of something much worse:
She had a "golf ball sized brain tumor."
"[It] lit up like a Christmas tree," Bratton told KSAZ. "You normally find that type of tumor in adults."

The hospital saved her life by removing the tumor—but the surgery still left a devastating side effect: her entire right side was now paralyzed, and she couldn't speak or walk.
Doctors were doubtful she ever would again.
It was heartbreaking news—but Bratton didn't believe it. She refused to accept that as her fate, and remained determined to walk again.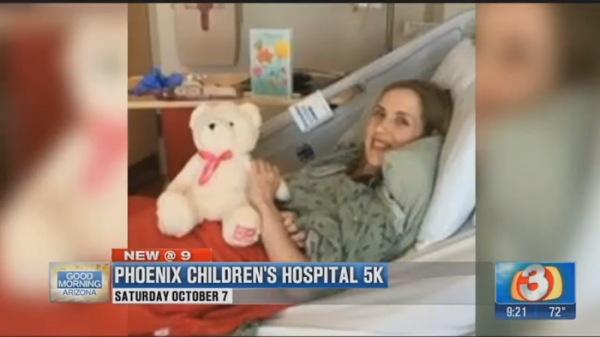 "There's no stopping me," she told KSAZ.
After years of strength and perseverance, and with the hospital's help, Bratton defied medical expectations and improved more than anyone could've imagined.
Now an adult, she is able to walk perfectly…
…And not only that, she can run.

Proving everyone wrong and shattering the odds, Bratton is now an experienced marathon runner.
She has run a number of 5 and 10k races and picked up a couple of medals along the way—but there's one race that holds a special place in her heart, and reminds her where she came from:
A 5k race to benefit the Phoenix Children's Hospital.
"I love doing the 5k here," Bratton told Good Morning Arizona. "It's one of my favorite events here in Phoenix."

It's a full circle experience for Bratton, running a marathon at the same hospital she was told she would never walk again—a message of hope she wants to spread to patients like her.
"I do it for the kids that can't run," she told KSAZ. "The kids that aren't able to do the things that I can do."

But she does more than run the annual race—she's been volunteering at the hospital for the past decade.
After her recovery, she decided to give back to the place that saved her life through volunteer work. She's been so involved with the facility that she even has an official position with guest services.
She knows firsthand the crucial work that the Phoenix Children's Hospital is doing, and hopes that anybody—not just former patients—get involved in supporting it.

"It's so important to give back," she told Good Morning Phoenix. "It's so important to give to your local children's hospital."
But for Bratton, it's about more than giving back—it's a fulfilling experience.
"It's just very rewarding being down there and seeing different aspects of the hospital."
"I get so much back from it, more than I put into it."

The next Phoenix Children's Hospital marathon will be held on October 7, 2017. Bratton will be running—and plans to give any medals she receives to the hospital's young patients.
"I know a lot of people look up to me, but I also look up to them as well because they're still fighting," she told KSAZ.
"They're still up on the floors, and they need to know that people look up to them, too."