To obsess or not to obsess? That is the cast iron question.
There's an online network of cast iron lovers posting on Facebook, Reddit, and beyond about their love of their cast irons. If you spend enough time browsing the forums, somehow, slowly, they entice you into their elite group.
The largest of the various online communities is the Cast Iron Cooking Facebook group. Cast iron Internet celebrity Jeffrey Rogers even admits to the cultish behavior of the group—and it's public, so you can observe the collective obsession from the inside. Almost 200,000 people strong, the group description says it's for "People who enjoy cooking great food in cast iron."
The bulk of the group posts feature delicious looking desserts, breakfast foods, pizzas, and pretty much anything else cooked in cast iron pans. One user posted, "Just can't fry chicken in anything but CAST IRON LOVE IT," with an accompanying picture of, you guessed it, a fried chicken in a cast iron pan.
Another user posted pictures of fried catfish with the caption "I sure do hate to cook fresh catfish! Lovin every minute of it!" All statements praising cast iron, however self-contradictory, are welcome.
Finding a New Love
Rogers has been with the Cast Iron Cooking group since it was only 6,000 members strong, and has watched how it has grown and expanded to other subgroups. He also runs his own YouTube channel called the "The Culinary Fanatic," dedicated to answering any and all cast iron related questions. His views recently topped 1.5 million.
The "Fanatic" himself has been cooking with cast iron since the 1990s, when he started his collection with a measly two pieces. Now, his whopping collection is over 150 cast irons.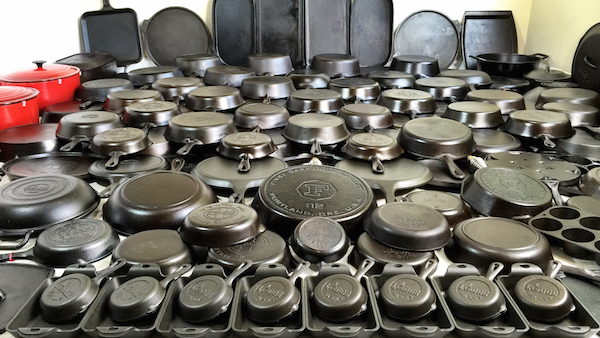 I don't imagine one just wakes up Christmas morning with 148 cast iron pieces under the tree; it turns out collecting is really about the chase.
"Finding a piece is so exhilarating," Rogers raved.
The exhilaration is also inspired by the online community. For example, as a new collector, you might go to a vintage store and spot a new-to-you cast iron piece. The piece would be photographed and the photo posted on the website even before you reached the checkout, during which time community members would dote on your piece. Slowly, with enough love and dedication, your collection would grow.
One user posted pictures of eight finds, captioned, "How I spent my summer vacation. …" Some fanatics (or should I say "panatics") will go to vintage stores every weekend to find cast iron pieces; others, like this user, spend long periods of time searching or even make road trips just to experience the excitement of a new find.
A find can be as affecting as love at first sight. Rogers reported that sometimes, you "see a piece of cast iron from across the room." You lock eyes, or in this case, eyes and handle, and you can already picture the rest of your life with this piece.
And you could truly spend the rest of your life with a piece, and even hand it down to your children. Cast irons are known for their longevity, being usable for over 100 years in some cases.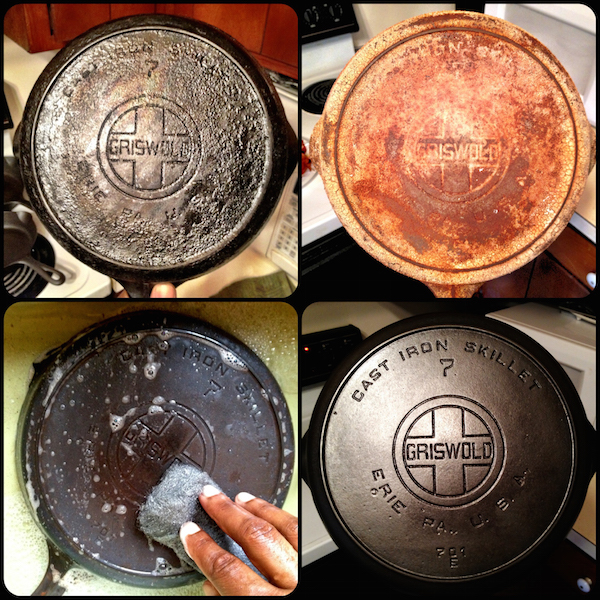 The lifespan is one of the most agreed upon reasons for using cast iron. Do a little research, and you won't discover many more universally lauded benefits. Some say that the nutritional iron one can glean from cooking in cast iron is good for you; others warn against it. Some say that cast iron heats evenly; others insist that it doesn't.
Vintage Versus Modern
So, as with any gathering of people, Cast Iron Cooking has its drama over some of these polarized topics. The most common root of controversy in the group is a familiar one: vintage versus modern.

Many cast iron pan addicts say that vintage cast irons are better in quality than modern ones because most older pans were machine polished; today's cast iron tends to be rougher and unpolished.
A representative from Lodge, one of the two American cast iron manufacturers, said that Lodge stopped making the polished cast iron pans because they simply weren't selling well. "I look at that as an instance of people thinking that everything was better in the past," he said.
"Vintage versus modern is an argument that lasts a lifetime," affirmed Rogers. Over the years accruing his 150+ pans, Rogers has evolved into a bit of a cast iron pacifist. One of the coveted vintage brands is a company called Griswold that went out of business in the 1950s—Rogers used to be a self-purported "Griswold snob." Today, Rogers is firm in his stance that "vintage cast iron is not better than modern cast iron. It's different, but it's not better." The preference of vintage over modern and vice versa just depends on your cooking style.
Such differences of opinion are minor, and generally speaking the community is positive and supportive of each other. Recently, Rogers's family had some difficulties and a friend sent a cast iron gift in response. He posted a photo of the cast iron in the group, and the group immediately jumped to action, sending him gifts and hopeful messages.

"We had so many Edible Arrangements. I said, if someone sends me one more of these things, I'm gonna vomit," he joked.
Of all of his communities, he told me, the Cast Iron group had been the most supportive in his time of need. Recipe: Chef Adam Sappington's Fish Fry (in a cast iron pan, of course)