Could it be almost spring? The first snowdrops, harbingers of spring, have deigned to make an appearance in Central Park in the last few days. 
Meanwhile, mixologists in the Hudson Valley are probably trying to conjure up Mother Nature's warmer graces with their offerings of springtime-inspired cocktails. These cocktails were crafted for the 10th anniversary of the Hudson Valley Restaurant Week, which runs from March 7 to March 20. More than 220 restaurants are participating; 80 are within the distance of a Metro-North railroad station. 
Should you want to try your hand at bringing springtime at home (in a cocktail glass), here's a selection.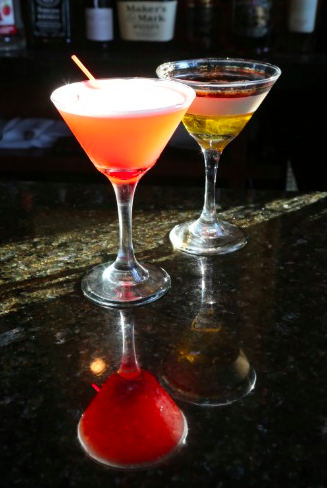 Bistro Martini
 Ingredients
3 ounces Absolute Mango Vodka or Still the One Distillery's Comb Vodka
1 ounce Cointreau 
Splash of cranberry and orange juice
Fresh squeeze of lime
Directions
Combine Cointreau, cranberry juice, orange juice, and fresh lime juice. Place into a shaker with ice and shake. Garnish with fresh cranberries.
Recipe courtesy of Broadway Bistro, Nyack, N.Y.
Hudson Valley Drake Manhattan Recipe
  Ingredients
2 1/4 ounces  Tuthilltown Hudson Baby Bourbon
1 ounce Graham's 10-year Tawny Port
1  (1/2 ounce) bar spoon maple syrup
Dash of Angostura Bitters
Directions
Pour all ingredients over ice into a mixing glass. Stir the drink and strain into a cocktail glass. Garnish with brandied cherries.
Recipe courtesy of Iron Horse Grill, Larchmont, N.Y.
Westchester Whiskey Sour
 Ingredients
2 sprigs fresh rosemary
3 ounces 287 Whiskey
3/4 ounce White Oak Farm maple syrup (Yorktown Heights) 
1/4 ounce rosemary simple syrup
1 ounce lemon juice
1 ounce Triple Sec
Directions
Crush large sprig of rosemary by hand and add to shaker. Add all ingredients and ice to shaker. Shake vigorously for 15 seconds. Strain mixture into martini glass and garnish with remaining rosemary sprigs and orange slice.
Recipe courtesy of Madison Kitchen, Larchmont, N.Y.
The Hudson Hop
Ingredients
1 ounce blood orange juice
6 dashes of The Hudson Standard Lovestruck Bitters
1/2 ounce St Germaine
Directions
Shake and pour over snifter with ice. Top it off with Captain Lawrence Freshchester Pale Ale.
Recipe courtesy of The Tap House, Tuckahoe, N.Y.
Blackberry Jalapeño Cocktail
Ingredients
4 blackberries, muddled
3 basil leaves, muddled
2 ounces Catskill Distilling Company's Peace Vodka
1 full pressed lime
2 slices of jalapeños
1/2 ounce simple syrup
Directions
Toss in a shaker. Pour in a highball. Glass and rim with crystallized basil. Garnish with a lime twist, basil sprig, and a jalapeño.
Recipe courtesy of Tavern at Diamond Mills, Saugerties, N.Y.

Cornelius Peach Apply Brandy
Ingredients
2 ounces Cornelius Peach
1 ounce Cranberry Spice Amore
1 fresh lime
Directions
Pour all ingredients into mixing glass with ice cubes. Stir well. Strain into chilled martini cocktail glass.
Recipe courtesy of Valley at the Garrison, Garrison, N.Y.
Blackberry & Plum Gin Gimlet
Ingredients
2 ounces Tuthilltown Spirits Half Moon Orchard Gin
1 dash Plum Bitters
1–2 blackberries
1 egg white
1 ounce lime juice 
1 ounce Demerara syrup
Directions
Muddle blackberries in a shaker tin. Add all ingredients into your shaker tin without ice. Dry shake ingredients for 12 seconds. Add ice and shake for 12 more seconds. Double strain ingredients into a large coupe glass.
Recipe courtesy of Tuthill House at the Mill, Gardiner, N.Y.