It's easy to forget that nature can be pretty terrifying. But passengers of one airline experienced this terror firsthand when their plane was pummeled by giant hail-stones larger than the size of golf balls.
However, nature is nothing against the human spirit, and even though the odds were against him, Captain Alexander Akopov was not going to let anyone die on his plane.
The plane ran into trouble only 10 minutes into the flight.
Earlier this week, Captain Apokov, who works for the Turkish airline company AtlasGlobal, was all set to transport 121 passengers, and six crew to the Northern Cyprus town of Ercan.
However, 10 minutes after the Airbus A320 took off, disaster struck. At 1,300 feet, the plane encountered a hailstorm that had not appeared on the aircraft's weather sensors. The giant balls of ice smashed into the front of the aircraft, shattering the windshield and crushing the nose. It also severely damaged the autopilot function, rendering it inoperable.
The damage to the aircraft was catastrophic. Apokov and his co-pilot were now flying blind with only their manual instruments available to safely land the plane.
To make matters worse, they were not the only ones affected by the sudden storm—the surrounding countryside had been ravaged by the adverse weather, and now all major airports were backed up with calls for assistance.
Even worse, the closest airport, Istanbul Ataturk Airport, had closed due to the weather conditions.
But Captaian Apokov and his aircraft were in dire straits.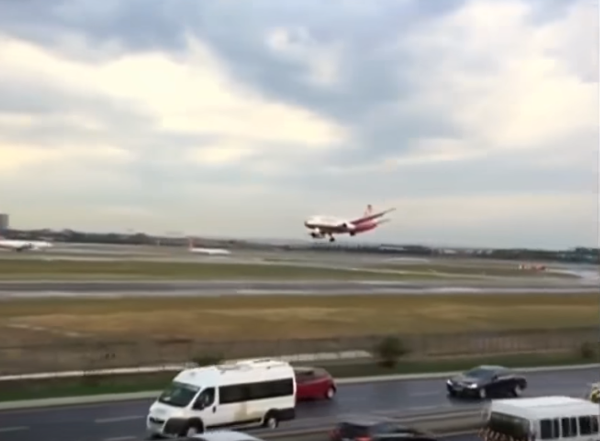 Given the nature of the damage to the plane, air traffic controllers and airport officials made an exception, and Ataturk Airport gave permission for Apokov to attempt a landing.
Before the plane arrived, the airport mobilized rescue crews and fire trucks to deal with the possible fallout from a crash landing.
The entire ordeal was captured on video.
The plane wobbled and looked as if it might topple over, but Akopov kept his cool and landed the plane without issue.
"I have been flying for 30 years," Akopov said according to the Daily Mail.  "The passengers are alive. It is normal. This is our professional reliability."
Despite Akopov's humility, this was no small feat.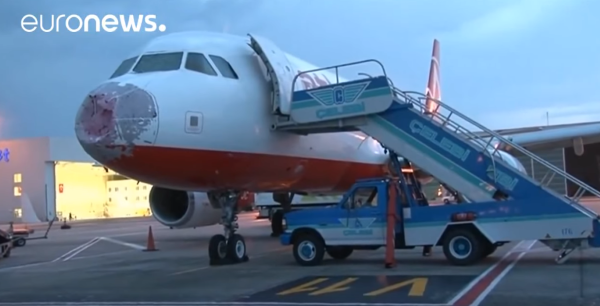 The storm had only lasted about 20 minutes, but it caused massive damage not just to the plane, but also to the city of Istanbul.
According to the Daily Mail, around 7000 emergency workers were mobilized to deal with the fallout of the storm; 230 trees were uprooted, fires erupted all over the city, and 90 roofs had been blown off their houses.
For his professionalism and coolness under pressure, the pilot was awarded the Ukrainian Order of Courage by Ukrainian President Petro Poroshenko.
But Akopov was just happy he landed safely.
"It was hard, but the main thing is that people are alive," Akopov said according to the Daily Mail.
See video from passengers inside the plane:
Top image: (Oleg Lungul/Facebook)