Men spend countless hours thinking about how they'll propose to their future wife. And with many proposal videos going viral, the bar is always going up. Austin Crecelius recognized this, so he decided to set the bar even higher.
Crecelius had always talked about how "life is a roller coaster" with Allison Boyle, his girlfriend of almost two years, as of September 2015.
The couple that had met at Anderson University in Indiana were referring to the ups and downs of life, and not knowing where it would take you. But eventually, like a roller coaster, life's about having fun and getting to where you want to be.
Based on how they would always use the phrase, it seemed appropriate that the couple would spend a day together at Holiday World & Splash Safari, an amusement park in Indiana with over 50 rides, including roller coasters.
The park is also known for The Voyage, a wooden roller coaster that has been voted the #1 wooden coaster in America numerous times, so there wasn't any doubt that the couple would take a ride on it. But Crecelius didn't want to just ride it.
Crecelius wanted to propose on it.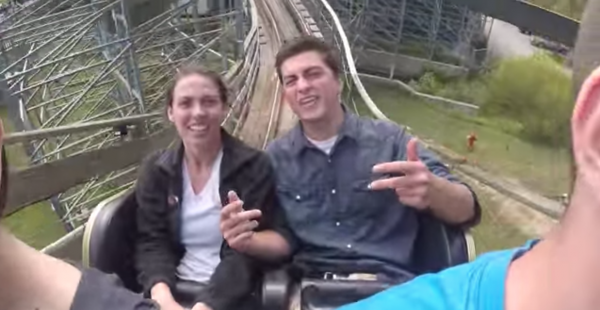 Crecelius and Boyle had the back of the roller coaster all to themselves, with Crecelius 's friend Corey recording from the seat in front of them. The second the coaster started ascending, the-groom-to-be launched into a speech about—what else—roller coasters.
"You could go by yourself, but it's a lot more fun to go with another person," Crecelius said to his girlfriend.
He was quick in his speech, given the limited amount of time he had before the drop, with the coaster being only 163 feet high.
They were getting close to the top when he pulled out a ring, and he finished with, "I wanted to ask you, if you would be my roller coaster buddy."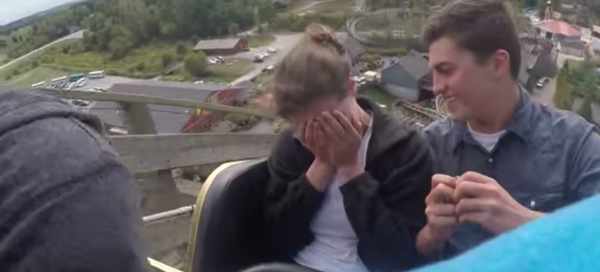 She couldn't hold back her tears as she said yes, and Crecelius put the ring on her finger.
Her crying face turned into a smiling one as the roller coaster dropped, mere moments after she accepted the proposal.
Crecelius had told ABC News how he wanted to do something "creative and exciting" for his proposal. Boyle did not seem to expect this at all, as she said she was expecting to be proposed to around Christmas time.
But she did agree that a roller coaster was an appropriate place for it, saying "we don't like doing things the way other people do them."
Crecelius seemed surprisingly calm, especially considering the ride had been delayed for 15 minutes before they got on. Imagine delaying your own marriage proposal because the ride broke down.
One might think that Crecelius might be taking a risk bringing an engagement ring on a fast roller coaster, but not to worry—the ring he gave her was a regular one. He gave his intended ring once they got off the ride.
The couple have now both graduated from Anderson University and are happily married as well.