It takes a lot of strength and endurance to run a marathon, even for experienced runners. It's not an experience you fully understand until you've run one yourself. So it takes a lot of nerve to stand on the sidelines, not even running, and criticize the people putting in the effort.
It sounds ridiculous, but one runner was actually heckled—in the middle of running a marathon—over her physique, by a total stranger. It caught her off guard at the race, but now she's getting back at her critic by sharing the story of how she came to be a runner—a story of overcoming the odds, in spite of hardships and mockery.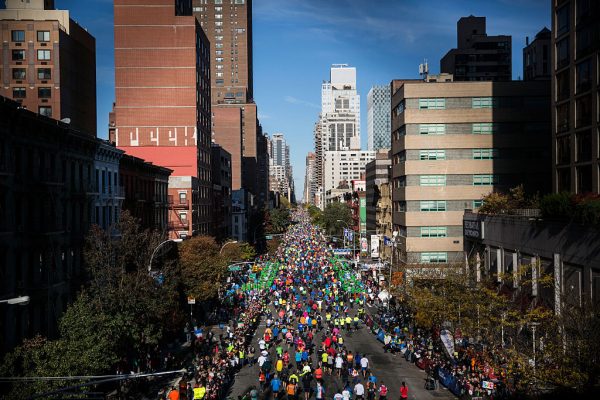 Latoya Shauntay Snell has been running for four years, and in that time she's run eight marathons, including high-profile races like the New York City Marathon and the Chicago Marathon.
Though she admits she's "a seasoned and proud back-of-the-pack runner," she's proud of how far she's come over the years and takes her training as seriously as the elites.
Truthfully, Snell doesn't have the typically lean, thin physique you generally expect a runner to have. She describes herself as "plus-sized," but it's never gotten in her way of completing a race when she has her sights set on it.
Unfortunately, not everyone saw her as a professional runner.
Running the New York City Marathon, Snell was nearly on her 23rd mile—but her pace was disrupted by a rude spectator who shouted a hurtful comment at her:
"It's gonna take your fat ass forever, huh?"
Snell was furious, and stopped in the middle of the race to confront the man—but she realized their argument was futile, and did nothing but waste her time and give him what he wanted.
"I'd lost minutes and much-needed energy to a man who took pride in poking fun at my size," Snell wrote in a post for The Root.
"As a mere spectator, he saw my 5-foot-3-inch, 218-pound body as a joke."
Little did that man know, Snell was in better shape than ever, having gone through a vigorous physical transformation—one that was motivated by just those kinds of mean-spirited comments on her weight.
Years ago, Snell was over 265 pounds, something strangers wouldn't hesitate to point out.
"Even if I was eating a half sandwich and small soup, I'd receive unprovoked, backhanded compliments about my healthier eating habits," she recalled. "Imagine daring to indulge in a candy bar in public!"
Setting out to shed some pounds, Snell took up running as a hobby—but quickly realized it wasn't just a weight loss exercise, it was something she loved doing.
"My new sport helped me find freedom and strength through the pavement, but it also taught me that the number on the scale didn't dictate or govern my happiness."
So she focused less on losing weight and more on training to be the best runner she could be. And as her results improved, so did her self-esteem.
"In the years since, my confidence has become as strong as my endurance," she wrote.
She persevered, even through the most difficult times in her life.
Only a few months before running the New York City Marathon, Snell experienced a tragedy that nearly made her quit: she suffered a miscarriage, losing the twins she was expecting.
"I'd contemplated abandoning a sport I often refer to as 'oxygen' because I was still grieving," she recalled.
But she ended up running the marathon in spite of everything—and if that didn't hold her back, a mean comment from a spectator wasn't going to make her quit.
Despite what he said, she made it across the finish line a few minutes after the seven-hour mark. And once she did, she no longer felt any anger.
"I didn't need to harbor anger or aggression," she explained. "That man wasn't the first, and likely won't be the last, to toss off a callous comment about my weight."
"I'm fat. Full-figured. Thick. Plus-size. Powerful. Capable. Empowering. Phenomenal. And in the end, my real clapback that day came from the power of my thick legs shuffling me from New York's Staten Island, across five boroughs and ending in the drizzling rain in Manhattan."
"I am powerful because I believe that I am. And I owe nobody an explanation for what moves me."