From rhyming ingredients to riffs on classics, what inspires Rider's Patrick Connolly
A good artist can take inspiration from anywhere. For chef Patrick Connolly, anything from daily life can inspire a dish at Rider, the Williamsburg restaurant he owns.
The Weinstein Special, for example, is a dish that was inspired from accompanying his wife on many visits to the doctor's office while she was pregnant with their daughter. Connolly often brought Dr. Weinstein a lunch of pappardelle, but it didn't travel well and got too soggy en route. So Connolly switched to rigatoni. The noodles are coated with pecorino, orange zest, dark chocolate, porcini mushroom, and red wine-braised lamb neck. The deep flavors in the braising sauce—which gain extra power from burnt star anise and cinnamon, coupled with a hint of bitterness in the chocolate—make this the ultimate bowl to chase away the winter blues. The Weinstein Special is one of many new additions to the menu for this season ($18).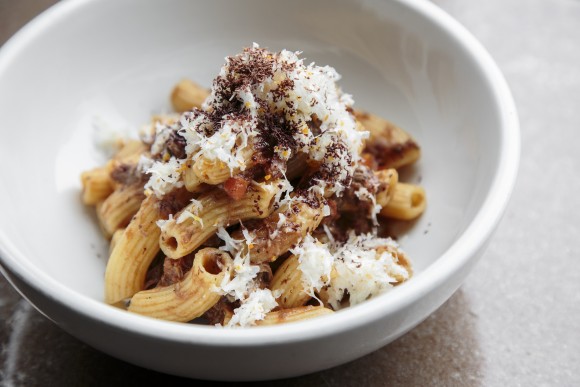 Although Rider opened in March last year, Connolly is actually a veteran of the New York dining scene. Several years ago, he was the executive chef at Bobo, a Greenwich Village restaurant. He returned to his hometown of St. Louis briefly while waiting for a project with National Sawdust, a nonprofit artist residency program in Williamsburg, to take off. In 2015, he headed back to New York to open Rider, located within the same building as National Sawdust. In addition to handling the catering for the private events space, Rider also serves a menu of small bites for show attendees to nibble on while watching performances.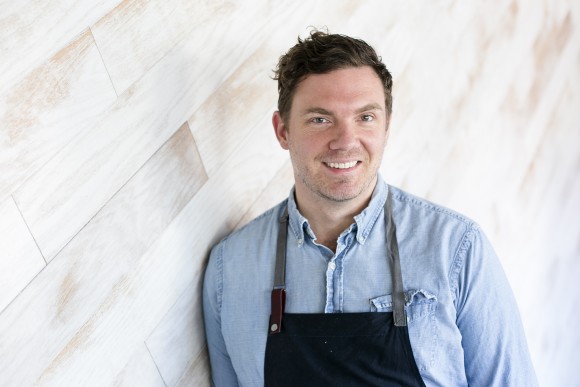 The restaurant is split between two floors, but feels intimate. The ground level features a bar, counter seats, and a few tables against minimalist decor, while the upper level has banquette seating.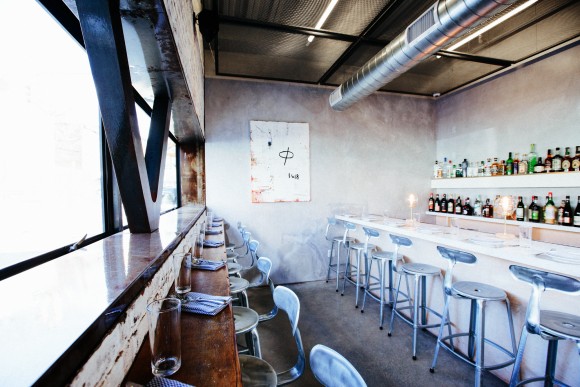 Connolly, who won a James Beard award for best chef in the Northeast region while cooking in Boston, said his process for composing dishes is to keep experimenting and asking if anything is missing: "Is there texture? Is there balance?" There are no rules, but he must ensure that each dish is a "complete thought," he said.
The Hot Fried Eggplant dish embodies that spirit, bite after bite of satisfying flavors. There's a backstory here, too: its first iteration was a dish created last summer, when Connolly's produce purveyor had heaps of fairytale eggplants that went unsold. Connolly bought the bunch and got to work on a dish. Crispy and tender at the same time, the pieces of eggplant are seasoned with a bevy of spices: cayenne, paprika, and Japanese togarashi (chili flakes, nori flakes, orange zest, sesame seeds) that has been spiked with brown sugar. Their lip-burning heat is tempered by bits of shiso leaf, dollops of lime-infused yogurt, and drizzled honey on top  ($14).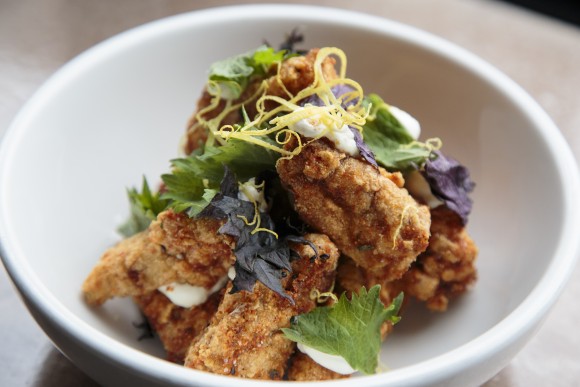 Meanwhile, the Razor Clams "Kervens" is named after a cook in the kitchen who likes to venture to the casino on occasion. The dish is a riff on the New England Italian-American classic, clams casino. The razor clams are baked with panko breadcrumbs, Meyer lemon (pith, pulp, and all), Parmesan, smoky bacon, and Calabrian chilies, for a flawless marriage of spicy and tart ($17).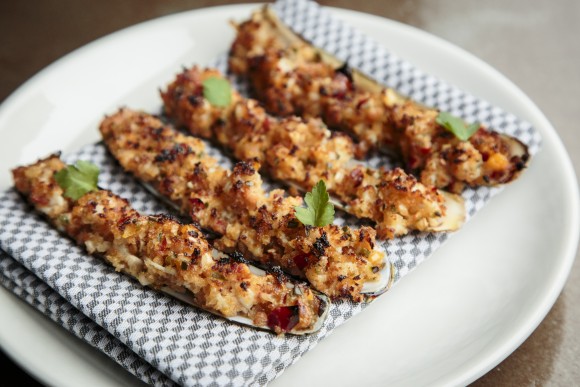 There's playfulness to the way Connolly layers textures in his dishes. In a dish of duck breast, the skin is coated with hazelnuts for extra crunch ($22). Accompanying the duck are gooey dates stuffed with nduja and curls of parsnip that exercise the jaw.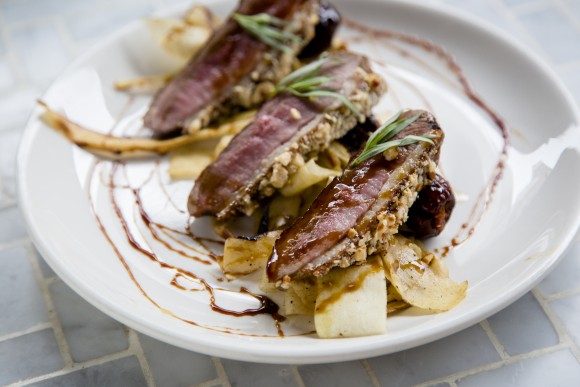 A crisp breaded schnitzel of skate wing—which is uncharacteristically meaty for a sea creature—is accompanied by tenderly roasted cauliflower and gribiche, a mustard-based French sauce with chunky bits of egg, capers, and herbs ($19).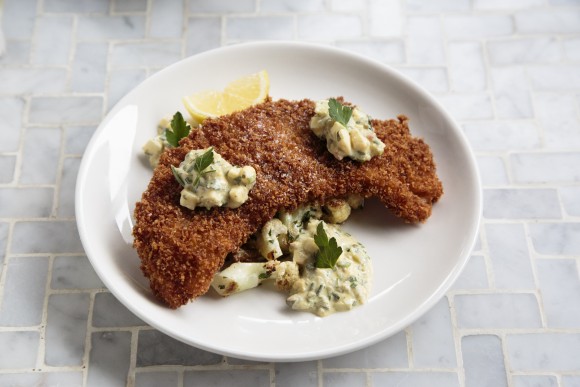 Sometimes, the names of ingredients can spark inspiration. When Connolly realized broccoli raab and pork laab—a Thai dish of toasted rice, ground pork, chilies, and herbs wrapped in lettuce—rhymed, he decided to put them together. The mashup of flavors representing two different parts of the world is unexpected, but delicious—the potent funkiness of fish sauce and garlic peanut sauce mingling with bitter broccoli raab and chorizo-like bits of pork ($14).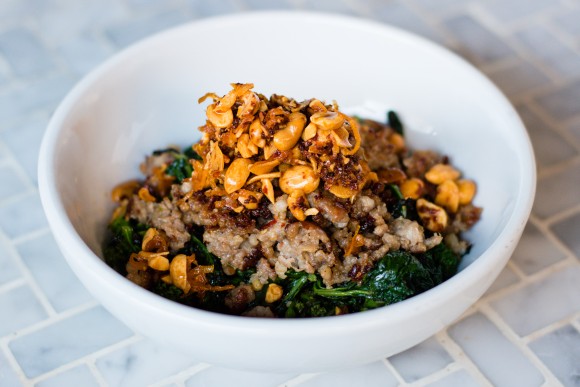 Connolly has a penchant for incorporating Asian flavors, which he learned to do while exploring the food markets in Boston's Chinatown when he worked there. On Rider's breakfast menu, The Cure calls to mind Korean bibimbap: crispy rice, cilantro, pickled daikon, poached egg, and confit duck, mixed with lots of sesame seeds, hoisin sauce, and sriracha. It's a combination that can't go wrong ($15).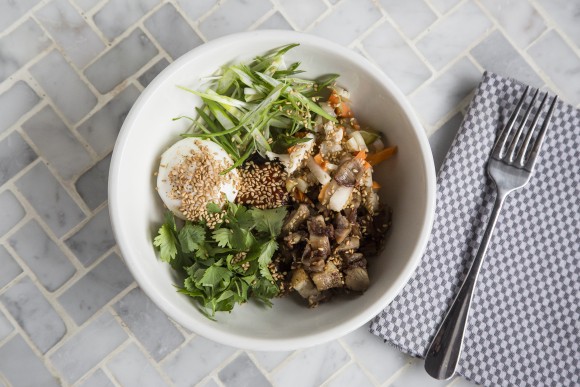 Dessert, prepared by pastry chef Lisa Fernandez-Cruz, also stimulates many sensations at once. The chocolate tart—its texture resembling that of a brownie—is topped with a hazelnut crunch that crackles like chocolate praline, and a scoop of cinnamon-fresno chili ice cream that kicks the back of your throat moments later ($13).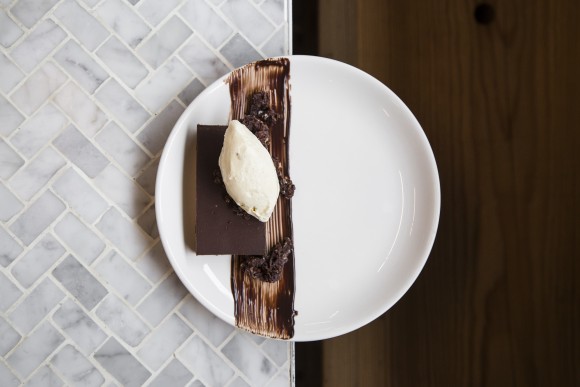 The Tahini Semifreddo is a smooth frozen treat rich in sesame flavor, layered with a miso-caramel drizzle, chunks of honeycrisp apples, and ginger snap cookies ($13). But if you're feeling like having a heftier pastry to end the meal, the lemon-fennel doughnuts are a winner ($13).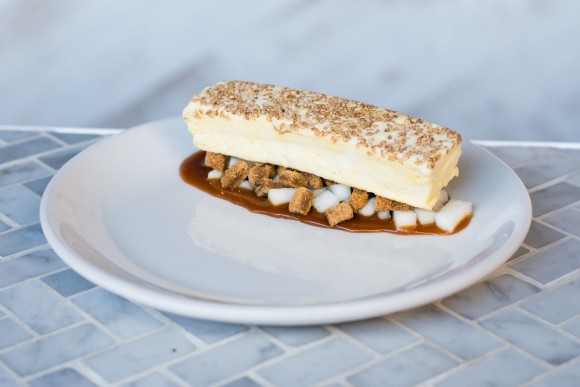 That's the thing with Rider: Whatever you pick from the menu, chances are, you'll like it a lot. And you'll want to come back to try the rest.
Rider
80 N. Sixth St. (at Wythe Avenue)
Williamsburg, Brooklyn
RiderBklyn.com
Hours:
Breakfast:
Monday to Friday 8 a.m.–11 a.m.
Lunch:
Monday to Friday 11a.m.–4 p.m.
Dinner:
Tuesday to Thursday 5 p.m.–10 p.m.
Friday and Saturday 5 p.m.–11 p.m.
Weekend Brunch:
11 a.m.–4 p.m.