Caitlin Cahill's night bartending at Guyer's last Tuesday in Manhattan quickly went from slow to amazing.
That night, she happened to strike up a conversation with two customers, one of whom she said was former PayPal executive Jack Selby.
"It was a really slow, quiet night. We were just chatting for a while," Caitlin explained to CBS News.
In the mist of their conversation, Selby mentioned "Tips for Jesus," asking the bartender if she knew what it was.
'Tips for Jesus' is back!
"I said 'Yes,' and he said, 'Well, that's me.' I thought he was joking at first," Cahill said.
Cahill's doubts quickly disappeared after the gentlemen paid for the bill.
"I looked at the receipt, and sure enough, he left me a $5,000 tip," Cahill said.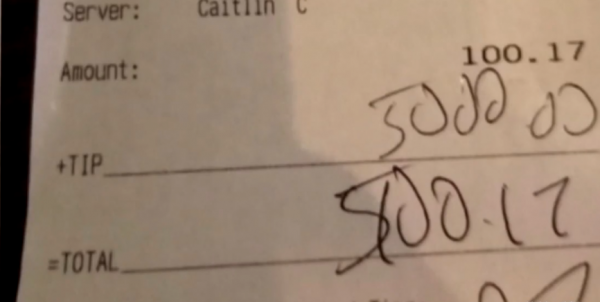 The huge tip was a return of "Tips For Jesus," a mass tipping movement from anonymous donors that was popular from around 2013 to 2015.
Cahill's tip of $5,000 was left on a $100 tab. Scribbled on top of the receipt were the words "We Back." She was shocked.
"I was a little taken aback. I said, 'Are you sure?' Maybe he had a good time. Maybe he was feeling generous," she said.
An anonymous source told the New York Post that the "Tips for Jesus" movement is not necessarily Christian. It simply hopes to give back and inspire others in the community.
Regardless, Cahill was grateful and referred to herself as extremely lucky.