The recent wildfires in California have devastated communities, claiming dozens of lives and destroying thousands of homes.
Ben and Macy Huggins, from Santa Rosa, were two of the countless victims of the tragedy—and for them, it couldn't have come at a worse time.
The couple was expecting a new baby girl, and Macy was ready to give birth any day now. Ben was working as a nurse at Kaiser Permanente in Santa Rosa, only a minute from their house, so it was decided she would give birth there. The couple had a fully stocked nursery for the baby, and everything seemed perfect and ready to go. 
But last Sunday, everything changed—wildfires hit Santa Rosa.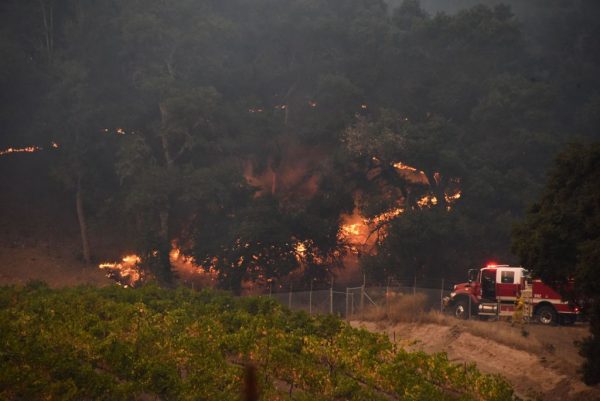 Macy and her mother were able to flee their home safely in time. From the ICU, Ben could see the fire and carnage below. He saw mobile homes exploding from his window.
He knew his home wouldn't survive.
"We were loading one patient up into the ambulance, and I looked up and knew our neighborhood was on fire, so I knew we had lost our house," he recalled to CBS13.
He saw it for himself to confirm: The house was destroyed. All of their possessions were gone—including everything they had prepared for their baby's arrival.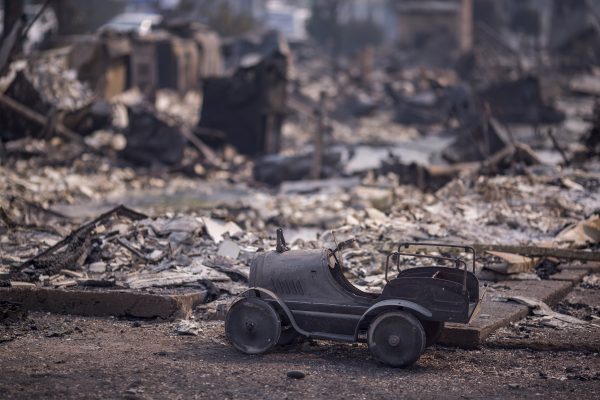 Macy, now overdue, could've never imagined this—when she fled her home that night, she didn't expect she'd never return.
"I thought we would be able to return the next morning," she told the Sacramento Bee. "I was like, 'This is kind of stressful, maybe I'll bring my labor bag just in case.'"
Adding to the stress, Macy went into labor at her mother's home, and the couple had to find a new hospital for the birth. They ended up at the Kaiser hospital in Roseville.
A few days later, Macy gave birth.

It was a happy, healthy baby girl. They named her Hope—which was something they desperately needed now.
While the delivery was a success, they had nothing for the baby—not even a house.
"We have nothing and we are bringing this baby into the world and lost all this stuff we had that was perfect for her," Macy told CBS13.

It seemed like a case of unfortunate timing. But suddenly, their luck turned around, thanks to a remarkable coincidence.
Another couple had just given birth in the same hospital—and it turned out things didn't go according to plan. They thought they were having a girl, but gave birth to a boy instead.
"Sometimes the ultrasounds aren't perfect," Ben told the Sacramento Bee.
But the mix-up turned out to be a blessing.
The strangers decided to give away their girl clothes and toys.
"The first thing the mom asked, 'Is there anyone who can use this baby girl stuff?'" Ben recalled to CBS13.
She had no idea that the Huggins, who were in need of baby items for their baby girl, were right next door—as if fate brought them together.

The unlikely twist turned the Huggins' spirits around—and made them believe in the kindness of strangers.
"It was a tragedy, but it's brought so many people together," Ben told CBS13.
Like so many victims of the wildfires, the Huggins will now have to take things one day at a time and figure out where to go next … but they're counting their blessings in new baby supplies!
"We have a healthy baby now and that's all that matters, we're all safe and healthy," Ben told the Sacramento Bee. "This too shall pass."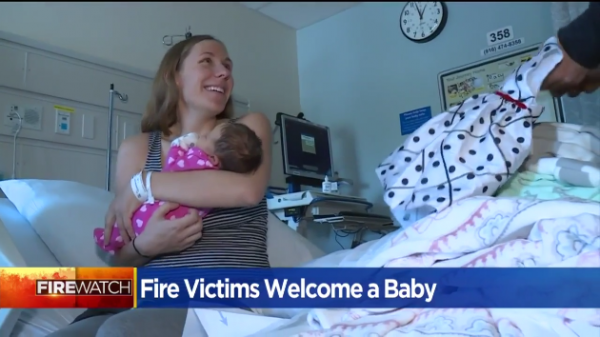 Watch the video below: