We're all familiar with the old adage that hard-work pays off. Sometimes, though, the pay offs are ridiculous. Especially in the case of 9-year-old Kolt Kyler.
Kolt lives in Pierceton, Indiana, with his family on their farm. For anyone who has ever lived on a farm, you know what that means. For those that have not, farm-living means everyone gets their hands dirty.
Kolt was always a hard-working boy who never complained

And it was no different for Kolt. A normal day for him started bright and early at 7:59AM. From there, he began his long list of chores.
First he had to check on his pigs, clean out their enclosure, replace their food, and give them water. Once that was done, he had to take care of the cows in much the same way. It was time consuming and hard work for the young Kolt. Yet Kolt never complained. Instead, he enjoyed it because it brought him closer to his father.
"It's fun hanging out with my dad," Kolt told WANE NewsChannel 15.
Everyday he would spend hours with his father playing baseball.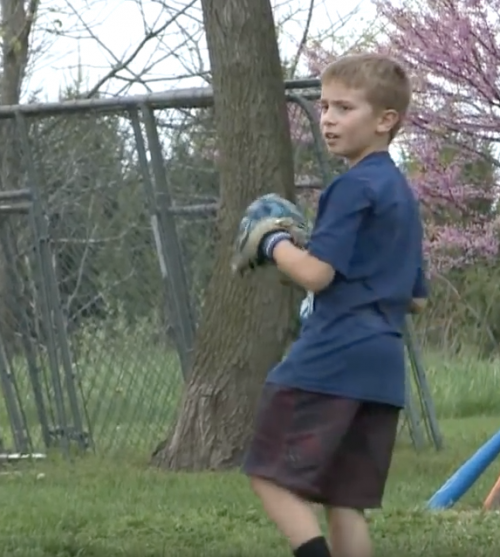 Everyday, he and his father spent two hours playing baseball after the work was done.
Such dedication did not go unnoticed by his grateful parents, however. After two months of planning, his mother and father conspired to surprise their son. They waited for a particularly long day of chores. When they were all done, they told Kolt there was one last chore for him to do.
They called him into the barn, and then handed him an envelope. Kolt, without hesitation, opened it. 
"I didn't care what was in the envelope," Kolt told WANE NewsChannel 15.
His parents wanted to surprise him with a gift for his hard work. 
"He wears his heart on his sleeve," Andy Kyler, Kolt's father said. "I knew I'd get a big hug."
Kolt opened the envelope, broke down into tears, and embraced his father. His parents gave him two tickets to watch the Chicago Cubs play at the Wrigley Field. Not coincidentally, that was the little boy's favorite baseball team. 
The whole reaction was caught on video, and posted to Twitter. It quickly went viral, and reached Chicago Cubs' player Anthony Rizzo. Moved by Kolt's happiness, Rizzo offered the young fan to come early to watch the Cubs practice before the game.
It did not end there, though. Another Cubs' player, pitcher John Lester, then gave the Kyler family tickets to his personal seats behind the Cub's dugout.
And so, Kolt went to the game on June 3rd, not just with his father, but with his whole family, and the dreams of one little hard-working 9-year-old boy were fulfilled.
Watch the amazing full-story, and Kolt's heart-warming reaction below: