A nearly five-hour standoff came to an abrupt end when an elderly man, not the police, put an end to it all.
The Los Angeles County Sheriff's Office received a call early Tuesday morning about someone possibly being followed. The officers arrived at the scene and found a man jumping from roof to roof around the neighborhood of La Puente. They spent the next several hours trying to convince him to come down.
Police and even a crisis negotiator spent hours attempting to convince the man to come down, but nothing seemed to work—until he jumped on top of Wilford Burgess' house.
Police responded to a call and found a man jumping from one roof to another.
After the man had spent about an hour going from one corner of Burgess' roof to the other, the 83-year-old man had enough.
"I'm going up on the roof, that sucker's coming off," Burgess told KABC, while recounting the story.
Multiple people had already tried coaxing the man down, but no one was successful. Even Burgess' granddaughter, Ashley Wrenn attempted to talk him off the roof, but nothing seemed to work.
So, the 83-year-old grandfather borrowed his neighbor's ladder and climbed on top of his own roof. His granddaughter was there to record the moment her grandfather took matters into his own hands.
Wrenn filmed Burgess pushing the man off of his roof.
According to police, the 83-year-old man "escorted" the man off of his roof.
No matter if Burgess escorted or threw the man off the roof, he got the job done.
Burgess had enough and wanted to end it.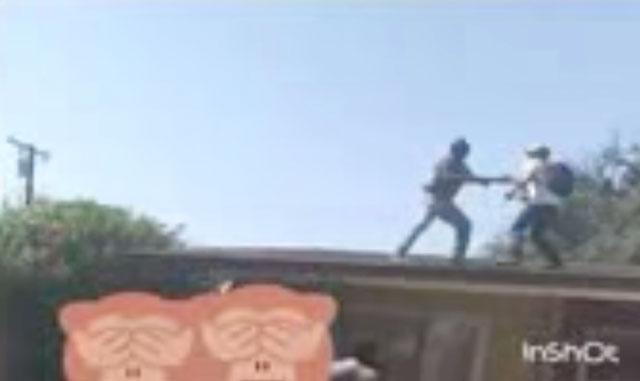 "It wasn't a surprise to us, that's papa!" Wrenn told KTLA.
The man didn't appear to be injured by the fall, however, the impact did crack the windshield of Wrenn's mother's car. The man was then quickly taken into police custody and transported to a hospital for a mental evaluation.
When talking about the incident, Burgess acted very nonchalant—as if doing what he did is an everyday occurrence for someone who is 83.
"I tell everybody, 'Just because you're old, that don't [sic] mean you got to sit down. As long as you're able to move, move,'" he told KABC.