At 6.5-months-old, this baby has already learned how to float on her back. This is a maneuver that could very well save her life someday. Perhaps the most incredible part of this is simply that she can do it without any assistance or prompts from anyone!
Just getting comfortable with the water…

How do you know if the time is right for your baby to learn how to swim? If your child is good at following directions, physically coordinated so they can kick and paddle at the same time, and they are emotionally ready as well. They are ready. In the earliest stages of swimming development, the emphasis is on getting comfortable in the water and safety.
Taking the plunge all on her own.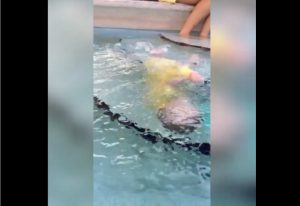 For little ones six-months-old to age three, the best thing you can do for your child is to seek a parent-and-child aquatics class (most local community education programs or community centers offer them) led by trained aquatics instructor. These instructors will teach water entry and exit, bubble blowing, front kicking, and back floating. They will (or should) also provide water-safety instruction for you. Look for a swimming-readiness program that'll teach him the basic moves — how to float, for instance, and dog paddle. Look for small classes (fewer than six students) with instructors who are certified in CPR, first aid, and water safety.
Flip on your back and float!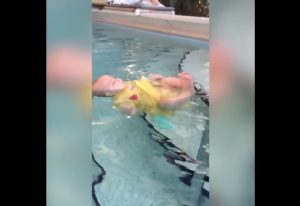 Credit: JukinVideo