Children often have the most difficult time coming to terms with a lost loved one. For them, it is difficult for them to understand the concept of finality. Due to their age, it is sometimes impossible for them to adequately express how they are feeling. Not being able to talk through grief can be damaging to long-term mental health and development of the child.
Three-year-old Nathan Lambert used a memorial bear to cope with his father's death.
Meet Nathan and his mom. He will be reunited today with his teddy bear that is a memorial to his dad who died in May. Tune in tonight at 6 for his full story. pic.twitter.com/mKMZfCjmul

— WCSH 6 (@WCSH6) December 1, 2017
In May of this year, Nathan Lambert lost his father in a tragic car accident. As you might expect, his family was devastated, but no one felt the loss more deeply than young Nathan. 
"He is three, so he doesn't know how to verbalize what he is feeling," Higgins told WBIR.
So, to help Nathan cope with his grief, his aunt came up with a brilliant solution a "memorial bear." This particular bear wore a sweater with the words "daddy is always here" sewn onto it, and embroidered wings on the back, signifying that Nathan's father is now an angel.
"If you miss dad, hug the bear, if you want to talk to dad, talk to the bear," Higgins told Nathan, according to WBIR.
The two became inseparable, but that led to a serious problem.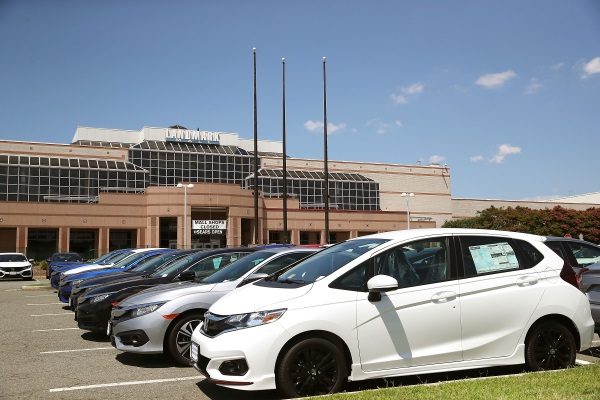 The two became inseparable, and wherever Nathan went "daddy bear" was always tagging along.
When Nathan and his mother were out at their local mall recently, taking their first family photo since Nathan's dad passed away, "daddy bear" disappeared.
Nathan was immediately distraught. His bear, the only connection to his dad, could not be found. No matter how hard his mother tried, it could not be found.
Nathan's mother even posted online about the lost teddy bear and people around her state assisted in the search.
Despite their considerable efforts, there was no sign of the bear anywhere.
Nathan took the loss of "daddy bear" very hard.
"His bedtime is usually 8 p.m.," Higgins told WBIR. "Without 'daddy bear' it's been closer to 11 p.m."
The little boy who had lost his father had now lost another piece of him. Every day that passed without any news about the lost "daddy bear," caused his mother to fear the worst.
But "daddy bear" had already been found by someone. Another 3-year-old had seen the bear in the mall's parking lot, and had told her father that she wanted to "rescue" it.
Charles Mourtouphis's 3-year-old daughter came to the rescue.

The little girl was adamant about rescuing the bear. Normally, her father, Charles Mourtouphis, would not let her take things off the street. However, when he saw the bear, he could not help but feel as if this one might be special. So, the two brought the stuffed animal home.
A few days later, Mourtouphis discovered Higgin's pleas for help on social media. The bear matched the description, and he quickly contacted Higgins to tell her the good news.
"Daddy bear" was found and would soon be reunited with her son.

Higgins was shocked by the news, but deeply touched.
"Just the fact that how many people care to try and help us find a teddy bear is amazing," Wiggins told WBIR.
And finally, after days of being missing, the bear was returned and Nathan was extremely grateful—his bear, his father, was back and the young boy could not be happier.
HEARTWARMING | The moment Nathan, a three-year-old who lost his teddy bear that is a memorial of his dad who died, is reunited with his bear and meets the three-year-old who "saved" it. MORE ► http://on.wcsh6.com/2AMBnSb

Posted by WCSH 6 on Friday, December 1, 2017