Dan and Maxi Cortez from Cabol, Arkansas, were a young healthy and happily married couple or so it seemed.
What outsiders did not know about the stunning brunette with big hazel eyes and her reliable husband, was that the couple who served in the military was struggling with infertility problems.
What you are about to read is one of the most touching stories that you will ever come across. After several doctor's visits the couple decided to give it another push and try for a baby by in-vitro fertilization. The couple stayed strong and was brought closer together by going through a first attempt of this procedure.
They could not believe what doctors told them when the pregnancy test came back positive: they were expecting—not only one baby, but three!
Nine months later, after a risky pregnancy, triplets arrived—two little rose-cheeked girls and one precious little boy: Harper, Harlow, and Landon.
After their c-section birth the three bundles of joy had to stay in an intensive care unit for three weeks. You cannot believe how happy and proud the Cortez family was when their babies were allowed to go home.

But the joy did not last.
Baby Landon's behavior changed and as every responsible father would, Dan immediately brought Landon back into the hospital's pediatric unit. But no matter how fast Dan was driving that day, he could not have saved his tiny baby son.
Landon suffered from an unusual and mostly lethal form of meningitis—neonatal citrobacter meningitis—which leads to changes of or additional growth on the brain structure and ends in either death or mental disabilities of the child. The family set up a funding page hoping for the best. But Landon passed away not even two months old and left a family of four behind.
The loss of baby boy Landon was one of the reasons why the family took every opportunity to celebrate. And so they did on Father's Day 2016—when Harper and Harlow had grown into quirky and rosy 1-year-olds. They decided to dine at a local Red Lobster restaurant.
All of them enjoyed marvelous dishes and the two toddlers were their most precious selves. But still a gray shadow hung over them as Landon could no longer celebrate with them. It was one of those touching stories that everyone could relate to.
When it came time to pay the bill, the waitress surprised them with not only a handwritten note, but also the statement that their expenses had already been covered—by a family that had been sitting across from them and were touched by the adorable family.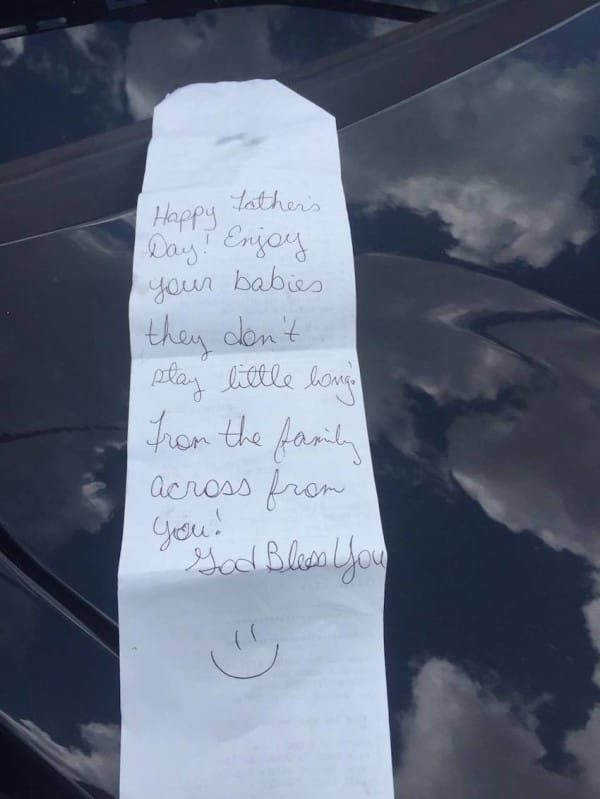 "Happy Father's Day! Enjoy your babies, they don't stay little long! From the family across from you! God Bless You =) "
The strangers had signed their-well-meant message with nothing but a smiley face.
The Cortezes were highly moved, and that was when Maxi decided to finally go public with their story of loss—and love. On her personal Facebook page, she posted the note and recounted how they had loved and lost Landon and how, even though this family had no idea that their family of four was once a family of five, their sentiment moved them to the core.
She hoped the post would reach the anonymous family so they might know that their selfless act made it easier for her to overcome her loss and celebrate Father's Day as a family.