It's summer—time to soak in the sunshine and eat well. The season is awash with food festivals for every persuasion. Whether you're looking for comfort food (wings, tacos), seafood (lobster, sardines), sweets (whoopie pies, mangoes), or boozy options, there is something for you. 
Whoopie Pies

The official Maine treat has its own festival—large enough for 10,000 people to descend onto a town of 4,000. The Maine Whoopie Festival held in Dover-Foxcroft (June 25) offers plenty of small town charm. Have a go at the traditional whoopie pie (with two chocolate rounds and a creamy white center) as well as the more creative combinations. The Maine Whoopie Prize is judged based on the use of one or more of the following ingredients: molasses, blueberries, apples, maple, and Moxie (the official soft drink of Maine).
Abalone Camp
Advanced and novice divers interested in diving for abalone for their dinners can head to Little River Inn on Northern California's Mendocino coast (June 26 to 28). An Abalone Camp package offers an opportunity to dive with the region's most renowned free dive guides. Afterward, part of the collected bounty will be turned into a communal feast prepared by the inn's chef.
Food and Music in Cape Breton
Nova Scotia's KitchenFest! (July 2 to 8) brings together Cape Breton's traditional music and local eats. Lobster stews, snow crab rolls, and strawberry-rhubarb dumplings are made with local ingredients. Cultural demonstrations teach revelers about jigs, reels, and marches, while kilt makers transform 8 yards of fabric into a kilt. Expect to see caber tosses, hammer throws, and much singing, dancing, and storytelling. Over 95 percent of the musical lineup is from local Nova Scotian acts.
National Cherry Festival

Thanks to Lake Michigan's tempering influence, cherries thrive around the Traverse City area despite the region's harsh winter winds and summer heat.
The National Cherry Festival (July 2 to 9) features more than 150 activities, including cherry-inspired picnics, orchard tours, a classic car show, turtle races (bring your own or borrow one on site), and a pub crawl via kayak, canoe, or stand-up paddleboard. For the real cherry lovers, there are cherry pie eating contests (for children and adults) and a cherry pit spit competition. According to the Guinness Book of Records, the record distance is 95 feet, 6.5 inches. A skilled or lucky golf swing might earn you a shot at $1 million in the Million Dollar Hole in One event. More than 500,000 visitors are expected this year. 
Mango Madness

The 24th annual International Mango Festival at Fairchild Tropical Botanic Garden in Coral Gables, Florida, celebrates all things mango (July 9 to 10). For $2 per person, taste a variety of mangoes grown locally by Fairchild curators, who have traveled all over the world to collect mango varieties. Attend a mango auction, tree sale, lectures, cooking demos, and a mango-themed brunch prepared by some of South Florida's best chefs. 
Wines of New York State

Showcasing over 90 wineries from New York State, the Finger Lakes Wine Festival (July 15 to 17) will offer 600 wines, live music, culinary classes and demonstrations, and a beer garden. Visitors can also camp overnight on site. As a nod to Bacchus, the festival includes a toga night.
Mac & Cheese Fest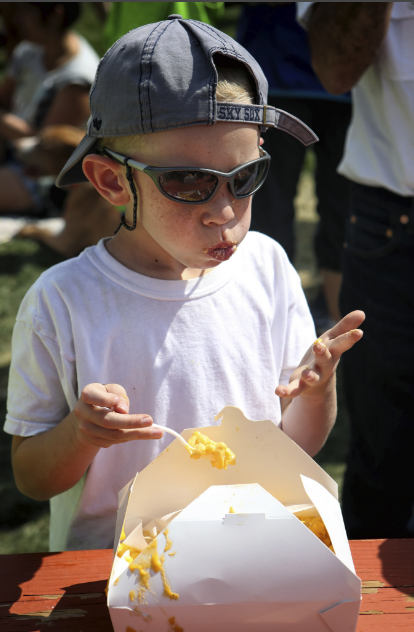 Chefs vie for the title of Best Mac and Cheese in Summit County at Copper Mountain Resort in Colorado (July 16). The festivities include a 5K run, mac and cheese samples, children's activities, and live music.  In addition, visitors can opt for activities around the resort including Pedal for Pints community bicycle rides, yoga sessions, and a variety of activities including go-karting, a climbing wall, hiking, and mountain biking.
Celebrating Tobago's Heritage
The Tobago Heritage Festival (July 15 to Aug. 1) celebrates the Caribbean island's diverse cultural influences, from European to African to American Indian and more. Dances and events are hosted in villages throughout the island. Try the traditional Tobagonian cuisine, including Creole dishes, and curry crab and dumplings.
The Big Cheese

Vermont has more cheesemakers per capita than any other state, so holding a cheesemakers festival is only natural. Over 40 award-winning makers will show off their cheeses in Shelburne at the Vermont Cheesemakers Festival (July 17). Try the Similar but Different tastings of cheddars or cheeses made from blended milks. Beer, wine, cider, and spirits round out the offerings, along with demos and workshops.
Tales of the Cocktail
The Tales of the Cocktail Festival (July 19 to 24) is a cocktail geek's dream come true, with sessions titled, When Is a Rum Not a Rum? The Big Rum Debate; A Great British Discussion on Gin; and Lock, Stock, and Six Smoking Barrels (about wood cask finishes).
This year, the Moscow Mule is the cocktail of honor, and bartenders are challenged to come up with new takes on it.
The New Orleans-based festival includes more than 200 seminars, tastings, competitions, and networking opportunities.
Niagara Wine Festival

Attendees at the Niagara Wine Festival in Lewiston, New York (July 30 to 31) can taste wines from 17 wineries on the Niagara Wine Trail, but in one convenient location. On offer will be a diverse array of traditional, native, late harvest, and ice wines as well as award-winning fruit wines, meads, and ciders. The festival includes live music and food vendors.
A Taste of Mississippi

For a taste of Mississippi, head over to the Natchez Food & Wine Festival (July 29 to 31). The region's most prominent chefs will be cooking at historic National Landmark sites. Events include Wine & Cheese in the Castle at Dunleith (a historic inn dating back to 1856), tours of the Natchez Brewing Company and the Charboneau Distillery at King's Tavern, dinner at Bowie's Tavern, and presentations at the Dunleith and The Elms mansions.
Oregon Brewers Festival

At one of the longest-running craft beer festivals in the country, revelers can enjoy more than 80 independent craft beers. The Oregon Brewers Festival (July 27 to 31), now in its 29th year, takes place at a Portland waterfront park, with views of the city skyline to the west and Mount Hood to the east. As a bonus, the light rail line is just one block away. Each brewery is permitted to showcase just one beer.
Oysters and Stand-Up Comedy

Oyster eating by day and stand-up comedy by night, as well as many other fun activities, make the Whitstable Oyster Festival (July 21 to 31) a destination in southeast England.
The seaside town hosts an oyster parade, forage walks, festival quizzes, and tug-of-war games in the mud. The whole family can go crabbing for prizes; categories include the biggest, smallest, prettiest, ugliest, and angriest crabs.
Another tradition is grotter building. With thousands of shells left over after lots of shucking, grotters (small hollow mounds decorated with oyster shells) are built across the beach and lit by candles.
Maine Lobster Festival

More than 20,000 lobsters and 1,700 pounds of butter go into feeding the hungry masses at the Maine Lobster Festival, held in Rockland, Maine (Aug. 3 to 7). Events include a crate race, where contestants run across crates floating in chilly ocean water (yes, taking a dip is likely). Amateur chefs can try their hand at a seafood cooking contest; last year's winner, Sue Jobes, won first place for her Crustless Peekytoe Crab and Lobstah Quiche. Enjoy a single, double, or triple lobster dinner, lobster rolls, lobster Caesar wraps, steamed mussels, and Maine blueberry cobbler, while taking in the view of Penobscot Bay.
For the Love of Sardines

In the summer, sardines in Portugal are at their peak. They're celebrated and enjoyed at the Festival da Sardinha (Sardine Festival) in Portimão in The Algarve (Aug. 3 to 7).
And because it's a food festival, of course there's an eating contest. Join the fun at the Papa Sardinhas competition, where contestants try to eat as many sardines as possible within 15 minutes. Follow the smell of grilled sardines in the air and you'll also find wines, traditional desserts, and handicrafts.
Garlic Goes Pink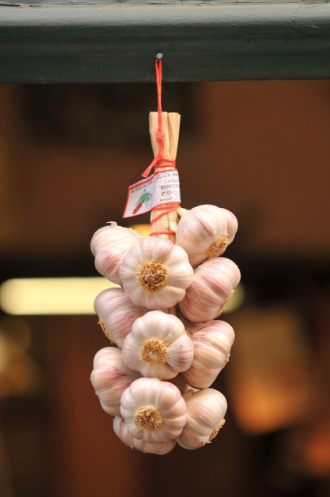 The love of garlic has inspired various garlic festivals around the world. In the Tarn region of France, the garlic of honor is pink, l'ail rose de Lautrec, which has been grown since medieval times. It is known to be sweeter and milder than the usual white garlic, with a subtler taste that makes it a versatile ingredient for many dishes. An annual festival held since 1970 gives visitors and locals the chance to sample pink garlic specialties (Aug. 5 to 6). Competitive types can vie for the longest plait of garlic bulbs made in three hours, the best sculpture made of pink garlic, and the best pink garlic tart.
Hot Dog Questions

A benefit event for the Chicago History Museum, the Chicago Hot Dog Fest (Aug. 5 to 7) features traditional and new takes on the standard hot dog, while wrestling with difficult questions. Speakers address these topics, among others:What's in My Hot Dog? A Discussion of Common Hot Dog Myths, Dogs, Diamonds, Wieners and Losers: Baseball in Chicago, and The Great Meat Debate: Is a Hot Dog a Sandwich? Live music and games are on the agenda, as well as beer to wash it all down.
A Glass of Red for Your Vote

Paso Robles on the edge of Southern California is known as a wine destination; and once a year, the region's top winemakers and brewers go head to head. At the Winemakers' Cookoff (Aug. 13), they are not judged on the quality of their libations, but rather on their culinary talents and how well they pair their grilled dishes with their best wines or beers. Menus are kept secret until the event.
Award categories include Judges' Choice and People's Choice. In the latter, attendees can cast three votes, and wineries are encouraged to offer some bribes, all in good-natured fun. All the event proceeds go to local high school scholarships.
Seafood Down Under
When fishermen put together a festival, you get the Hervey Bay Seafood Festival (Aug. 14), featuring wild, sustainably caught seafood from the waters of the Fraser Coast in Queensland, Australia. Gorge on grilled tiger prawns and the famous Hervey Bay scallops on pizza or in ceviche while taking in the views of Fraser Island. The signature event, Tastes of the Bay, offers a five-course meal prepared by chef Andrew Mirosch, who is also an avid surfer and fisherman.
LA Taco Festival
Last year, the LA Taco Festival outgrew its Boyle Heights location, but the event still raises money for Jovenes, a nonprofit working in that neighborhood to end youth homelessness.
This year's festival takes place at Grand Park (Aug. 20), with tacos from Kogi, Mexicali, Zingo, Los Ruizeñores, and many others.
Grand Tastings and Taco Knockdown

The Bay Area's top restaurants put forward their best dishes at the Grand Tastings at Eat Drink SF (Aug. 25 to 28) on the waterfront at Fort Mason.
This year, one of the tastings will honor restaurants and bars that have been in business for at least 20 years, such as the Buena Vista Cafe, famous for its Irish coffees.
Meanwhile, the Taco Knockdown is returning for a second year. More than a dozen chefs will compete for the title with their taco-inspired creations. Last year, the creative taco fillings included octopus, pork belly, bacon, and miso-cured egg. There was even a frozen dessert taco submission.
Tasting Indiana

The Dig IN food festival (Aug. 28), to be held in downtown Indianapolis, will feature farm-to-fork dishes with ingredients from farms across the state. More than 35 chefs from the Hoosier state, including James Beard Award nominees, will be creating unique dishes for the event. More than 20 wineries and breweries, as well as local coffee roasters and juicers, will provide libations.
Hatch Chile Festival

The chili is serious business in New Mexico, where hot days and cool nights make for some of the best spicy peppers around. About 30,000 visitors descend on the village of Hatch in New Mexico every year for the Hatch Chile Festival (Sept. 3 to 4) for tastings, as well as chili- and jalapeño-eating contests. A watermelon-eating contest follows the spicier events. The festival also includes a carnival and live music.
Wingin' It

Here's a food festival inspired by a movie. In "Osmosis Jones," a junk-food and chicken-wing addict (played by Bill Murray) sets for himself the goal of attending the National Chicken Wing Festival in Buffalo, New York. There was no such festival at the time, so Buffalo native Drew Cerza took upon himself the challenge of making it a reality. That was in 2001; last year, the National Buffalo Wing Festival was attended by over 70,000 people and more than 4.2 million wings have been served since the festival's inception.
This year, the festival takes place over Labor Day Weekend (Sept. 3–4). Expect eating contests (triple atomic wings, anyone?) and the very messy Bobbing for Wings event, where contestants pluck chicken wings with their mouths out of a baby pool filled with blue cheese dressing. Pass the wet wipes!
Highlands Cuisine

Head to the Loch Lomond Food and Drink Festival in the Scottish Highlands (Sept. 3 to 4) for some bites and drinks, with a decidedly local twist. On the menu: cookery classes, free foraging, a haggis eating competition, and Clanscape Kitchen, which gives visitors a taste of Highlands life in the 17th and 18th centuries, from churning butter to making oats cakes over an open fire.
World's Largest Wine Festival

The world's largest wine festival turns 600 this year. Bad Duerkheimer Wurstmarkt is held annually in the town of Bad Dürkheim, in Germany's wine-growing state of Rhineland-Palatinate. The name Wurstmarkt (or sausage market) alludes to the copious quantity of sausage consumed at the festival. Over 600,000 visitors are expected to taste the region's best wines at the festival taking place over the weekends of Sept. 9 to 13 and 16 to 19 this year.
Take a Coffee Break, Swedish Style

In Sweden, fika—a coffee and cake break with friends—is a way of life. Alingsas, in western Sweden, has about 30 long-established cafes, some of which date back to the 1700s. The city is known as the fika capital. For about 330 Swedish krona ($40) you can join a fika tour (1.5 hours) and experience this sweet part of the Swedish lifestyle. The tour is available every Saturday at 11 a.m. until Oct. 29.