Undertaker Dead Hoax: 'WWE Legend The Undertaker' Hasn't Died 'In Texas Home'; Mark Calaway is Fine
April 13, 2014 4:04 pm Last Updated: July 18, 2015 5:15 pm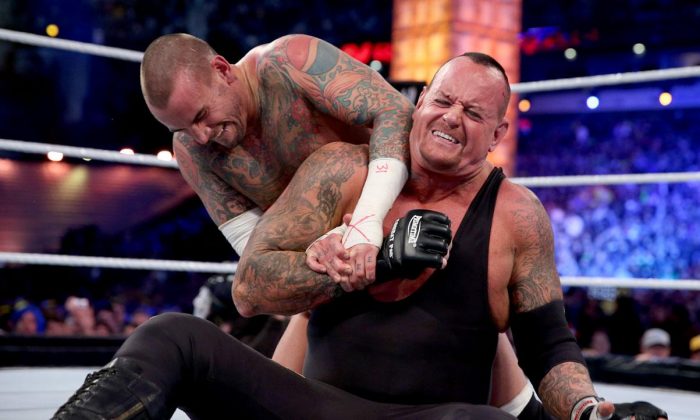 The Undertaker hasn't died in his home in Texas, but a false news report is saying that he did.
The article, which was published on fake news website Empire Sports, claimed WWE wrestler The Undertaker, born Mark Calaway, died in his sleep.
"It has been just under a week since the WWE Hall Of Famer Ultimate Warrior passed away so suddenly. We just received word that another legend will be joining him. Mark 'The Undertaker' Calaway was found in his Houston home dead late last night by his wife Michelle McCool," the article reads.
But according to a disclaimer from Empire Sports, it doesn't publish real news. 
The disclaimer says, "Empire Sports is a satirical and entertainment website. Empire Sports uses invented names in all its stories, except in cases when public figures are being satirized. Any other use of real names is accidental and coincidental."
The author of the Undertaker article, who uses the handle "Iruleall15," claims to be "the biggest troll in the online world. I am a diehard Cowboys fan. I write for fun and because I seem to be good at it … I try to entertain not offend."
As of Sunday afternoon, the Undertaker article had several thousand shares and tens of thousands of pageviews, according to data posted on Empire Sports' website.
AP Update for Ultimate Warrior's Death Last Week: No findings released on death of Ultimate Warrior 
PHOENIX (AP) — Authorities in Phoenix don't expect to release any results just yet from an autopsy on the body of former pro wrestler The Ultimate Warrior.
Maricopa County spokeswoman Cari Gerchick says the county Medical Examiner's Office had no plans to issue any preliminary findings on the autopsy, which was done Thursday.
The 54-year-old wrestler, whose given name was James Hellwig, collapsed Tuesday while walking with his wife to their car at a Scottsdale hotel and was pronounced dead at a hospital.
Scottsdale police say there were no signs of foul play.
Gerchick says determining the cause of death would take longer because Hellwig's death appeared to be medical-related. She could not say when any findings would be released.
Hellwig was one of pro wrestling's biggest stars in the late 1980s.