Underground Opposition Party Advocates Democracy in China
February 7, 2009 3:27 am Last Updated: June 2, 2012 6:39 am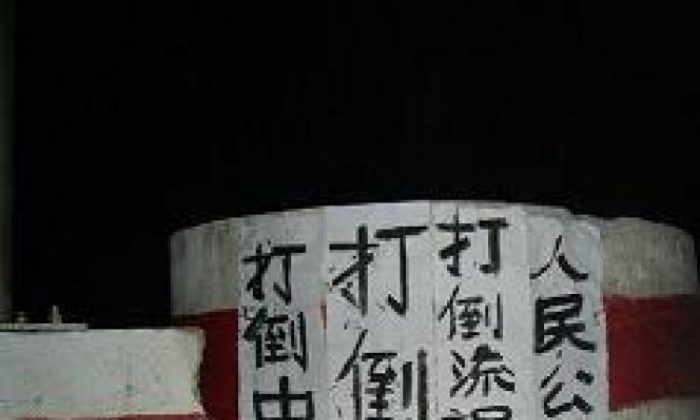 According to the China Interim Government (CIG), an underground opposition party in mainland China–the China National Party (CNP) has successfully organized large scale activities posting slogans opposing the Chinese Communist Party (CCP) in a southern Chinese city during the Chinese New Year period, their goal being to revive people's sense of democracy.
The CNP report submitted to the CIG, says that they successfully posted slogans in front of the municipal CCP committee, and local landmarks etc. The CNP is continuing its step by step aim to disintegrate the CCP and to have a democratic system in China.

Under the CCP's dictatorship, any opposition to one party rule is treated as treason.
The CNP believes that such activities will attract more members and help to realize the party's goal of establishing a democratic China.
The CNP announced its establishment on January 1, 2009, and registered with the CIG on the same day.
Since the publishing of the Nine Commentaries on the Chinese Communist Partyin November 2004, more and more Chinese people, both inside and outside of have changed their attitude towards the communist regime, from hoping the regime could improve itself to actively protecting their own rights and renouncing the regime. 
Foreseeing the coming collapse of CCP similar to that of the Soviet Union last century, a group of overseas Chinese dissents established the China Interim Government on January 1, 2008 in order to facilitate democratic elections after the collapse.
The Epoch Times publishes in 35 countries and in 19 languages. Subscribe to our e-newsletter.