COCHISE COUNTY, Ariz.—Millions of dollars of unfinished border wall materials have lain in the deserts of Arizona since January 2021, after President Joe Biden halted all construction on the wall on the day he took office.
"It shall be the policy of my administration that no more American taxpayer dollars be diverted to construct a border wall," Biden's Jan. 20, 2021, executive order reads. "I am also directing a careful review of all resources appropriated or redirected to construct a southern border wall."
Construction companies downed tools and left job sites the next day, and stacks of materials have languished since. Now, they're looking to sell it all for scrap, according to the Cochise County Sheriff's Office (CCSO).
"They're probably going to get a penny on the dollar for it," CCSO Sgt. Tim Williams said.
The steel bollards on fence panels are filled with concrete. Concrete culverts are sitting abandoned, filling with mud, instead of being used for the flood-prone portions of the roadway next to the fence.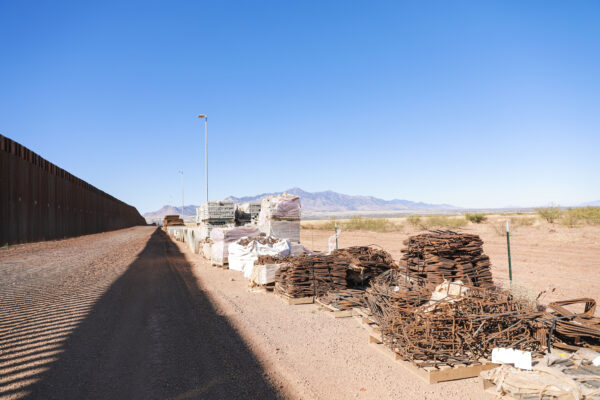 But the unfinished lighting, ground sensors, and cameras are one of the biggest issues, according to Williams.
"Without the fiber optics and the lighting system, they'll just climb the fence and get over. It was supposed to be a four-tier approach," he said.
Border Patrol agents could be nearby, but without the cameras and sensors, they won't know that a breach is occurring. Under the cover of night, people on the Mexican side of the fence take to cutting a footer out, just wide enough for people to squeeze through. Each day, agents patch the holes and replace the concrete.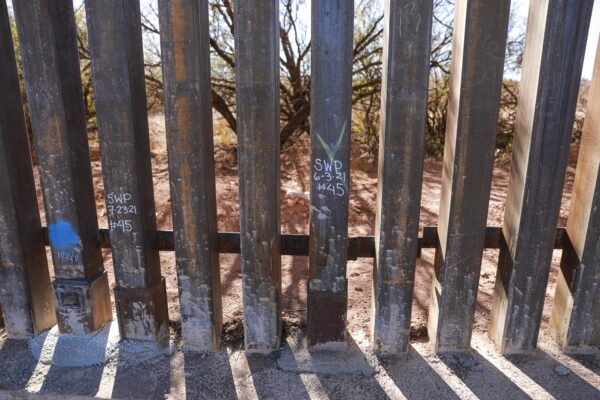 But with lighting and sensors it wouldn't happen, according to Williams.
"The big problem is that the fiber optics are in the ground already, and if they don't turn it on in the next two months, the fiber optics will go dormant and we won't get them back," he said. "So all those billions of dollars of fiber optics in the ground because there was only 24 months shelf life they can be dormant and we're at 22 months right now—we're talking about losing billions of dollars because they didn't turn the system on."
A Customs and Border Protection official told The Epoch Times that he expects it to "take a while" to resolve what will happen with the unused border materials. On Dec. 4, 2021, the agency put out a request for comment "on proposed border barrier construction remediation actions," which expires on Feb. 3.
A report by Senate Republicans issued in July 2021 states that the construction stoppage is costing taxpayers $3 million per day.
The senators who produced the report estimated that the administration has spent between $618 million and $708 million to contractors between Jan. 20, 2021, and July 15, 2021, and will ultimately spend up to $1.2 billion more to exit the border wall projects.
Former President Donald Trump's administration prioritized border wall construction, building 453 miles of fencing along the U.S.–Mexico border. Approximately 211 miles of fencing were under construction as of Jan. 8, 2021, just before Biden took office.
Trump allocated roughly $16.4 billion to border wall construction and maintenance, with $10 billion coming from the Pentagon.
'It's Embarrassing'
Most of the 83-mile border that Cochise County shares with Mexico has some type of fencing, but the sections that were left unbuilt are vehicle barriers or barbed wire fencing, which is easy to cross.
"It's embarrassing," CCSO Detective Jake Kartchner said, referring to the waist-high barrier on Coronado Peak that was meant to be 30-foot tall steel fencing with all the accouterments of roading, lighting, cameras, and sensors.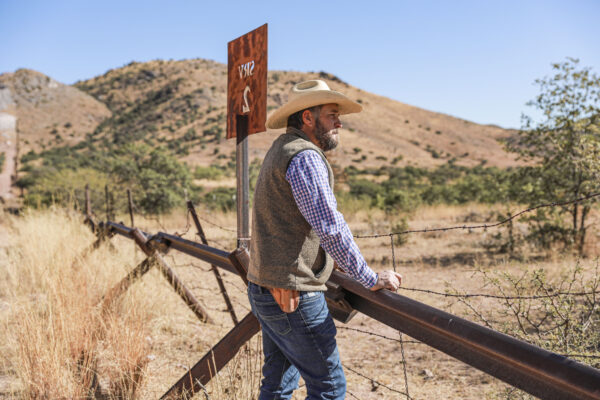 The illegal aliens coming into Cochise County aren't turning themselves in to Border Patrol and seeking asylum. They're young, single males dressed head-to-toe in camouflage clothing and doing everything possible to avoid law enforcement.
They're mostly from Mexico or one of the Central American countries of Guatemala, Honduras, or El Salvador, according to Cochise County Sheriff Mark Dannels.
"The federal government isn't doing anything. So we're watching people commit crimes in our communities every day," Dannels said. "Two weeks ago, on just one night, there were 50 of these people running around the neighborhoods. I mean, we're out there all night chasing them. That's all you can do. Next morning, they're still out there chasing them. It's a bad deal. They're all camouflaged up."
Between Border Patrol and the sheriff's office, about 16,000 illegal aliens are detected in the county each month right now, a huge upswing that started in early 2021.
Once across the border, illegal aliens coordinate with the cartel to be picked up by a smuggler and transported to Phoenix, according to Dannels.
"It's like the cartel Uber. And there's no other way to put it. They just stage in public places all along the roadways waiting to get called up to go pick them up. It's crazy," he said.
Dannels said 80 to 90 percent of the drivers are armed, "which is totally new to us."
Border Patrol agents apprehended 353,000 illegal aliens coming into the state of Arizona in the first 11 months of 2021—a jump of 350 percent over the same period in 2020.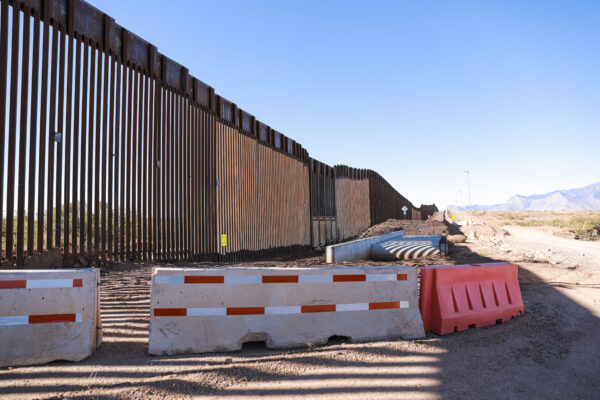 Legal Action
Arizona Attorney General Mark Brnovich filed an injunction in July 2021 in an attempt to void Biden's halt to border wall construction.
In April 2021, Brnovich filed a lawsuit against Department of Homeland Security (DHS) officials, alleging that the halt of border wall construction violated the National Environmental Policy Act, which requires federal agencies such as DHS to weigh environmental considerations before taking any significant federal action.
The Arizona Department of Environmental Quality "estimates that each border-crosser leaves an average of six to eight pounds of trash behind," according to the complaint.
Zachary Stieber and Harry Lee contributed to this article.