UN Groups Defend Chinese Rights Lawyer Gao Zhisheng
December 23, 2011 10:50 am Last Updated: August 14, 2015 4:59 pm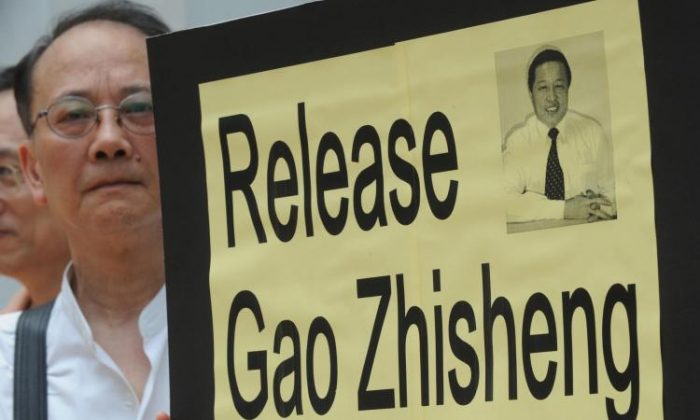 Chinese communist authorities have committed a crime against international law by arbitrarily detaining the human rights lawyer
Gao Zhisheng
, according to a recent United Nations statement, which also demands Gao's release.
Using unusually forthright language for the normally cautious UN, experts for a number of working groups denounced the secret detention of Gao Zhisheng, a prominent Chinese civil rights lawyer who was recently sentenced to three years in prison, but had been in detention or under house arrest for much of the previous five years.
"It is alarming that Mr. Gao continues to be arbitrarily detained. His detention over the years has resulted in various human rights violations, including his fundamental right to a fair trial. I urge the authorities to release Mr. Gao," said El Hadji Malick Sow, Chair-Rapporteur of the Working Group on Arbitrary Detention, according to the news release. 
Sow's working group had in 2010 already declared that Gao's detention lacked any legal basis.
Gao Zhisheng was given a three year suspended sentence in December 2006 for his activism and defense of persecuted religious groups, including practitioners of Falun Gong, on whose behalf he wrote letters to the central leadership. He had conducted his own fact-finding mission on the persecution of that group in China, and "with a trembling heart and a trembling pen," wrote down in detail what he had found, including extensive and explicit descriptions of torture sessions. 
"Among the true accounts of unbelievable brutality, among the records of the government's inhuman torture of its own people, the immoral acts that shocked my soul the most were the lewd yet routine practice of attacking women's genitals by 6-10 Office staff and the police," he wrote. "Almost every woman's genitals and breasts or every man's genitals have been sexually assaulted during the persecution in a most vulgar fashion."
Beginning in late 2006 Gao was regularly kidnapped, beaten and tortured by security forces, while his family was put under surveillance. In early 2009 he was "disappeared" entirely and placed into custody where he was tortured more, until he was given a brief respite in April of 2010, before being disappeared again. 
Given that his five year probation was coming to an end on Dec. 22, 2011, Chinese authorities claimed that he had violated its conditions, and should be sentenced to three years in prison—the term of his original 2006 sentence. 
Yet still Gao has not been heard from.
"Under no circumstances should Mr. Gao be subjected to attacks, including arbitrary detention, aimed at preventing him from exercising his legitimate right to freedom of expression as a human rights lawyer," said Frank La Rue, the Special Rapporteur on the promotion and protection of the right to freedom of opinion and expression.
Margaret Sekaggya, Special Rapporteur on the situation of human rights defenders, added: "States should ensure a conducive working environment for human rights defenders which is free from persecution and judicial harassment."