U Visa Aids Assault Victim's Search for Perpetrators
Visa supports undocumented immigrants to report crimes
April 7, 2014 5:47 pm Last Updated: April 8, 2014 6:33 am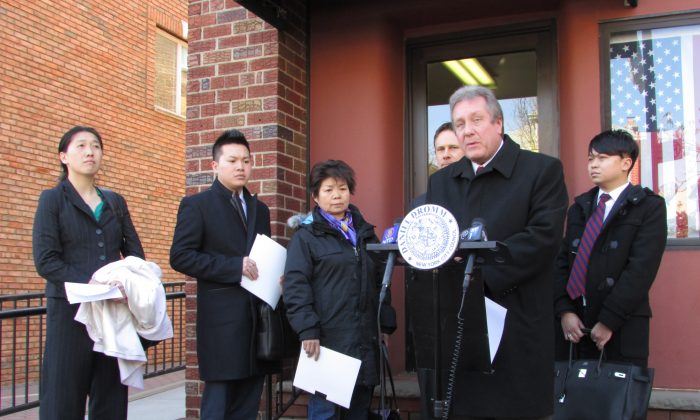 NEW YORK–It happened one night in 1997 when Elmhurst resident Ping Li was on her way home. Two men approached her and slit her throat. Bleeding and helpless, Li stumbled home where her landlord alerted the authorities.
Li wanted to help track down the assailants, but she was an undocumented Chinese immigrant who spoke broken English. It wasn't until years later that she would find out about the U Visa. The visa not only gives victims of crimes a path to citizenship, but it also provides authorities with information to catch the perpetrators of felonies.
"Oftentimes, those who are undocumented are fearful of coming forward because they don't want to have interactions with the police. But they shouldn't be. The NYPD may not discriminate against those who are undocumented, and must investigate these crimes as if they happened to a citizen," said Councilman Daniel Dromm at a press conference to announce Li's success in obtaining her U Visa.
Helping Victims
With the assistance of her lawyer and Council member Dromm, Li recently received her U Visa. This visa grants victims of serious crimes legal status and work eligibility in the U.S. for up to 4 years. U Visa holders can apply for a green card after three years of being physically present in the U.S. However, only 10,000 U Visas are issued every fiscal year. Dromm believes that the cap should be lifted.
"When these people who have been victims of these crimes come forward, it helps our community, so however many there are, I believe that should be the minimum people that should be able to get the U Visa," he said.
To qualify for a U Visa, an individual must have been a victim of qualifying criminal activity, such as rape, trafficking, or felonious assault. In addition, the applicant must have information concerning the criminal activity and is being helpful in the investigation of the crime. Applicants must obtain a certification of helpfulness from a law enforcement agency such as the NYPD.
Many applicants have trouble getting a U Visa certification, including Li. "A U Visa can change someone's life, it can bring them out of the shadows, as it has done with Li Ping today," said Dromm.
"If a U Visa is granted, we've seen a big change in women that we help. It transforms their entire lives because they are able to work legally here, they are able to live here without the fear of deportation," said Carrey Wong, legal manager at the New York Asian Women's Center.
Though Congress created the U Visa in 2000, not many immigrants knew about it until recently. Dromm said he has been trying to raise awareness of this option since he was the chair of the City Council's Committee on Immigration, and he will continue to try to do so. In addition, law firm advertisements and domestic violence agencies such as the New York Asian Women's Center are also putting the word out there.
"It's becoming more and more known in the immigrant community," said Daniel Worontzoff, Li's attorney.
Yi Yang is a special correspondent in New York.