Turkish Delight: Babylon SoHo
September 28, 2013 1:04 pm Last Updated: September 28, 2013 10:36 pm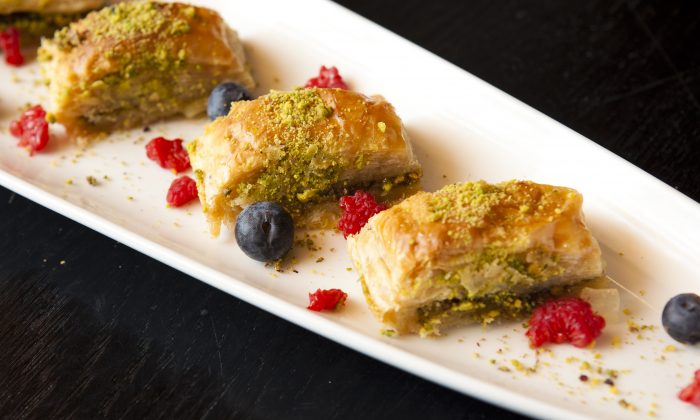 NEW YORK—Yavuz Gulu knows his mezze. His repertoire covers about 200 mezzes, but he has whittled that down to a choice selection at Babylon SoHo, a recently opened Mediterranean Turkish restaurant and lounge. Mezzes are a selection of small dishes, similar to hors d'oeuvres. 
If the need arises, Gulu will don a chef's hat and head into the kitchen at a moment's notice. Prior to Babylon SoHo, where he oversees the kitchen, Gulu owned a restaurant in Istanbul specializing in mezzes and salads, and worked at the Sheraton and Hilton hotels.
"I love to eat," he said. "On my day off, my wife never goes into the kitchen." (If all wives could be so lucky. … But, I digress.)
For weeks, Babylon SoHo was hidden by scaffolding, but now removed, it reveals an establishment deserving of closer acquaintance.
It may currently be better known as a lounge, with a lively, clubby vibe once the late hours hit, but the kitchen's culinary delights should entice diners to lunch or dinner.
The setting is elegant and spacious, with five ornate chandeliers and a sunken dining area at the center. Faux bas-reliefs, keeping in theme with the ancient city of Babylon, adorn the walls.
One of the primary draws is the mezze. Small plates are trendy these days, but mezze has been a part of the Turkish cuisine for hundreds of years, back at least to the time of the Ottoman Empire, which spread across over the present-day Mediterranean basin.
A lot has been said about the health benefits of Mediterranean cuisine, and the freshness of the ingredients at Babylon SoHo comes through. 
Gulu points out the localvore spirit of the shepherd's salad ($12). "The shepherds never come into town," he said. They just find the ingredients—cucumbers, onions, etcetera—cut them up, and mix them up, not even with a dash of oil or salt. At Babylon SoHo, the dressing is ever so light, and the ingredients aren't cut up until an order comes up.
Eggplant mezze dishes loom large in their diverse preparations, from the smoky Eggplant Salad ($8), grilled and roasted; to the melt-in-your-mouth Stuffed Eggplant ($10) with onions, fresh tomato, bell peppers, pine nuts, and herbs (for those familiar, this dish is Imam Bayildi, literally "the imam swooned," because it was so delicious, the story goes). 
The Cacik ($8) is simple: homemade yogurt, and chopped cucumbers, seasoned with garlic, dried mint, fresh mint, and dill. It's creamy and refreshing. It gets so hot in Istanbul, the dish is said to keep your blood pressure from going up. 
The hummus ($8) is simple as well but fresh and delicious.
Those who like their food spicy should opt for the Ezme ($8), a spicy dish of finely cut vegetables, with walnut, tomatoes, peppers, dill, fresh mint, parsley, olive oil, and red paprika.
Turkish bread accompanies these dips and small dishes.
The mezzes are so good, it's almost easy to forget they're really starters. The charcoal grilled meats—chicken ($22), lamb ($24)—are a good option, but so are the meatballs (chicken, $21; lamb, $22). These are more like patties, and the mix and proportion of spices—something Gulu is very particular about—makes them excellent.
Or if you're feeling adventurous, the Chicken Topkapi (pressed white chicken, stuffed with pastrami and rice) or the Coban Kavurma (tender, pan-fried, diced lamb) come highly recommended.
A four-course prix fixe dinner is offered for $35. A full bar is available and the wine selection is extensive. 
Desserts
Turks are famous for their sweet tooth, so if you can, you should save space for dessert. 
The Kaysi (or "apricot" in Turkish) dessert is a standout. Dried apricots are simmered in syrup, filled with crème Chantilly, and garnished with a walnut. They were sweet, tender, and spectacular. For better or for worse, depending on how full you are, they make for perfect dessert bites. It was hard not to keep eating more of these.
Mercifully, the desserts are light, including the baklava. The rice pudding is especially notable for its light and clean taste—a perfect ending to a meal.
Babylon SoHo
15 Watts St.
212-390-8538
babylonsoho.com
Hours
Sunday through Thursday: 11 a.m.–11 p.m.
Friday and Saturday: 11 a.m.–2 a.m.
(Lounge hours continue until 4 a.m.)