Donald Trump's office has released a statement responding to comments made by former Defense Secretary Mark Esper on Sunday in which he accused the former president of considering the possibility of firing missiles into Mexico to target drug cartels and carrying out military invasions in both Venezuela and Iran during his time in office.
Esper told CBS's Norah O'Donnell on "60 Minutes" on Sunday that he had to prevent Trump from carrying out such events during his final year in office, and claimed that he wanted the general public to know that the United States had at that point been on the verge of starting another war.
"It's important to our country, it's important to the republic, the American people, that they understand what was going on in this very consequential period," Esper said. "The last year of the Trump administration. And to tell the story about things we prevented. Really bad things. Dangerous things that could have taken the country in… in a dark direction."
Trump hit back at Esper's comments in a letter to O'Donnell over the weekend denying the claims made by the former defense secretary, whom he described as "weak and totally ineffective" in his role.
During the interview that aired on Sunday, Esper claimed that the former president had proposed taking military action against Venezuela, striking Iran, firing missiles into Mexico to destroy drug labs in the country, and that at one point "somebody proposed we blockade Cuba."
He further claimed that such incidents would "happen every few weeks" and that both himself and the Chairman of the Joint Chiefs of Staff Gen. Mark Milley would prevent them from going ahead.
Regarding Trump's idea to fire missiles into Mexico in an effort to tackle drug cartels and deal with the drugs issue in America, Esper claims that he informed Trump that doing so would violate international law to which he claims that Trump replied, "No one would know it was us?"
Esper also claimed that Trump asked: "Can't you just shoot them? Just shoot them in the legs or something?" with regards to Black Lives Matter protesters, and that he launched into an expletive-laden tirade when discussing sending 10,000 active-duty troops to Washington, D.C. after the historic St. John's Episcopal Church near the White House was set on fire amid protests about the death of George Floyd.
In his letter to O'Donnell Trump denied the claim that he suggested shooting protesters in the legs and called some Cabinet members "[expletive] losers," stating that it was a "complete lie, and 10 witnesses can back it up."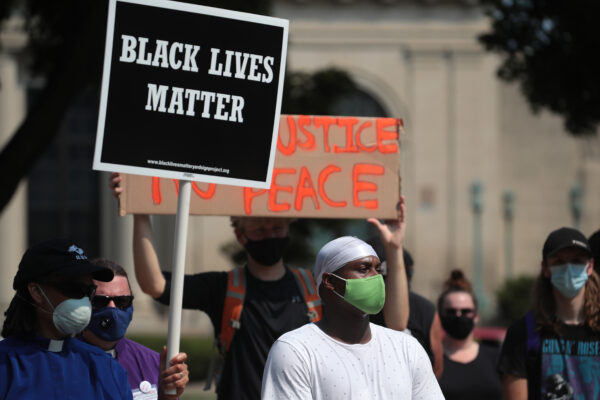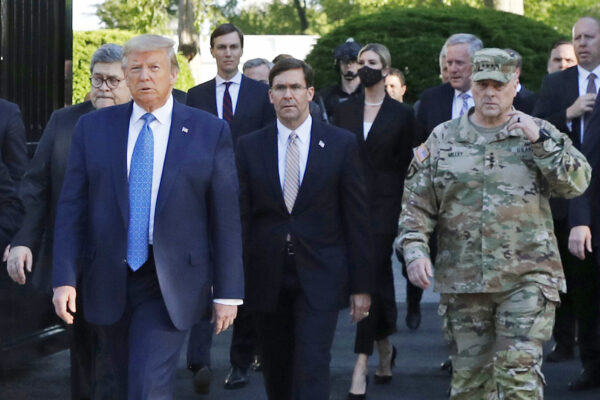 "Mark Esper was weak and totally ineffective, and because of it, I had to run the military," Trump wrote. "I took out ISIS, Qasem Soleimani, al­ Baghdadi, rebuilt the military with $2.5 trillion, created Space Force, and so much more. Mark Esper was a stiff who was desperate not to lose his job."
The former president continued: "He was a lightweight and figurehead, and I realized it very early on. He was recommended to me by some very weak RINOs [Republicans in Name Only] and that is what he turned out to be."
Regarding Esper's claims that Trump had wanted to send thousands of active-duty troops to Washington, D.C. following the incident at St. John's Episcopal Church, Trump asserted this was also incorrect.
"I wanted to send at least 10,000 troops for January 6 [the date of the Capitol breach] because I knew many people were coming to Washington that day to protest the corrupt Presidential Election of 2020. Nancy Pelosi and the D.C. Mayor turned me down," he said.
The Epoch Times has contacted spokespersons for Nancy Pelosi and D.C. Mayor Muriel Bowser for comment.
When asked about the claim that he weighed up firing missiles into Mexico to target drug cartels, Trump said, "No comment."
Esper was fired by Trump in November 2020 and Christopher Miller, the director of the National Counterterrorism Center, was instead appointed to lead the Pentagon as acting secretary.
At the time the president didn't provide a reason as to why Esper was fired. However, in his letter over the weekend, Trump said he had sacked Esper because he "was a RINO incapable of leading, and I had to run the military myself."
The former defense secretary told "60 Minutes" on Sunday that he "never disobeyed a direct order from the president of the United States," and that he "did what I thought was best for the nation and for our security, and completely within the authority granted to me under the law."