Former President Donald Trump on Sept. 28 offered to step in to negotiate a peace deal between Russia and Ukraine, citing the recent damage that was reportedly done to the Nord Stream I and II gas pipelines.
The pipelines, which Trump wrote have been sabotaged, could lead to a "major escalation" between the United States, Russia, and Europe. Leaders in the United States, he added on Truth Social, should remain "cool, calm, and dry."
"This is a big event that should not entail a big solution, at least not yet," he wrote. "The Russia/Ukraine catastrophe should NEVER have happened, and would definitely not have happened if I were President. Do not make matters worse with the pipeline blowup. Be strategic, be smart (brilliant!), get a negotiated deal done NOW."
"Both sides need and want it. The entire World is at stake. I will head up [the] group???"
The Epoch Times contacted the Department of State about Trump's proposal.
During a Sept. 27 interview, Trump told podcast host John Catsimatidis said that "we could end up in World War III and it could be all of the horrible things that took place in Ukraine."
"I think we're at the most dangerous time maybe in, in many, many years—maybe ever—because of the power of nuclear," Trump said.
European officials have suggested that the pipelines were damaged on Sept. 26 in a deliberate act. Some blamed Moscow, although Russia jointly operated Nord Stream I with Germany for years, and a top Kremlin official on Sept. 28 dismissed such claims.
Russia, which slashed gas deliveries to Europe after the West imposed sanctions over Moscow's invasion of Ukraine, has also said sabotage was a possibility. Russia's embassy in Denmark said any sabotage on Nord Stream's pipelines was an attack on both Russia's and Europe's energy security.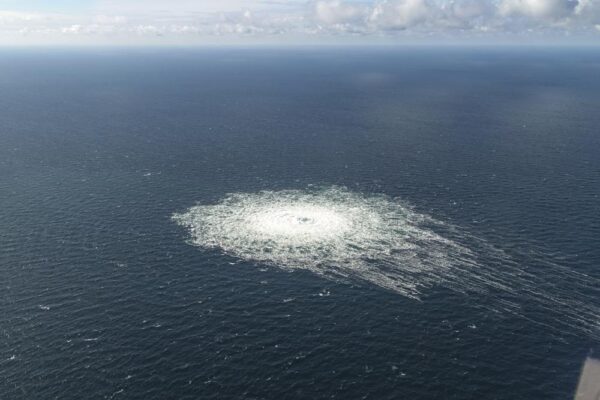 The United Nations Security Council will convene on Sept. 30 at the request of Russia to discuss damage to the Nord Stream pipelines, the French U.N. mission, which holds the presidency of the 15-member council for September, said in a statement.
"Any deliberate disruption of European energy infrastructure is utterly unacceptable and will be met with a robust and united response," European Union foreign policy chief Josep Borrell said.
Seismologists in Denmark and Sweden, meanwhile, said that explosions were the likely cause of the damage to the underwater pipelines and ruled out natural causes.
Bjorn Lund‬, director of the Swedish National Seismic Network at Uppsala University, told NPR on Sept. 27 that it's "very clear from the seismic record that these are blasts."
"These are not earthquakes," he added. "They are not landslides underwater." In an interview with Swedish television, Lund said he has "no doubt that these were explosions."
Kremlin Response
Speaking to reporters on Sept. 28, top Kremlin spokesman Dmitry Peskov sharply dismissed claims that Moscow was behind the alleged sabotage. The damage, he said, is a "big problem" for Russia because "gas is very expensive."
"Firstly, both lines of Nord Stream … are filled with gas. The entire system is ready to pump gas and the gas is very expensive … now the gas is flying off into the air," Peskov told Reuters. "Are we interested in that? No, we are not, we have lost a route for gas supplies to Europe."
Reuters contributed to this report.