President Donald Trump and First Lady Melania Trump visited Florida and later Georgia on Oct. 15 to survey the destruction caused by Hurricane Michael, which left the seaside town of Mexico Beach as a pile of rubble.
Before the Trumps boarded a helicopter with Gov. Rick Scott at Eglin Air Force Base in Florida, the president spoke briefly to reporters, telling them that the government's priority is providing food, power, and safety to victims.
"You know many of these people, they have no homes," Trump said. Earlier, he remarked that he is "just making sure everyone is safe."
Hurricane Michael made landfall on Oct. 10, about 100 miles west of the base where the Trumps landed. The Category 4 hurricane, one of the most powerful storms to ever hit the continental United States, caused at least 18 deaths across four states, as dozens remain missing in the Florida Panhandle, according to Reuters.
On Twitter, Trump called the storm the "worst hit in 50 years" and that "maximum effort is taking place" to help those in need.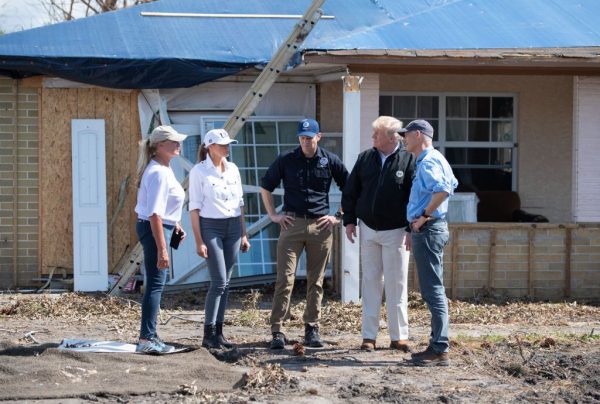 Touring the skies on Marine One, Trump surveyed the hurricane's path of destruction that included thousands of uprooted trees stacked up in uneven rows, houses with roofs or parts of roofs missing, and widely strewn debris.
The damage worsened as the entourage flew closer to Mexico Beach—the epicenter of the destruction. A water tower lay on its side, a parking lot had 18-wheel trucks scattered about like children's toys, and roads leading into town were lined with cars and trucks carrying U-Haul trailers.
"It's hard to believe. When you're above it, in a plane, and to see the total devastation, to see no houses left—not even the pads are left—it's incredible," Trump told reporters. "To see this, personally, it's very tough. Very, very tough. Total devastation."
At least one person has been confirmed killed in Mexico Beach, which took a direct hit from the massive storm, Reuters reported. Electricity and telephone service are being slowly restored, but for the state's most damaged areas, it could take weeks.
Rescuers say they expect the death toll to rise as they use cadaver dogs and heavy equipment to search collapsed homes in small towns such as Mexico Beach and Panama City for more victims.
After completing the aerial tour, the president and first lady surveyed a street of damaged homes in the city with Scott and Homeland Security Secretary Kirstjen Nielsen.
Trump observed the damaged home of resident Michael Rollins, who said he has ridden out many hurricanes in the past but never seen one like this. Rollins extolled the virtues of first responders.
Margo Anderson, the mayor of Lynn Haven, Florida, accompanied the president, who shook hands and chatted with residents on the street. The first lady stood beside the president as he talked with residents.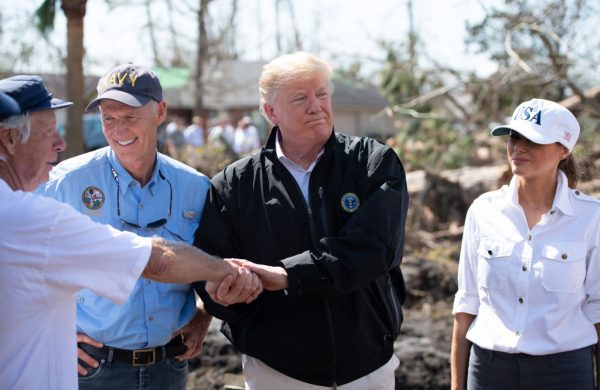 The president then headed to a distribution center in Lynn Haven, where volunteers were registering storm victims. He continued on his tour by visiting a FEMA aid distribution center.
"These are some of the people who make it work, and they do it beautifully," Trump said, standing next to Scott and Brock Long, the administrator of FEMA. "Everybody has been incredible."
Scott thanked Trump for the federal response.
"I want to thank the president for always taking my call—and for showing up. And I want to thank the first lady," he said.
The governor said they still have a lot of work to do and are still getting water and food out. In his remarks, he said that 4,000 members of the National Guard are working day and night to get to people in need,  with the help of local law enforcement.
The president and first lady then handed out plastic bottles of Kirkland water at a distribution table, as they spent some time mingling with the crowd.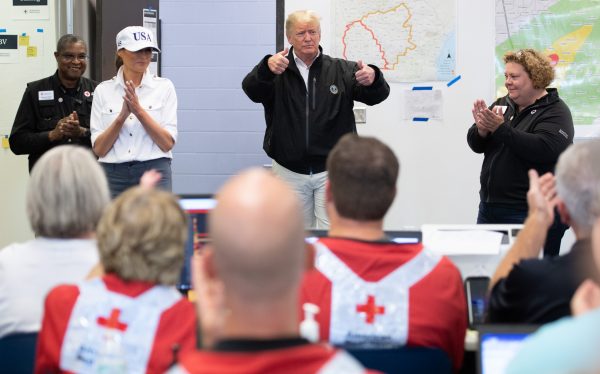 Later in the afternoon, Trump arrived in Macon, Georgia, and gave a briefing at an American Red Cross building. Long said that Georgia was hit by Category 2 winds and remarked that the area will see lots of generational agricultural losses.
Trump on Oct. 14 declared a state of emergency in Georgia, freeing up federal resources for the state. A similar declaration had already been made previously for Florida.
Long said that cell communication is coming back online and that they are now looking to put people in short and long-term homes.
"We just left Florida and the people there are thrilled with our people and our talent. What they were not thrilled with was this hurricane," Trump told reporters in Macon.
The president said he will ask Congress for supplementary funding for disaster aid. Trump also visited a farm and met with growers of cotton and pecans to talk about the storm-related losses they suffered.
Just last month, Trump visited North and South Carolina following a direct hit by Hurricane Florence.