Former President Donald Trump warned voters that more Democrat policies would soon turn America into Cuba or Venezuela, while President Joe Biden argued that Republicans could weaken U.S democracy at two dueling rallies on the final Sunday before the Nov. 8 midterms.
Biden was in Yonkers, New York, campaigning for incumbent Democrat Gov. Kathy Hochul who is locked in a close race with Rep. Lee Zeldin, who is seeking to become the first Republican governor of the Empire State since 2006.
Meanwhile, Trump was in Miami—the third of his four campaign rallies ahead of the election—stumping for incumbent Sen. Marco Rubio (R-Fla.), who is widely expected to defeat Democrat challenger Val Demings for Florida's Senate seat.
Polling data aggregator RealClearPolitics rates Florida's Senate race as "leans GOP" and gives Rubio a 7.5-point lead.
Trump
"The radical Democrats want to turn America into communist Cuba or socialist Venezuela," Trump told supporters. "And the Republican Party, we are determined that America will never be a socialist country."
Trump added, "If we don't start winning these elections and winning them big and fairly, we're going to end up being a communist country."
The former president claimed that millions of Hispanic Americans have joined the Make America Great Again (MAGA) movement.
"The socialist, communist, and Marxist direction of the radical Democrat Party is one of the biggest reasons that Hispanic Americans are joining our movement by the millions and millions and millions," Trump said.
"Many Hispanic American have roots in nations that have been destroyed by these vile ideologies," Trump continued. "And they don't want to see it happen here."

About 34.5 million Latino voters will be eligible voters in the midterms, according to Pew Research Center. That means the ethnic group accounts for 14.3 percent of all eligible voters in the upcoming elections.
According to a Spectrum News/Siena College poll (pdf) released last week, the majority of Latino voters in Florida have a more favorable opinion of GOP candidates. For the state's gubernatorial race, 61 percent of those polled said they would vote for incumbent Gov. Ron DeSantis, while 36 percent said they pick Democrat challenger Rep. Charlie Christ.
Of Rubio, 52 percent said he has their vote, while Demings only picked up 23 percent support in the poll. Meanwhile, 61 percent have an unfavorable opinion of Biden, while 46 percent see Trump in a negative light.
Most importantly, 67 percent of Latino voters in the Sunshine State believe America is heading in the wrong direction, while only 22 percent said the country is on the right track.
"When I talked about the border, you know who the biggest fans of that were? The Hispanics, Latinos. They knew more about the border than anybody," Trump said. "They understood crime much better than those fools that we have in D.C."
At one point in the rally, Trump urged supporters to vote for both Rubio and DeSantis.
Trump characterized Rubio as an "incredible champion of Florida workers and families," a "true conservative warrior," and a "candidate of law and order."
As for Demings, the former president criticized her as being a "radical Democrat" who voted for "every single one of Joe Biden's inflation-causing spending bills."
"If you want to stop the destruction of our country and save the American dream, you don't hear too much about the American dream over the last two years, then this Tuesday, you must go out and vote Republican in this giant red wave," Trump said.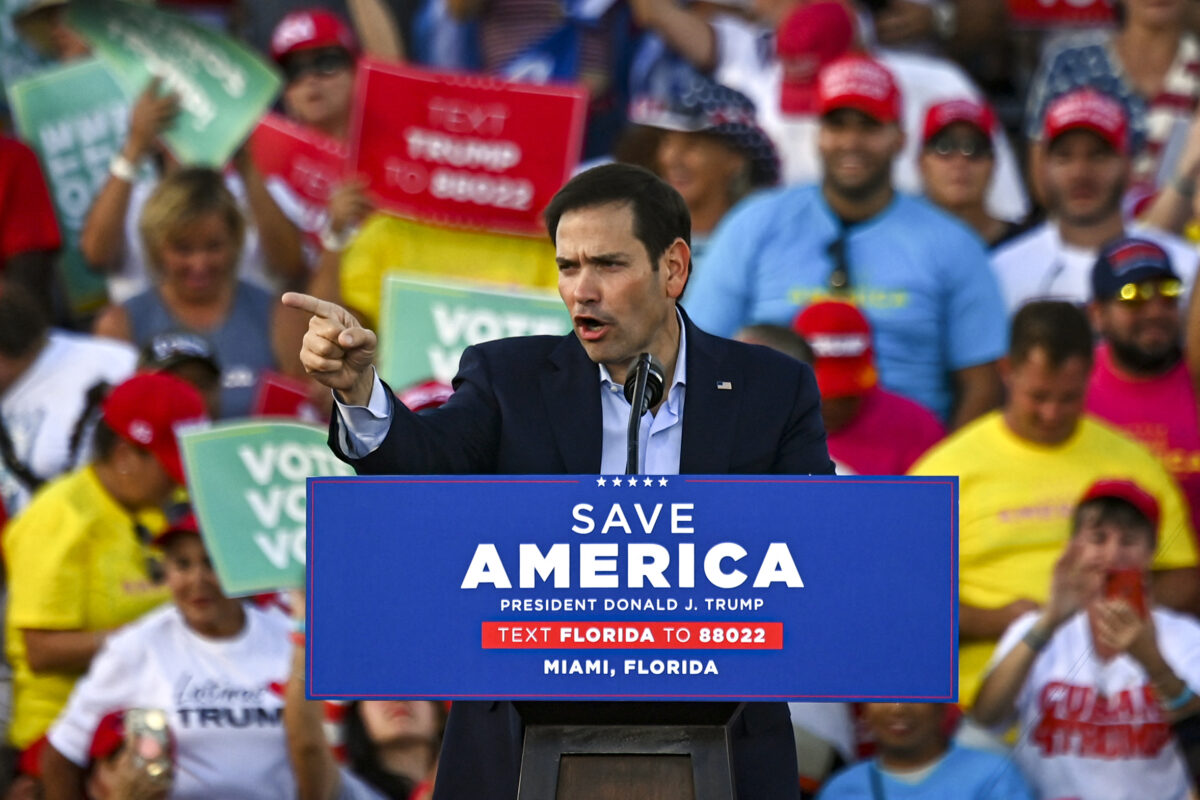 Biden
At Sarah Lawrence College in Yonkers, Biden said the Nov. 8 election would be one of the "inflection points" in the country's history, one that will determine the next 20 years.
"Democracy is literally on the ballot," Biden said. "If you show up and vote, democracy is sustained, not a joke … it matters. It's in your hands."
"We all know in our bones, that our democracy is at risk," Biden continued. "We know that this is your generation's moment to defend it, to preserve it, to choose it. I want you to know we'll meet this moment."
Experts have weighed in on the left's emphasis on safeguarding "American democracy," which is one where the Democratic Party sees their rule as equivalent to what "democracy" means, as opposed to the traditional meaning of rule by the people. Another argued that Democrats' calls for saving democracy has become the new "Russian collusion."
Victor Davis Hanson, a distinguished fellow of the Center for American Greatness, wrote in an op-ed published by The Epoch Times in December last year that the left's worries about democracy were, in fact, their fear of losing power in 2022 and 2023, because "democracy will work too robustly" as voters reject their failed policies.

Biden raved about Hochul while criticizing Zeldin's opposition to the Democrat agenda, including his opposition to a ban on guns, the president's Inflation Reduction Act, and student debt relief.
"She's someone who takes action. She gets things done," Biden said. "New York, you've got two days, two days to make sure the rest of New York knows the good that they have in Kathy Hochul.
"She's repairing roads, bridges, building New York's electric vehicle charging stations, expanding access to high-speed internet, cleaning up the water systems," Biden added.
In July, the House passed the "Assault Weapons Ban Act" by a mostly partly-line 217-203 vote. Republicans argued that the bill was a violation of Americans' Second Amendment rights.
To address voter concern about crime in New York, Zeldin has said that he would declare a crime emergency and end cashless bail if elected.
"This election isn't a referendum," Biden said. "It's a choice. It's a choice between two fundamentally different visions of America."
Some Republicans, including Trump, have said the election is a referendum on Biden's leadership and policies.
According to an October poll (pdf) by USA Today and Suffolk University, 43 percent of voters agreed with the statement, "I want my vote to change the direction President Biden is leading the nation." Meanwhile, 28 percent say "I want my vote to support the direction President Biden is leading the nation."