Former Trump administration aide Catalina Lauf is sure she's got what it takes to land an endorsement from President Donald Trump in her primary bid against Rep. Adam Kinzinger (R-Ill.), one of the 10 Republicans who sided with Democrats in voting for his impeachment.
"President Trump and his team are taking this really seriously, and they want to pick the right person, both in electability but also in leadership," Lauf told The Epoch Times. "I'm confident that I'm that person. But I'm not sure what their process is or what they're planning on their end."
Trump has already endorsed former White House aide Max Miller against another Republican who voted for impeachment, Rep. Anthony Gonzalez of Ohio.
A planned meeting between Trump and Lauf, who served in the Trump administration as an adviser in the Department of Commerce, didn't take place over the weekend of March 6–7, a Trump adviser told The Epoch Times. Trump's team is watching the race in Kinzinger's district closely, the adviser said.
The president listed the names of the other GOP lawmakers who voted for impeachment, during his comeback speech at last month's Conservative Political Action Conference in Orlando, Florida, all but assuring that he will endorse and support primary challenges for their seats.
"Get rid of them all," Trump said.
"The Republican Party is united. The only division is between a handful of Washington, D.C., establishment political hacks and everybody else all over the country. And that's why I'm announcing that I will be actively working to elect strong, tough, and smart Republican leaders."
Lauf is an entrepreneur from Woodstock, Illinois. Her mother is an immigrant from Guatemala who worked as a teacher and then a career counselor. Her father grew up in a Depression-era Chicago household and went on to start multiple businesses. Witnessing her parents' work ethic and entrepreneurship, Lauf grew an affinity for the values of the Republican Party.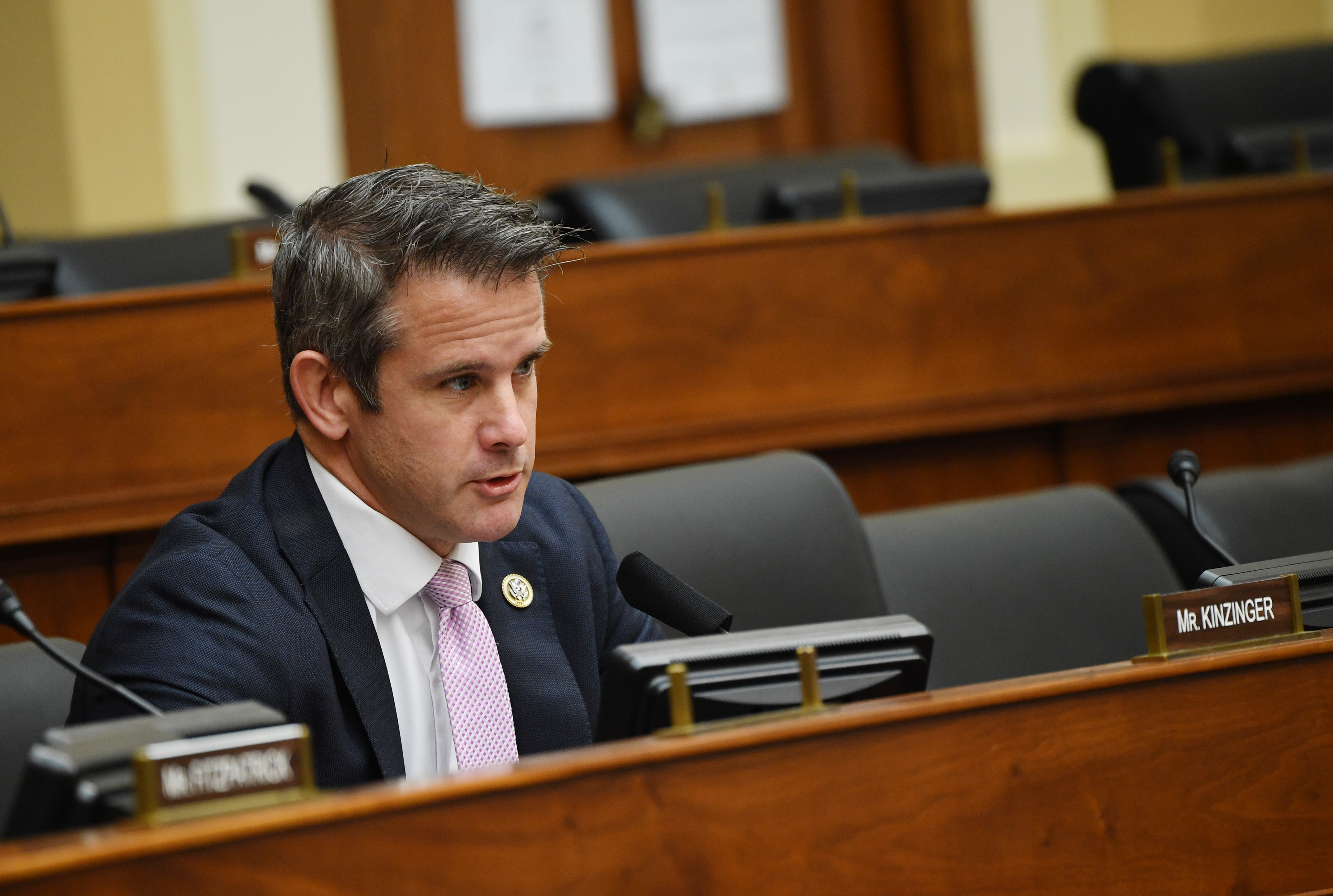 "They came here, worked hard, assimilated, learned the language, and really built their American dream," Lauf said. "We grew up in a household that appreciated limited government, and ambition and defining your own destiny, and the values that the Republican Party stands for were embodied in my upbringing."
Lauf ran for the House in 2020 and finished third in the Republican primary, earning 5.5 percent fewer votes than Jim Oberweis, who was then an Illinois state senator, in a crowded field. Despite the loss, Lauf said her campaign accomplished a lot as a "no-namer" with limited resources.
"What I learned was that the swamp is everywhere. Here, in my race, I was battling the establishment in the Republican Party in the primary, but then also having to battle the Democrat agenda," Lauf said.
"So the swamp and what President Trump spoke about with these RINOs and things like that, that's happening in every state," she said, using an acronym for "Republican in name only," which is commonly used to refer to Republicans who are believed to govern and legislate like Democrats. "I was up against two very well-funded incumbent state senators, and we came very close to defeating both of them with limited funding."
Lauf believes Kinzinger's campaign message will be a sad one, given his ongoing support for the Democratic narrative that views all Trump supporters as radicals due to the action of the small group that breached the Capitol on Jan. 6.
Kinzinger last month started a political action committee (PAC) that focuses on combating the Republican Party's support of Trump. In a video describing the PAC, Kinzinger painted Trump supporters with a broad brush stained by the violence at the Capitol. Kinzinger also alleged, without offering examples or evidence, that Republicans have embraced conspiracy theories, outrage, and the politics of personality. Trump and Republicans have consistently condemned political violence, including the Jan. 6 breach.
"He'll just say that we're blind followers of the President, when the movement and the America-first agenda, from a policy perspective, positively impacted his constituents, it positively impacted Americans of all demographics no matter who you are," Lauf said. "It's the most inclusive agenda. So when somebody like Adam is out there basically agreeing with the far left and calling us all these names, that's a huge problem."
Maura Gillespie, the communications director for Kinzinger's campaign, said, "Congressman Kinzinger has a proven record of leadership and integrity, delivering results for his constituents in [Illinois] time and time again. Congressman Kinzinger serves the interests of the country and his constituents—not the interests of one man."