Justin Trudeau's Liberals have won another minority government in the snap election Trudeau called amid the pandemic.
While not all ballots are counted yet and mail-in ballots will be counted in coming days, the Liberals secured enough seats to be able to form a minority government, but will remain short of the 170 seats required to form a majority.
The Liberal Party, promising to continue its progressive path on climate action and finishing "the fight against COVID-19," won or was leading in 158 ridings on Tuesday morning, close to its 155 seats at dissolution.
The opposition Conservatives, touting the party's platform for "Canada's recovery," won or were leading in 119 ridings, the same as their 119 seats at dissolution.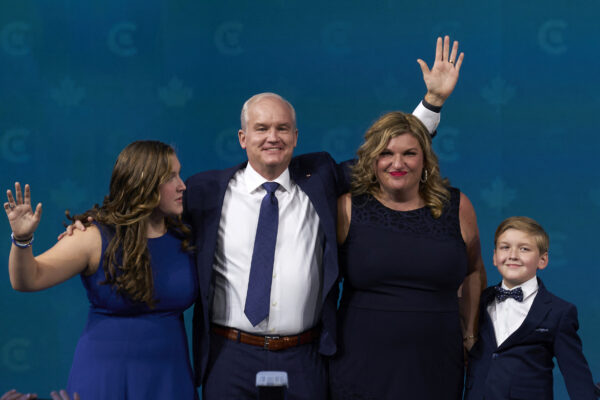 The Bloc Québécois, which continued its Quebec-first message throughout the campaign, won or was leading in 34 ridings, compared to the 32 seats the party held at dissolution.
The NDP, which was competing for the progressive votes with the Liberals and counting on the popularity of leader Jagmeet Singh, won or was leading in 25 ridings; the NDP had 24 seats at dissolution.
The Green Party maintained the two-seat count it had at dissolution, while leader Annamie Paul failed to win in her riding of Toronto Centre. Long-time Green MP Elizabeth May won in her B.C. riding of Saanich—Gulf Islands. Fellow B.C. Green incumbent Paul Manly lost in his riding, but the loss was offset by Green candidate Mike Morrice winning in the Kitchener Centre riding in Ontario.
Maxime Bernier's People's Party didn't win any seats, including in Bernier's riding of Beauce in Quebec, which was won by the incumbent Conservative candidate. The party, which had campaigned on upholding personal liberties and fighting for COVID-19 vaccine choice, increased its share of national vote to over 5 percent as of Tuesday morning, up from less than 2 percent in 2019.
With a minority government, the Liberals will need the support of other parties to pass legislation, similar to the last Parliament.
Throughout the campaign, the Trudeau Liberals defended their decision to call an election only two years after the last one in 2019, when they lost their majority, saying Canadians needed to decide who will lead the country toward ending the pandemic.
The opposition parties criticized the Liberals for calling the election amid the fourth wave of the COVID-19 pandemic, arguing that Trudeau's motivation was to strengthen his power base.
Both Trudeau and Conservative Leader Erin O'Toole remained defiant in their post-election speeches, although Trudeau had been expecting to win a majority, and O'Toole to form government.
"You are sending us back to work, with a clear mandate to get Canada through this pandemic and to brighter days ahead," Trudeau said in his victory speech in Montreal.
"I see Canadians standing together—together in your determination to end this pandemic, together for real climate action, for $10 a day child care, for homes that are in reach for middle class families, for our shared journey on the path of reconciliation."
In his concession speech in Oshawa, O'Toole said "Canadians did not give Mr. Trudeau the majority mandate he wanted."
"In fact, Canadians sent him back with another minority at the cost of $600 million and deeper divisions in our great country," he said. "I challenged the prime minister to put the unity of this country and the well being of its people first and I told him, if he thinks he can threaten Canadians with another election in 18 months, the Conservative Party will be ready."
The final vote count will be announced once the approximately 800,000 mail-in ballots are counted. Counting will begin on Tuesday.
Editor's note: Seat count projections were updated in the morning of Sept. 21.