Brandworkers Calls for Loan Program Transparency After Tortilla Factory Conviction
July 11, 2013 6:54 am Last Updated: July 11, 2013 7:53 pm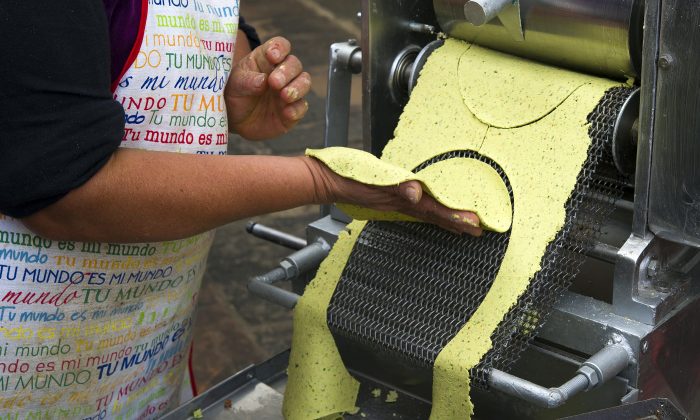 NEW YORK—The conviction of a tortilla factory owner for labor violations is raising new questions about the food processing industry in New York City. State Attorney General Eric T. Schneiderman announced on July 8 that Erasmo Ponce, the owner of Tortilleria Chinantla Inc., was sentenced and convicted for labor law violations and unsafe workplace conditions. 
Ponce, who owns a corn tortilla factory in Brooklyn, must pay nearly $450,000 in restitution and serve 90 days in jail. Part of the money will go to the daughter of an employee who was killed on the job in 2011. 
A food worker's rights organization, Brandworkers, is using the conviction as a chance to raise their concerns about choosing recipients for a small business loan program for food manufacturers. The $10 million program, run by Goldman Sachs and the NYC Economic Development Corporation (EDC), is called NYC Food Manufactures Growth Fund and is part of a $500 million national pool of money.
According to the EDC, there are about 1,000 food manufacturing businesses and 14,000 related workers in New York City and the industry generates $2.9 billion annually.
"Our concern is that companies like Tortilleria Chinantla will get money," said Joseph Sanchez, a Campaign Coordinator for Brandworkers, in an interview by phone. 
Of the funds used for New York City, $1 million comes from the EDC, and the rest from the Goldman Sachs' Urban Investment Group. It is the partial use of public money (about 10 cents for every dollar lent), and the program's lack of transparency during the applicant process, that Brandworkers takes issue with. 
But the EDC says publicizing loan recipients is not standard business lending practice, and the code of good conduct agreement they developed in cooperation with Brandworkers for businesses they lend to should be reassurance enough.
"During the design of this program, NYCEDC met and had an extended dialogue with Brandworkers to hear their perspectives and learn about the issues most important to them," said Nick Kelly, Vice President and EDC spokesperson in an email.  "In partnership with the New York Business Development Corporation (NYBDC) and Goldman Sachs, various components of the program were modified to address factors previously not in the program's scope."
Sanchez said that might not be enough. Brandworkers is hoping they will post company names online and allow for public comment on the working conditions of those applying for a loan. 
"The problem with relying on [a good conduct form] is that the EDC isn't a regulatory body, so for companies signing the form, there's no real penalty if they break the law," said Sanchez. 
The New York Business Development Corporation, a private corporation, administers the loan program in New York City. It also operates in Chicago, Cleveland, Houston, Long Beach, Los Angeles, New Orleans, and Salt Lake City.