Toronto Maple Leafs Looking Playoff-Bound Barring Total Implosion
March 25, 2013 7:01 pm Last Updated: October 1, 2015 10:44 am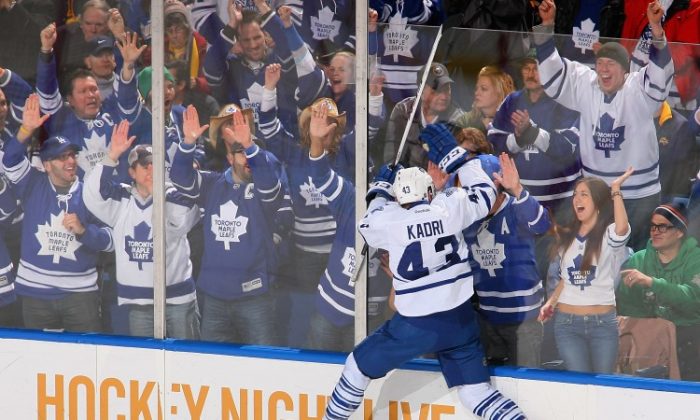 The Toronto Maple Leafs are doing what it takes to make the playoffs. The numbers certainly back that up. In fact, with 16 games remaining, the Leafs would have to implode to not make the playoffs based on recent history.
Since the 2004–2005 season was completely lost due to the lockout, the average point total for the eighth place team in the Eastern Conference is 92. (It's 94 for the Western Conference.) Based on a 48-game shortened season, that "barometer" for what point total should equate to a No. 8 seed in the playoffs is 54 points.
After 32 games played, the Leafs have 37 points meaning they only need 17 points from their last 16 games to reach 54 points, which seems very manageable based on how they've been playing—not to mention being able to pick up a point for losing in a shoot out / overtime.
And what's different about this year's Leafs team is that they are getting production on offence and the goaltending has not been a weakness. Their goaltending is the best they've had since prior to the last lockout.
Nazem Kadri, 22, was Toronto's first-round draft pick in 2009. In his first full season in the NHL, he is proving to be able to fill the shoes of Hall of Famer Mats Sundin. Sundin was a consistent point-a-game player and Kadri has been racking up the points in spectacular fashion. Kadri also leads the team in plus-minus with a very respectable +17.
Phil Kessel who, after a slow start, has found his second wind and is regularly contributing to Leafs scoring supports Kadri.
In nets, Ben Scrivens and James Reimer have nearly identical goals against averages and save percentages. Reimer, though, has more wins.
End to Futility
The Leafs record for futility is well known in "Leafs Nation" and around the NHL. They have not made the playoffs since 2004 and their last Stanley Cup was won in 1967. Both are currently the longest streaks in the NHL.
The Leafs have had some entirely forgettable campaigns in recent years. The 2009–2010 season began with three wins in their first 20 games.
Their prior seasons since the last lockout in 2005 have been marred by frequent losing streaks and poor goaltending. This year, the Leafs had one five-game losing skid in which they picked up two points.
Sundin's performances merited playoff appearances, but goaltenders Andrew Raycroft, Vesa Toskala, and Ed Belfour weren't able to stop enough pucks.
It may be symbolic but Toronto's win over Boston on Saturday night marked the end of an eight-game losing streak against the powerhouse Bruins. Toronto had suffered some humiliating losses to the tune of 8–0 and 7–0 along the way.
It would seem it makes sense to have hope in Leafs Nation for a first playoff appearance in nine years. The Leafs have responded to adversity better than they have in recent years and the emergence of Kadri to take Sundin's mantle as well as solid goaltending from Scrivens and Reimer are steering the ship in a positive direction.
Follow Rahul on Twitter @RV_ETSports
The Epoch Times publishes in 35 countries and in 21 languages. Subscribe to our e-newsletter.