Top House Republicans say their Democratic colleagues are "not serious" about confronting the Chinese Communist Party (CCP), after the House unveiled legislation that Democrats say would increase U.S. semiconductor manufacturing and bolster competition with China.
The United States is currently facing a chronic shortage of semiconductor chips—a key component in phones, computers, and cars—which has put a strain on supply chains. In a recent report, the Department of Commerce stated that a long-term solution is desperately needed to prevent economic and national security risks.
The House measure, introduced on Jan. 25, is called the America COMPETES Act of 2022. The wide-ranging proposal (pdf) spans more than 2,900 pages. Democrats and the White House have called the legislation a bipartisan effort, but House Republican leaders have said otherwise.
The Senate in June 2021 approved the $252 billion U.S. Innovation and Competition Act (USICA), which included a provision of $52 billion in semiconductor-production subsidies to incentivize domestic semiconductor chip production. The measure would also authorize $190 billion to strengthen U.S. technology and research to compete with China. But the measure has stalled in the House.
The House's version of the legislation, a response to the Senate measure, doesn't include the $190 billion for technology and research, but still includes the $52 billion in semiconductor-production subsidies.
Another chief provision is the $45 billion in grants, loans, and loan guarantees to help address supply chain issues through subsidizing domestic production and manufacturing facilities, if needed, to prevent shortages of critical goods.
Other provisions in the House package were already approved by the chamber in June 2021, including two bipartisan measures to increase research funding for the National Science Foundation and the Department of Energy.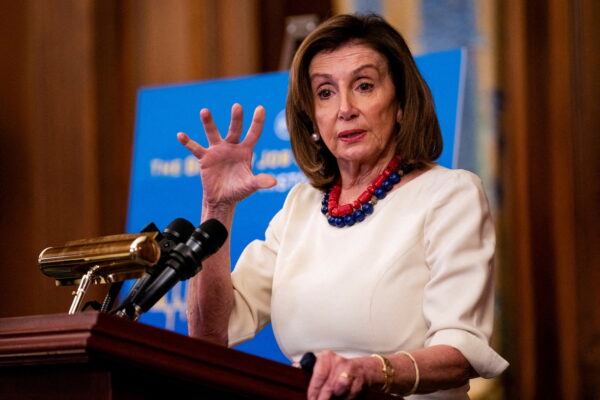 Legislation Is Weak, Partisan: GOP Leaders
House Speaker Nancy Pelosi (D-Calif.) said in a statement that House members "look forward to conferencing this bill with the Senate to get legislation to the President's desk as soon as possible."
But Rep. Michael McCaul (R-Texas), the top Republican in the House Foreign Affairs Committee, said the legislation "will likely garner no Republican support." He also alleged that Democrats have sought to push through a "weak, partisan bill."
"We have been in talks with House and Senate committees of jurisdiction for weeks, trying to put together a bipartisan bill that could pass Congress," McCaul said in a statement.
But rather than allowing those talks to play out, Pelosi and House Democrats worked on a proposal that "was hastily thrown together behind closed doors in a process with no Republican input and is being jammed through the House," according to McCaul.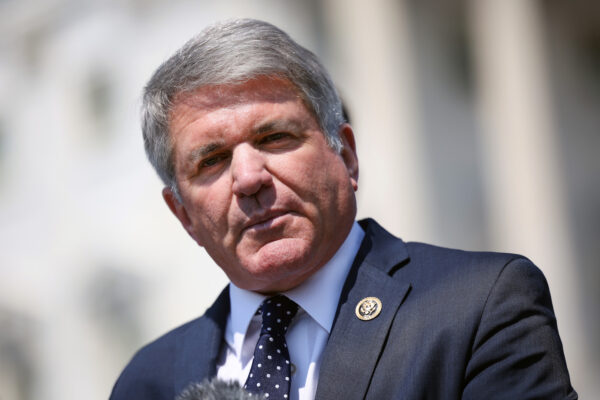 He took particular issue with the legislation's inclusion of the EAGLE Act (Ensuring American Global Leadership and Engagement Act), which he said "proves Democrat leaders are not serious about confronting the CCP." The EAGLE Act includes a $4 billion contribution to the Green Climate Fund, an initiative under the U.N., for fiscal years 2022 and 2023.
"The EAGLE Act authorizes more taxpayer money to pour into an unaccountable U.N. climate slush fund than it does to counter the CCP," McCaul said. "It reflects virtually no Republican input."
He urged Pelosi and her fellow House Democrats to work with Republicans on legislation that would be approved by Congress and "will actually counter CCP aggression—including using meaningful export control policies."
Pelosi's office didn't respond to a request for comment by press time.
Other Republican leaders have since issued statements to similar effect.
House Minority Leader Kevin McCarthy (R-Calif.) said in a statement that the COMPETES Act "isn't serious legislation," and is instead "a facade to cover up [Democrats'] reluctance to hold China accountable and an attempt to distract from their domestic crises."
Ways and Means Committee Republican Leader Rep. Kevin Brady (R-Texas) said in a statement that the measure shows that congressional Democrats "aren't serious about confronting China, holding them accountable for their trade commitments, or insisting China stop cheating America and other countries."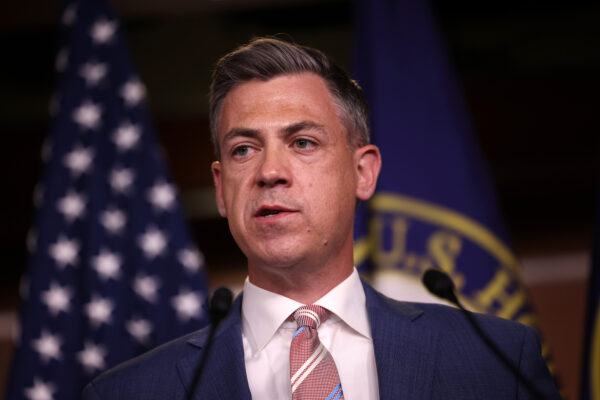 Rep. Jim Banks (R-Ind.), chairman of the conservative Republican Study Committee (RSC), a 150-member caucus, said the legislation "throws billions at unrelated issues that have nothing to do with national security."
"For example, it includes millions to study coral reefs and gives billions to the United Nations Green Climate Fund. At the same time, there is no money to enforce our sanctions laws or increase our military strength," he said in a statement.
The RSC put forth its own version of the measure, which Banks said "includes tough measures like sanctions that would limit the Chinese Communist Party's ability to subvert our nation's institutions and steal our intellectual property." He also said the legislation would cost just 0.5 percent of the Senate's USICA.
House Financial Services Committee Republican Leader Rep. Patrick McHenry (R-N.C.) pointed out some provisions of the legislation that he said "does nothing to combat the rise of the Chinese Communist Party."
"Financial Services Democrats' provisions include: policies to cover up for the Biden Administration's giveaway of $40 billion in no-strings-attached IMF money to the CCP last spring, and their support for $130 billion more last summer; as well as granting Treasury unchecked authority to block Americans' digital currency payments worldwide," Henry said in a statement. "Most of these partisan provisions have never been marked up by our Committee."
Rep. Frank Lucas (R-Okla.), Republican leader of the Science Committee, said in a statement that Pelosi's move to introduce the House measure effectively did away with a year's worth of bipartisan discussions on funding for tech research projects.
"She has done so with no regard for all of this bipartisan work," he said. "Instead of focusing on strong consensus policies, she's filled her package with poison pills with no bipartisan support."
The legislation "actually weakens our ability to deal with the malign influence from China."
Frank Fang contributed to this report.