More than 130 employees at ByteDance, the Chinese owner of video-sharing application TikTok, are part of a Chinese Communist Party (CCP) committee embedded in the company. Many of the employees work in management positions, an internal document reveals.
The extent of CCP membership among ByteDance management further demonstrates the company's ties to the Chinese regime, fueling security concerns about TikTok.
By law, Chinese companies are required to set up Communist Party units within their offices to ensure that business policies and employees toe the Party line. ByteDance, founded in March 2012, set up its Party committee in October 2014.
According to Party regulations, companies' committee members are appointed at political conferences. Members serve five-year terms.
It's unclear exactly how many Party members or committee members are among ByteDance's 60,000 employees across 230 global offices; the list obtained by The Epoch Times is only a partial listing of committee members at its Beijing headquarters.
At the headquarters office, at least 138 employees—mostly in management positions or technical roles—are in the company's influential Beijing Party committee, according to the internal list. Sixty on the list are classified as having a managerial role.
The document details each committee member's full name, gender, birthday, date they joined the CCP, ID numbers, and type of position in the company, such as managerial or technical.
The revelations come as the U.S. government intensifies scrutiny of TikTok and other Chinese-owned apps on national security grounds. U.S. officials have repeatedly sounded the alarm that American personal data collected by TikTok could be accessed by Beijing, as Chinese companies are beholden to the CCP.
ByteDance didn't respond to a request for comment.
President Donald Trump on Aug. 6 issued executive orders to ban U.S. transactions with ByteDance, and Chinese internet giant Tencent Holdings Ltd. The ban will take effect in 45 days. Trump has also given ByteDance until Sept. 15 to sell TikTok to Microsoft or another American firm. Microsoft confirmed that it's in talks to buy the app.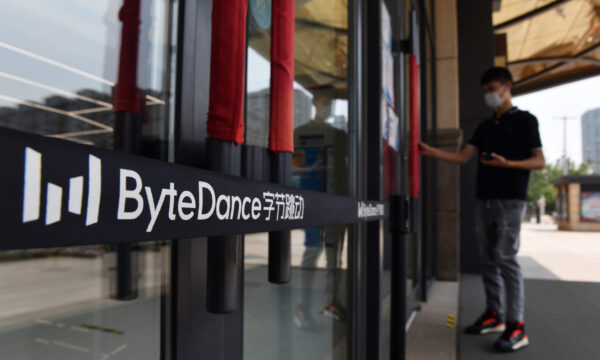 Secretary of State Mike Pompeo previously said the U.S. administration's actions targeting Chinese apps seek to address a "broad array of national security risks that are presented by software connected to the Chinese Communist Party."
The CCP members list reveals the extent of the Party's relationship with ByteDance, and dovetails with the tech giant's long-documented history of cooperating with authorities on censorship.
Founder and CEO Zhang Yiming and other senior executives have openly expressed their desire to have the company support Party goals in the past.
James Carafano, vice president of The Heritage Foundation's Institute for National Security and Foreign Policy, said this level of CCP membership is typical for Chinese companies.
"All instruments of power are tied back to the Communist Party, and that includes economic instruments of power," Carafano told The Epoch Times.
He said that in China, there is no transparency about links between private companies and the CCP, thus "these companies literally can't be treated and trusted the way you would interface with other companies in global commerce."
ByteDance's presence in the United States via TikTok raises concerns, Carafano said, given its access to vast swathes of Americans' personal data. TikTok's assurances that it operates independently to ByteDance are "irrelevant," he added.
"It's a Chinese-owned company," Carafano said. "You have no confidence in the software. You have no confidence in their handling of data. And you have no confidence that they're independent of Chinese direction."
CCP Members List
Zhang Fuping, the company's "chief editor" and vice president, has previously been identified in Chinese media reports as secretary of the firm's Party committee. He also appears in the name list The Epoch Times obtained.


Zhang is in charge of censorship-related tasks for the company's social media platforms.
In previous Chinese state-run media reports, Zhang expressed his willingness to promote the Party's censorship policies.
In an April 2019 interview with Xinhua, Zhang explained that network security to the company means "the public opinion can be led in the right direction … full of positive energy, and promote the core values of socialism."
The internal name list that The Epoch Times obtained reveals that many senior managers are also members of the Party committee.
Committee member Zhang Nan (male) was listed as an employee who directly reported to one of ByteDance's top 14 executives, in an organization chart obtained by news site The Information in April 2019. Those 14 in turn report to the CEO, Zhang Yiming.
Zhang Nan was promoted in March to business director of the Feishu app, according to a report by Chinese tech news site Lei News. The tool combines different collaboration apps into a single platform.
Meanwhile, Meng Haibo is director of the public affairs department at ByteDance, according to a 2018 report by Youth Hangzhou, a state-run newspaper. He is in charge of "affairs related to government cooperation" and heads big data analysis projects, according to the report.
Dang Liya, a senior manager of ByteDance's language training apps, joined the Party in 2013.
Other staff on the list are lower-level managers at the firm's different properties, according to The Epoch Times' research.
For example, Xia Yong is the chief editor of Toutiao, a popular news aggregator app owned by ByteDance, while Xia Manxue is a commercial product manager there, according to her LinkedIn page.
The company's hiring practices also give Party members preference. For example, the company's recent job recruitment notice for "editors" in charge of monitoring current-affairs-related content specified that "CCP members have hiring priority."
Police Cooperation
On April 25, 2019, ByteDance signed a strategic cooperation agreement with China's Ministry of Public Security, which is in charge of the country's police.
Local police routinely arrest and detain those who post information deemed sensitive by authorities.
At the signing ceremony, Zhan Jun, Party boss of the propaganda department within the Ministry of Public Security, said, "We should use new online media to voice out the good voices of Chinese police, tell nice police stories, build a good image of our police, and foster close relations between police and the people."
State-run media China Police Net reported that ByteDance would help set up and operate Toutiao and Douyin accounts for each police department within all Chinese provincial governments—at the municipal and county levels—as well as the national ministry. ByteDance will help to promote the posts generated by the police accounts, the report added.
Chinese police own more than 50,000 social media accounts across different platforms and have more than 100 million followers in total, according to the report.
Annie Wu and Cathy He contributed to this report.