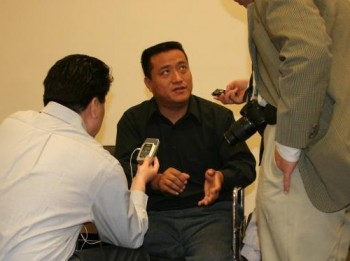 WASHINGTON—The China democracy movement and hopes for reforming the communist regime of China were shattered on June 4, 1989 in the Tiananmen Square Massacre. To this day, the Chinese Communist Party (CCP) conceals information on the massacre from the Chinese people.
As the 20th anniversary approaches in just a few weeks, several people in the U.S. and in China who were directly affected by the tragedy are coming forward and demanding the truth be told. They are also looking for support from the new U.S. administration as the anniverary of the massacre approaches.
"I am here to remind the American government and the American people that the communist dictatorship that took my legs and the lives of thousands of innocent civilians on the morning of June 1989, is the same government that is in power today," said Mr. Fang Zheng, who was trying to leave Tiananmen Square on that night when he was run over by a tank.
Mr. Fang was speaking on May 18 at a press conference on Capitol Hill, sponsored by human rights group, Initiatives for China. Fang was one of two survivors of the 1989 Tiananmen Square Massacre invited to tell his experience and thoughts on the current communist regime.
In China, it is not permitted to freely discuss the Tiananmen Massacre with media, and Chinese media do not write about it. The incident is also censored on China's Internet, which is among the most tightly controlled in the world.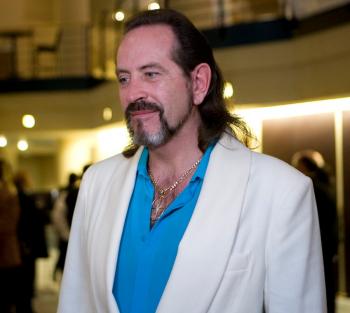 Mr. Fang was joined by Dr. Yang Jianli, who was pursuing a career in mathematics at University of California, Berkeley, when he quickly returned to China to participate in the demonstrations for democracy in Tiananmen Square. He arrived in time to witness the slaughter "of thousands by the guns and tanks of the Chinese army," according to his official biography. He returned to the United States, narrowly escaping capture. Much later, in 2002, when visiting China, the regime imprisoned Dr. Yang for 5 years. In 2007 he formed "Initiatives for China."
The two veterans of the 1989 Tiananmen Democracy Movement were joined by Congressman Chris Smith (R-N.J.), who prepared a special press release in remembrance of the tragedy of Tiananmen Square.
June 4: Orders to Kill
Congressman Chris Smith said that there were hundreds of thousands of demonstrators in May 1989 gathered at Tiananmen Square and elsewhere expressing a desire for peaceful democratic reform. Some people in the Communist Party were sympathetic and realized that communist rule had been a tragedy for countless millions, whose lives had been destroyed by famines, cultural revolutions, and totalitarian social control.
"But we know what happened. Jiang Zemin pushed the reformers aside, cleared Tiananmen Square with tanks, and shot to death thousands of peaceful demonstrators," said Smith.
Representative Smith quoted General Chi Haotian, the defense minister of the People's Republic of China, who commanded the soldiers that allegedly killed and maimed pro-democracy demonstrators at Tiananmen Square.
The Chinese general claimed that "not a single person lost his life in Tiananmen Square" and that the Chinese army did nothing more than "pushing people."
Eye witnesses give a very different account. Fang Zheng said he was at the square when news came at about 10 p.m.
On June 3 the soldiers were shooting into the square from all sides. A female student who he recognized from his school was nearby and was very afraid, particularly when a gas bomb exploded beside them. As a man and a bit older, he felt obliged to protect her and escort her to safety.

The soldiers had fenced off the area and there was only one way out. As they were walking away, he saw out of the corner of his eye a tank bearing down on them. He couldn't lift her over the fence, so he quickly pushed her away from the tank, but fell to the ground and the tank ran over his legs. He was squeezed and pressed into the tank's metal belts, and his legs were severed.
"This happened 800 meters [half a mile] from Tiananmen Square," said Mr. Fang. The tanks had followed the people as they were trying to leave.
Mr. Fang was near death, bleeding profusely when he was rushed to the hospital. Both legs were amputated, the right one at the upper thigh, and the left at his knee. Mr. Fang was about to graduate from the Beijing College of Sports but after this incident, the college refused to give him his graduation certificate or assign him a job.
He went on to become a champion discus and javelin thrower in the Special Olympics, winning several gold medals in national events—yet when national leaders learned how he acquired his condition, he was disqualified from international competition.

Since he refused the regime's attempts to buy his silence with job offers and other compensation, he was regularly harassed by communist authorities and found it difficult to find employment. A few years ago, Mr. Fang emigrated to the United States, and now lives in San Francisco.
Tragedy of Tiananmen Square
What infuriates Congressman Smith is that in December 1996, General Chi—the man who made up the story that no one was killed at Tiananmen Square—was invited to the Clinton White House, where he received a 19-gun salute.
After 20 years, the Chinese regime perpetuates General Chi's fabrication that no one died, when in truth, thousands died and approximately 7,000 were wounded, according to Representative Smith.
"To counter the big lie, I quickly put together and chaired a hearing of eyewitnesses to the Tiananmen Square massacre … including a former editor of the People's Daily," said Smith.
He also invited General Chi and anyone else that the regime would want to testify, but they were "no shows." One of the eyewitnesses who spoke in detail was Jian-Ki Yang, vice president of the Alliance for Democratic China.
Yang told Smith of the horrors of Tianamen.
"I saw trucks of soldiers who got out and started firing automatic weapons at people. Each time they fired the weapons, three or four people were hit, and each time the crowd went down to the ground. … I saw 13 people killed. We saw four tanks coming from the square, and they were going very fast at very high speed. The two tanks in front were chasing students. They ran over the students. Everyone was screaming. We counted 11 bodies."
Time Magazine's Beijing bureau chief David Aikman said to Smith, "Children were killed holding hands with their mothers. A 9-year-old boy was shot seven or eight times in the back."
In the early 1990s, Congressman Smith, accompanied by Congressman Frank Wolf, visited a Beijing prison where they saw 40 Tiananmen Square prisoners. "For peacefully petitioning their government for freedom," they paid a heavy price. "They looked like the walking skeletons of Auschwitz," remarked Smith.
Nancy Pelosi Traveling to China
All participants at the news conference would like to see the United States take action and show more vigorous support for Chinese citizen's recent calls for political reforms. House Speaker Nancy Pelosi will be traveling to China on the eve of the Tiananmen Square anniversary, said Dr. Yang Jianli.
Those present at the news conference hoped she will take actions on her visit that will demonstrate a new commitment by the United States toward human and political rights in China.
"Speaker Pelosi has been one of the most consistent and outspoken supporters of the struggle for peaceful political reform in China," said Dr. Yang Jianli. He urged Speaker Pelosi to meet with the 'Mothers of Tiananmen'—relatives of those killed who want a full accounting of the events of June 4, 1989.
Dr. Yang would like Speaker Pelosi to demand that the Chinese regime release all prisoners held for their involvement with the Tiananmen democracy movement.
Dr. Yang also proposed that Speaker Pelosi urge the regime to engage in a meaningful dialogue with the signatories of Charter 08, a political reform document published last December, which was signed by 303 well-respected Chinese citizens and already by 10,000 people in China, said Dr. Yang.
The timing is also right for Speaker Pelosi to present a resolution from congress supporting the above proposals, according to Dr. Yang.
Michael Horowitz, a Hudson Institute senior fellow and former Reagan administration official, and Iris Ho, communications manager of Formosan Association for Public Affairs, joined the others in speaking against any more acquiescence of the Chinese regime's repression of human rights, which they say is worsening.
Mr. Horowitz stressed that China's regime could change suddenly in the same way communism fell in the Soviet Union, and not to be disheartened. He placed hope in the Chinese people acquiring access to information that the regime forbids.
The reason authoritarian regimes remain in power is that they block information originating in free countries from getting to their people, he said. Yet close to 50 Falun Gong computer experts have developed software that enables Chinese Internet users to break through China's 50,000 public security censors and its Internet Golden Shield, said Mr. Horowitz.
The walls in the 21st century are not the barbed wires of the past, but electronic, and he says the means are available now to tear down those firewalls.