Three U.S. senators on Thursday said they tested positive for COVID-19 despite being fully vaccinated against the virus that causes it.
Sens. Roger Wicker (R-Miss.), 70, Angus King (I-Maine), 77, and John Hickenlooper (D-Colo.), 69, are the latest prominent U.S. officials to contract so-called breakthrough infections of the CCP (Chinese Communist Party) virus.
Wicker's spokesman, Phillip Waller, said the senator tested positive on Thursday morning after seeking a test due to mild symptoms.
"Senator Wicker is fully vaccinated against COVID-19, is in good health, and is being treated by his Tupelo-based physician. He is isolating, and everyone with whom Senator Wicker has come in close contact recently has been notified," Waller said in a statement.
King said he's been taking precautions since March 2020, including wearing a mask, social distancing, and driving back and forth to Washington instead of flying.
"Despite all my efforts, when I began feeling mildly feverish yesterday, I took a test this morning at my doctor's suggestion, and it came back positive. While I am not feeling great, I'm definitely feeling much better than I would have without the vaccine. I am taking this diagnosis very seriously, quarantining myself at home and telling the few people I've been in contact with to get tested in order to limit any further spread," King said in a statement.
Hickenlooper said Thursday he also tested positive despite being fully vaccinated.
"I feel good but will isolate per docs instructions," he wrote on Facebook.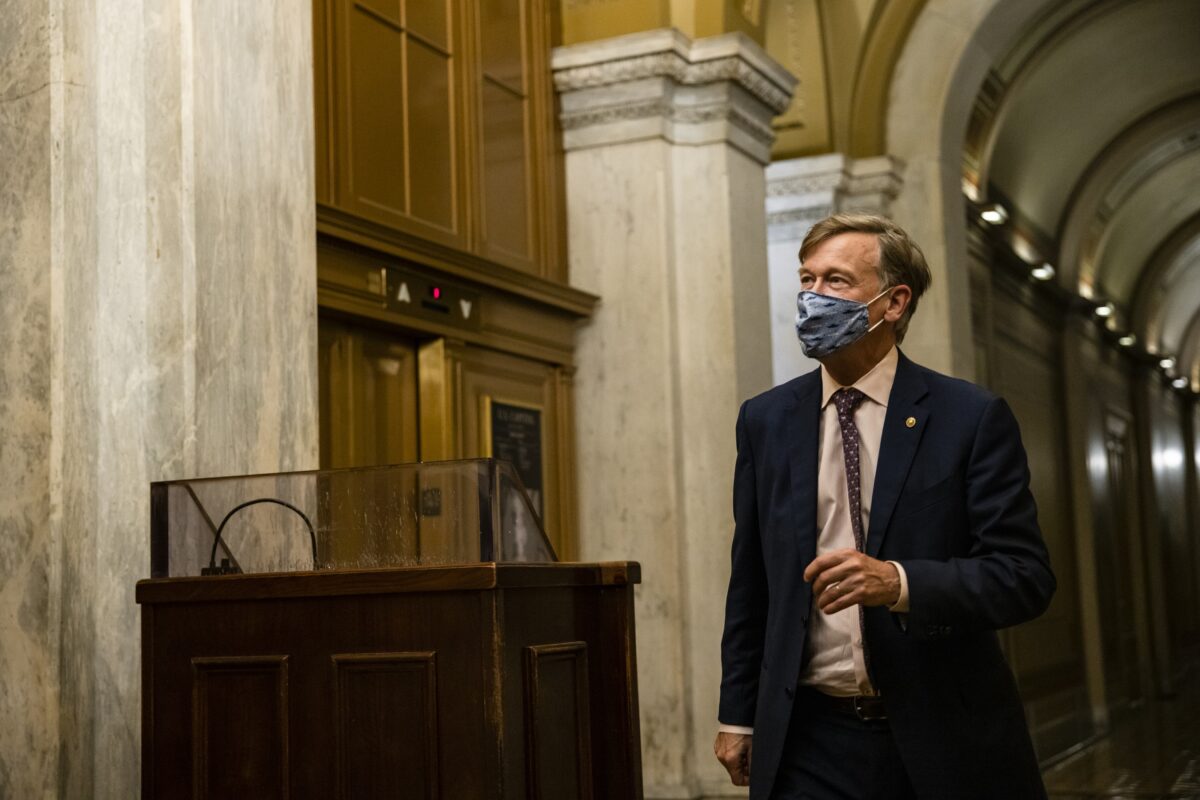 Other politicians, including Sen. Lindsey Graham (R-S.C.) and Texas Gov. Greg Abbott, have experienced breakthrough COVID-19 infections in recent weeks.
Studies show that protection against infection is waning among the vaccinated. That prompted U.S. health officials to announce Wednesday that they are, pending authorization from drug regulators, advising even healthy adults to get a booster COVID-19 shot.
"The available data make very clear that protection against SARS-CoV-2 infection begins to decrease over time following the initial doses of vaccination, and in association with the dominance of the Delta variant, we are starting to see evidence of reduced protection against mild and moderate disease," Centers for Disease Control and Prevention (CDC) Director Rochelle Walensky and other officials said in a joint statement.
SARS-CoV-2 is another name for the CCP virus.
Still, officials say the vaccines are holding up against severe disease and hospitalization and are encouraging people who have not gotten a jab to go get one.
The statement from Wicker's office did not include that advice, but the ones from King and Hickenlooper did.
"I urge everyone to remain vigilant, follow the guidance from health professionals, and get vaccinated if you haven't been," King said.
CCP virus infections in the United States are on the rise since early July. There were over 157,000 new cases on Wednesday, according to the CDC, up from 16,774 on July 5.
Hospitalizations with COVID-19 and deaths attributed to the disease are also increasing. Jurisdictions reported 1,054 new deaths on Aug. 18, the first time that figure has been above 1,000 since March 12.