The holiday season is the most sentimental time of the year. Yuletide customs, songs, and decorations that remain popular today originated decades or centuries ago. Perhaps that's why Christmastime seems like the perfect season for discovering old movies. While many holiday traditions have been changed or canceled this year, we can recapture those feelings with holiday movies from the Golden Era of Hollywood: musicals introducing standard Christmas songs, dramas bringing tears amid festive settings, and comedies inspiring laughter even while warming hearts. There also are those that don't seem like Christmas films but surprise viewers with holiday scenes.
For your holiday viewing this year, let us recommend three Christmas classics: a musical, a romance, and a Christmas surprise.
A Musical: 'White Christmas'
One of the greatest Christmas musicals is "White Christmas" (1954). Starring Bing Crosby, Danny Kaye, Vera-Ellen, and Rosemary Clooney, this Technicolor musical is two hours of impressive singing and dancing to Irving Berlin classics. This film is a loose remake of "Holiday Inn" (1942), Berlin's musical holiday celebration starring Bing Crosby and Fred Astaire, which introduced the hit song "White Christmas." Although Astaire was originally slated to be reteamed with Crosby for the 1954 film, his role was eventually rewritten for comic Danny Kaye.
"White Christmas" is almost exclusively a Christmas film, beginning and many years later ending on Christmas Eve with a rendition of the title song. During World War II, Capt. Bob Wallace (Crosby) and Pvt. Phil Davis (Kaye) give a Christmas show for their division, finishing with a farewell song for their retiring general. Afterward, Phil saves Bob from being crushed by a falling wall. Out of gratitude, Bob, a Broadway star, agrees to perform after the war a duet that Phil wrote. They become a highly successful song and dance duo, and eventually they become powerful show producers.
Ten years later, Phil schemes to get Bob married, so Phil can enjoy some leisure time. When they meet a sister act with beautiful and talented siblings (Ellen and Clooney), Phil decides to fix Bob up with older sister Betty (Clooney). He convinces Bob to visit the Vermont inn where the sisters are booked over the holidays. The producers are shocked to discover that the ski lodge is owned by their former general, whose business is failing. They decide to perform their show at the lodge to draw customers in order to help out the general. Meanwhile, each man feels himself falling for a different sister.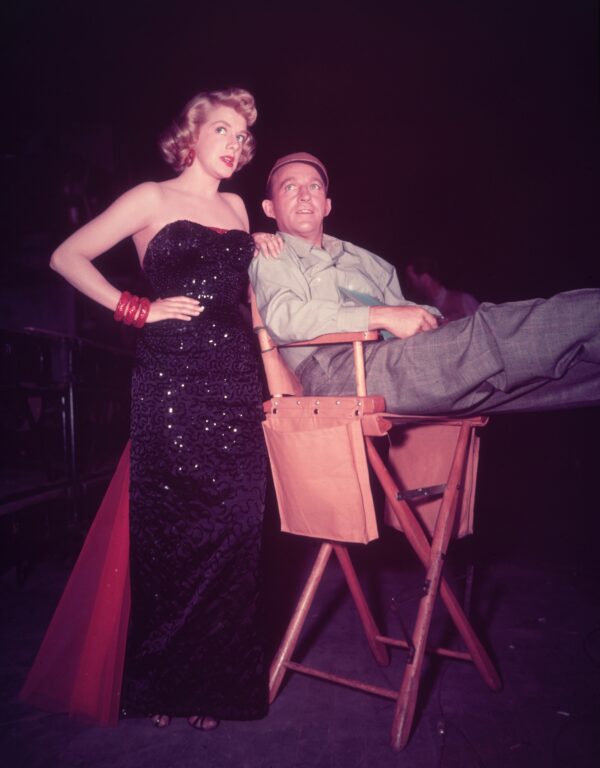 When Bing Crosby first sang "White Christmas," it became an instant holiday hit. During World War II, the lyrics carried deeper meaning than wishing for winter weather. This song set to music servicemen's longing to be home for the holidays. That wistful concept inspired the 1954 film, which begins with Bing Crosby singing it for a division of homesick soldiers. Although the war had been over for years, the feelings were still palpable. This sentiment carries throughout the rest of the film to create a perfect holiday celebration.
The Vermont setting is like a postcard. The musical numbers are full of warmth and sentiment, and the costumes are as vibrant as Christmas ornaments. The messages of generosity, kindness, selfless giving, and honoring our elders and veterans are full of the Christmas spirit.
A Romance: 'Holiday Affair'
A wonderful but forgotten Christmas romance is "Holiday Affair" (1949). Starring Janet Leigh and Robert Mitchum, this postwar story is both funny and heartwarming. It takes place during the weeks leading up to Christmas, shows a charming family on Christmas Day, and ends on New Year's Eve.
Both a romance and a family film, it portrays a woman's love triangle with two men as well as her tender relationship with her son. It shows the importance of generosity, love, and believing in dreams coming true.
Young widow Connie Ennis (Leigh) is a comparison shopper in New York City. After she buys an expensive toy train for her job, her 6-year-old son, Timmy (Gordon Gebert), is devastated to learn it isn't for him. When she returns the train the next day, salesman Steve Mason (Mitchum) infers that she is a comparison shopper, who buys items only to examine them for her store and then return them the next day.  After learning that she is a war widow, Steve doesn't report her to his boss, which gets him fired.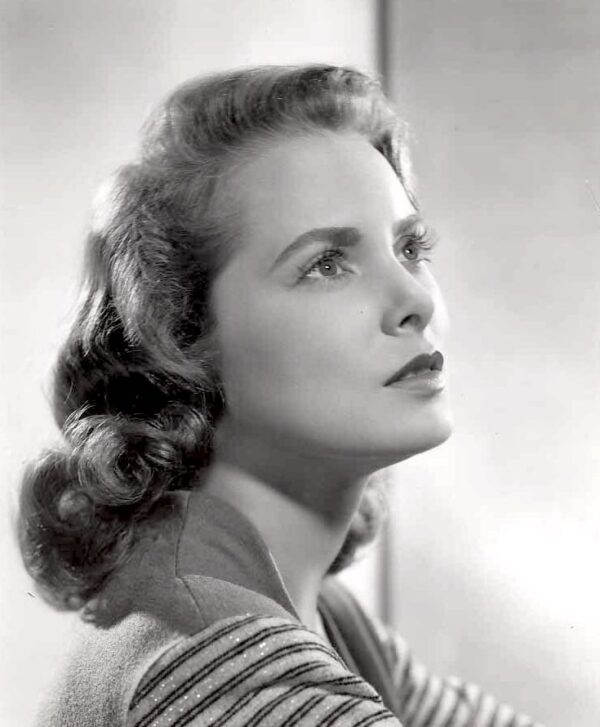 Feeling guilty, Connie agrees to lunch with Steve in Central Park, where they exchange ideas and become friends. He then helps her shop for the rest of the day. After they get separated in a crowd, Steve visits her apartment that evening, where he surprises her fiancé, lawyer Carl Davis (Wendell Corey). Timmy immediately likes Steve, but Carl does not. After Carl leaves, Steve tells Connie that she can never find true happiness until she accepts her husband's death. As coincidences keep bringing them together, Connie struggles to choose between the safe, secure Carl and the impetuous, passionate Steve.
Set in New York City in the late 1940s, this heartwarming movie captures the magic of Christmas in a big city. The department stores decorated with festive cheer, the snowy city, and the bustling sidewalks make us long for the normal holiday rush. The movie shows the importance of holding on to your dreams and of believing in the wonder of surprises and the magic of Christmas.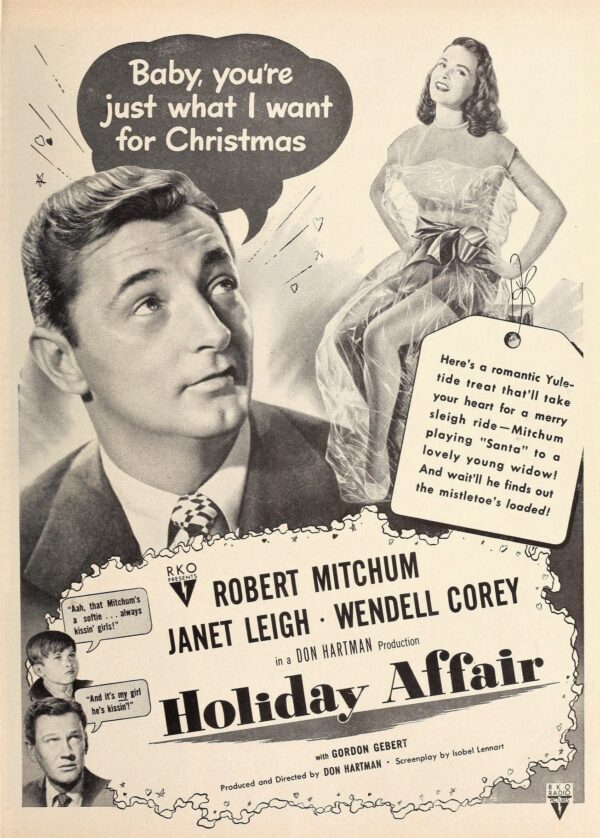 It also inspires with examples of selfless giving, generosity, and openly welcoming others into one's home. If you give as freely as Steve does, you may, like him, get a wonderful surprise in return.
A Christmas Surprise: 'The Shop Around the Corner'
Some movies take place primarily around the holidays, so we immediately know they are Christmas films. Others begin long before December and then surprise us by later including Christmas scenes. One such film is "The Shop Around the Corner" (1940). This Ernst Lubitsch romantic comedy, starring James Stewart and Margaret Sullavan, depicts the lives and loves of the employees at Matuschek and Co., a leather goods store in Budapest, Hungary.
The latter part of the film takes place in the weeks leading up to Christmas, retail's busiest time, and the story ends on a beautifully snowy Christmas Eve. The premise may sound familiar, since the story was remade in 1949 as the musical "In the Good Old Summertime" and again as "You've Got Mail" in 1998.
Klara Novak (Sullavan) looks for a job at Matuschek and Co. Head salesman Alfred Kralik (Stewart) tells her that they aren't hiring, and the bombastic owner, Mr. Matuschek (Frank Morgan), reluctantly agrees with him. Matuschek and Kralik have just disagreed about purchasing a large order of musical cigarette boxes, which Kralik believes won't sell. Klara earns a position when, seizing the opportunity to prove herself, she manages to sell one of the boxes, seemingly proving that Matuschek is right.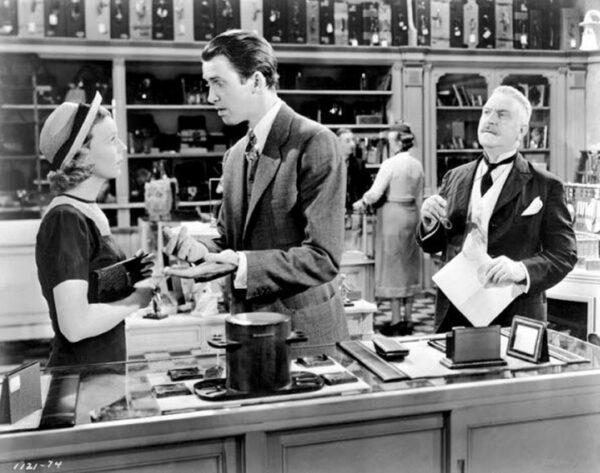 As Klara and Alfred become sworn enemies at the store, both live for the letters they receive from their anonymous pen pals. Little do the feuding employees know that each is the other's "Dear Friend," who is quickly becoming a romantic interest.
Meanwhile, in the time leading up to Christmas, Mr. Matuschek becomes increasingly short-tempered and suspicious of Kralik, and something is obviously troubling him.
This film shows the retail perspective during the holidays. From decorating store windows to busily waiting on customers and trying to sell out the merchandise, the employees of Matuschek and Co. face the same struggles and joys that anyone who has worked in retail during the holidays has experienced. Even more wonderful than the Christmas bonus all the workers receive is the satisfaction that they have brought joy and pride to a generous, kind employer. As snowflakes fill the air and snow covers the ground in Budapest, romance and kindness warm the hearts of everyone at Matuschek and Co.
Christmas Present
Even if you are not normally a classic film fan, these movies set in Christmas Past have nostalgic charm that endures in Christmas Present. You don't have to celebrate Christmas's religious aspect to appreciate each film's valuable lessons about generosity, selflessness, and the spirit of giving. No matter where or how you celebrate this year, we guarantee that your holidays will be "merry and bright" if you include these movies—even if your Christmas isn't white.
Tiffany Brannan is a 19-year-old opera singer, Hollywood historian, travel writer, film blogger, vintage fashion expert, and ballet writer. In 2016, she and her sister founded the Pure Entertainment Preservation Society, an organization dedicated to reforming the arts by reinstating the Motion Picture Production Code.