Three Bottle-fed Baby Wallabies Make Debut at San Diego Zoo
April 17, 2018 8:08 am Last Updated: April 17, 2018 8:31 am
Three six-month-old wallaby joeys are being hand-raised at the San Diego Zoo Safari Park before they are old enough to join the larger group of wallabies at the facility.
Video released by the zoo shows the red-necked wallaby joeys spending time in their pouches, where a keeper at the zoo says they like to sleep.
"So some of their other favorite activities to do right now is obviously sleep in their pouch, but they also, when they come out, they hop around and they play sometimes," said Kimberly Millspaugh, senior keeper at the San Diego Zoo Safari Park.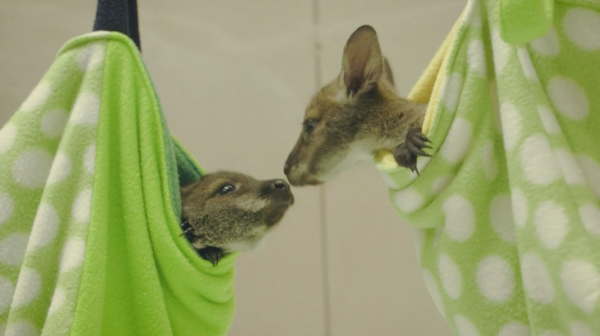 Footage also shows the baby wallabies being bottle-fed a special formula for marsupials.
The wallaby joeys now weigh between two and three pounds each, and are about a foot tall.
Once fully grown, they're expected to weigh between 26 to 35 pounds and reach a height of around three feet.
The wallabies will join other red-necked wallabies and gray kangaroos in an enclosure at Walkabout Australia, a new walk-through kangaroo exhibit at the San Diego Zoo Safari Park that will allow visitors to "meet kangaroo species up close and personal."
Wallabies are part of the kangaroo family and are found mostly found in Australia and on nearby islands.
Reuters contributed to this report.