A government decree making COVID-19 shots mandatory for elderly people and employees in certain sectors prompted a large demonstration in the Czech capital over the weekend.
The outgoing government released an order last week making COVID-19 vaccinations a requirement for the 60-plus age group, as well as medical personnel, police officers, firefighters, and medical students.
The order was due to become effective at the beginning of March, although it might end up being overturned as a new coalition government expected to be sworn in next week opposes such a measure for elderly citizens in the country and might cancel it.
Prime Minister Andrej Babis' current administration will be replaced by a new government formed by five parties that won October's parliamentary election, led by Prime Minister-designate Petr Fiala.
About 4,000 people took to the streets in Prague on Dec. 12 after gathering on Wenceslas Square, one of the city's main squares, to demonstrate against the new CCP (Chinese Communist Party) virus policy.
"We are only against compulsory vaccination, which the government is trying to introduce with the support of the Parliament of the Czech Republic," organizers of the demonstration said, Prague Morning reported.
So far, close to 60 percent of people in the nation of 10.7 million have received the shot, compared to an average of about 66 percent in the European Union (EU). The Czech government said it had been considering compulsory shots for some time due to a lower number of citizens getting jabbed.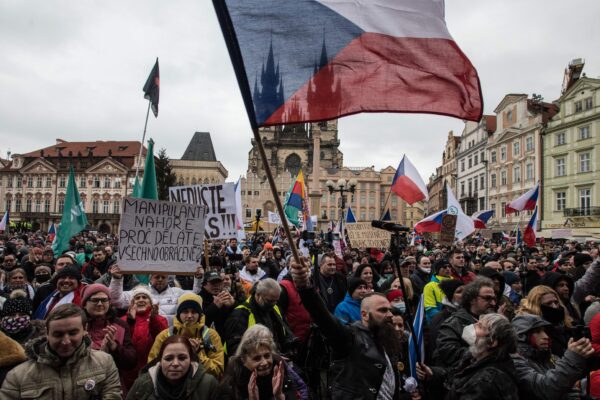 According to government data, more than 34,000 people have died from the CCP virus since the start of the pandemic nearly two years ago, and 2.3 million cases have been reported.
The country was facing a new surge in infections earlier in recent weeks, although the number of new cases has been on the decline for more than a week again.
The government decree in the Czech Republic was announced as other European countries, including neighboring Austria, already confirmed that it will require the shot for all citizens starting next year.
Austria became the first country in the EU to impose a full lockdown this winter and announce the blanket requirement that Austrians have to get vaccinated against the CCP virus as early as February 2022.
Massive crowds of people gathered across the country in recent weeks to demonstrate both against the lockdown and the coming vaccine mandate. Police said a demonstration in Vienna, the Austrian capital, drew 44,000 people over the weekend.
The Association Press contributed to this report.
From NTD News