Sponsored Content
The average American shells out a lot to stay connected with friends and family. According to research, during the average lifespan of roughly 80 years, they will pay a whopping $41,591 on internet service, $36,445 on phone plans, and $29,030 on streaming platforms. That's a whole lot of money to spend on staying connected.
More often than not, consumers are only obliged to cough up exorbitant amounts of money on these services because they're tied with complicated contracts. You can always stop paying for Netflix, but you can't say the same with your phone plan. Fortunately, there's an alternative: Tello.
Tello's economy prepaid 12-month plan lets you enjoy unlimited talk and text every month, along with 1GB of LTE, without asking you to sign any contract. For a limited time, you can get the plan on sale for 29 percent off.
Rated 4.6 out of 5 stars on TrustPilot, Tello offers coast-to-coast wireless coverage on a nationwide 4G/5G LTE network. Along with unlimited call and text nationwide, you also get minutes and SMS to over 60 countries at the same rate as domestic calls, and you even get a free hotspot. In case the 1GB of data runs out, unlimited 2G data kicks in with no added charge.
But the best part about this plan is it doesn't tether you to any contract, allowing you to stay as long or as short as you'd like. You can also pay upfront with no activation or early termination fees. While you're required to use the plan in 360 days, you're free to upgrade or downgrade the plan after. "Been using Tello for many years. And this price was just too good to pass. They have exceptional customer service," says one happy customer.
Enjoy actual wireless freedom with Tello. The Economy Prepaid 12-Month Plan normally goes for $120, but for a limited time, you can score it on sale for only $85.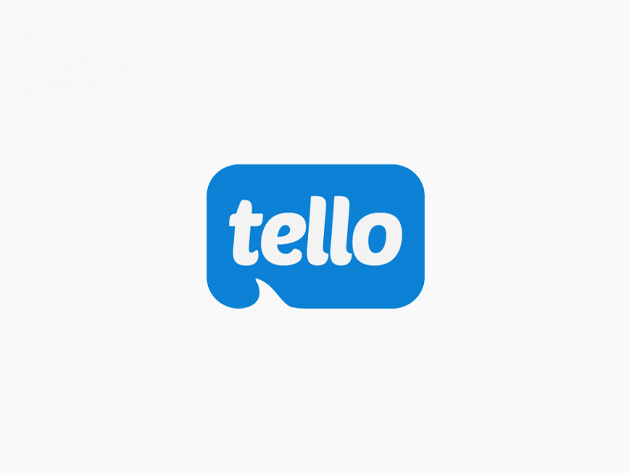 Tello Economy Prepaid 12-Month Plan: Unlimited Talk/Text + 1GB LTE Data + Free SIM – $85
Prices subject to change.