Nestled in the mouth of a yawning cave, halfway up a steep, 400-foot cliff in southwest Slovenia, Predjama Castle once stood an impregnable fortress before an invading army of the Hapsburgs.
The 800-year-old structure, so local legend goes, was once occupied by a renegade robber knight named Erasmus, who met his unceremonious end while doing his business in the castle's outhouse.
The earliest-known record of Predjama Castle dates from as far back as 1274. Originally built in Gothic style, the breathtaking medieval fortification presses up against a vertical precipice like something from a fantasy film. It actually inspired George R. R. Martin's fictional castle in Westeros.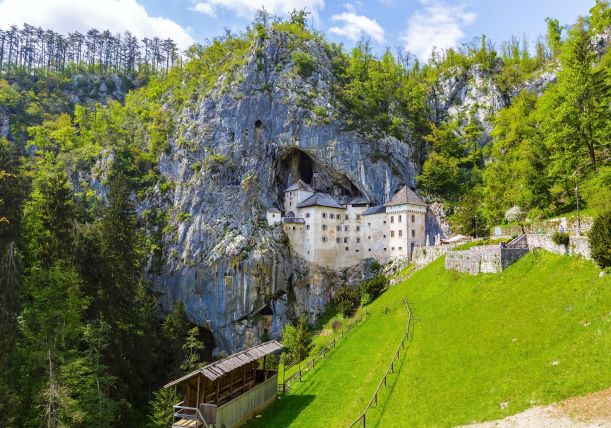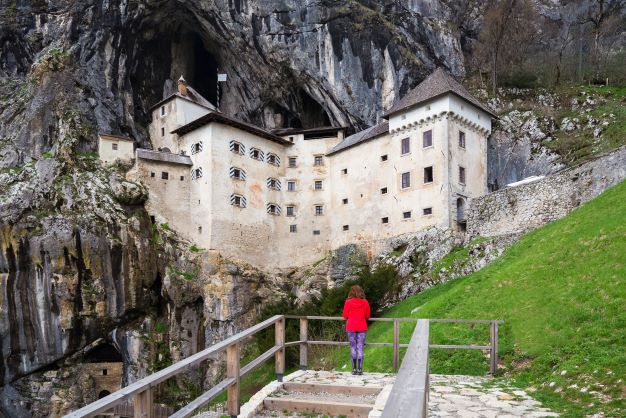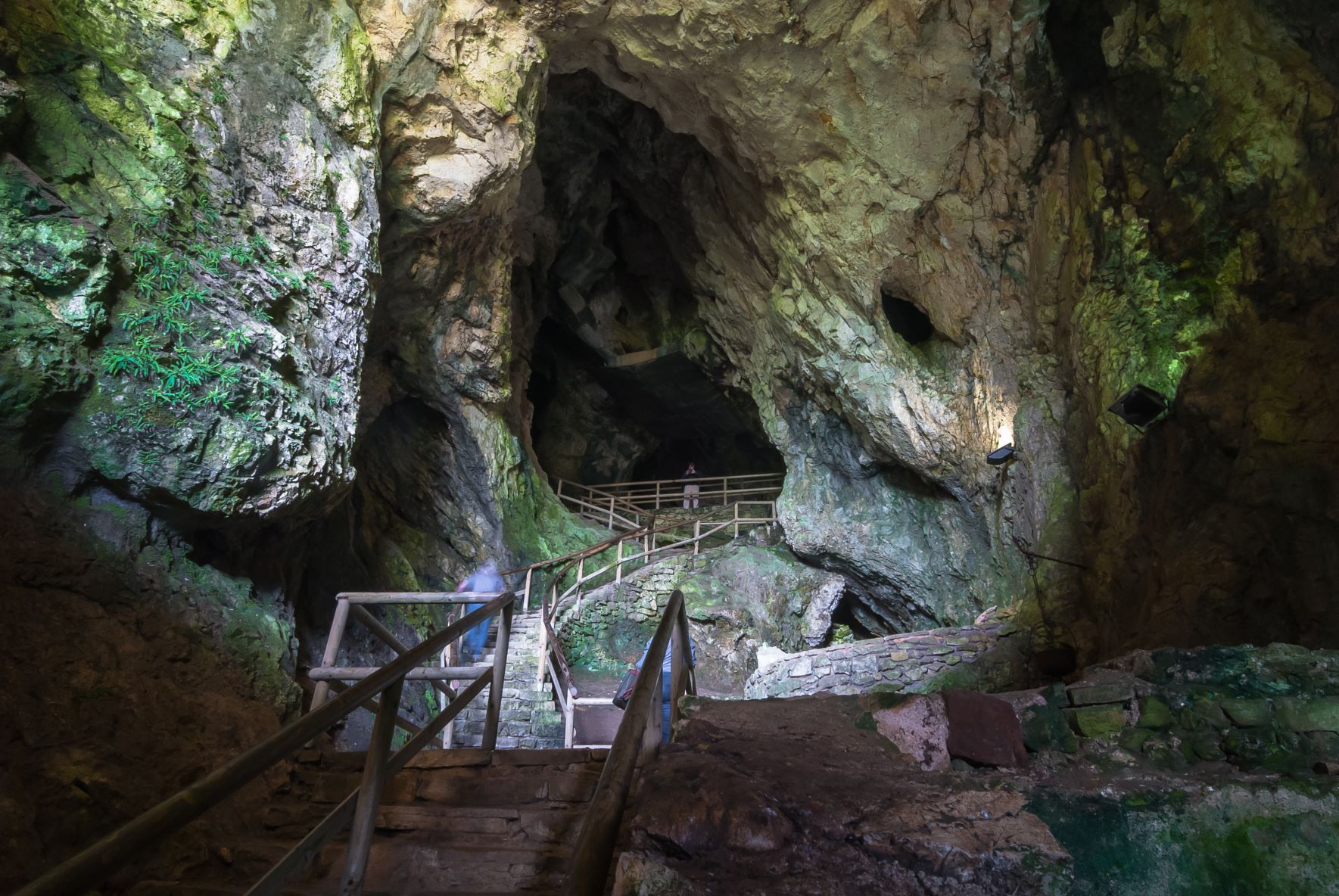 Predjama Castle's novel construction joins manmade works with an enormous natural cave complex. This consists of secret passages tunneling upward through the rock to the clifftop above, where occupants once gained discrete entry and exit and supplies were delivered, as well as the extensive Postojna Cave network below, stretching over eight miles. Today, the castle has garnered the Guinness World Record for the world's largest cave castle.
The fortress was designed with protection rather than comfort in mind—the location is miserably cold and damp—and posed immeasurable challenges for would-be besiegers. Centuries ago, the front doors would have been accessed via ladders that could have been quickly drawn up in case of attack. The upper levels feature gun loops, arrow slits, and "murder holes" from which defenders could pour down boiling oil or searing-hot resin on invaders.
These defenses were put to the test in said local legend, when Erasmus of Lueg was lord of the manor during the 15th century. Previously in Vienna, Erasmus had provoked the powerful Habsburgs when he killed the commander of the Imperial Army, Marshal Pappenheim, in a duel.
Erasmus fled from Habsburg Frederick III, the Holy Roman Emperor, to his family's impregnable Slovenian acropolis. From here, he mounted raids and robberies against his opponents. Intent on bringing the rebel to heel, Frederick III dispatched an army to capture or kill Erasmus. Governor of Trieste, Andrej Ravbar, led the siege of Predjama Castle, which lasted a year.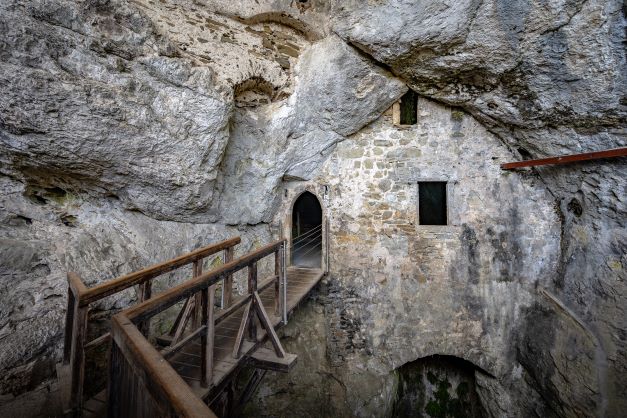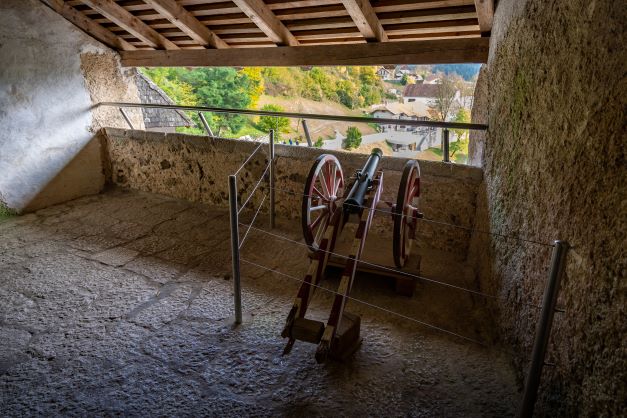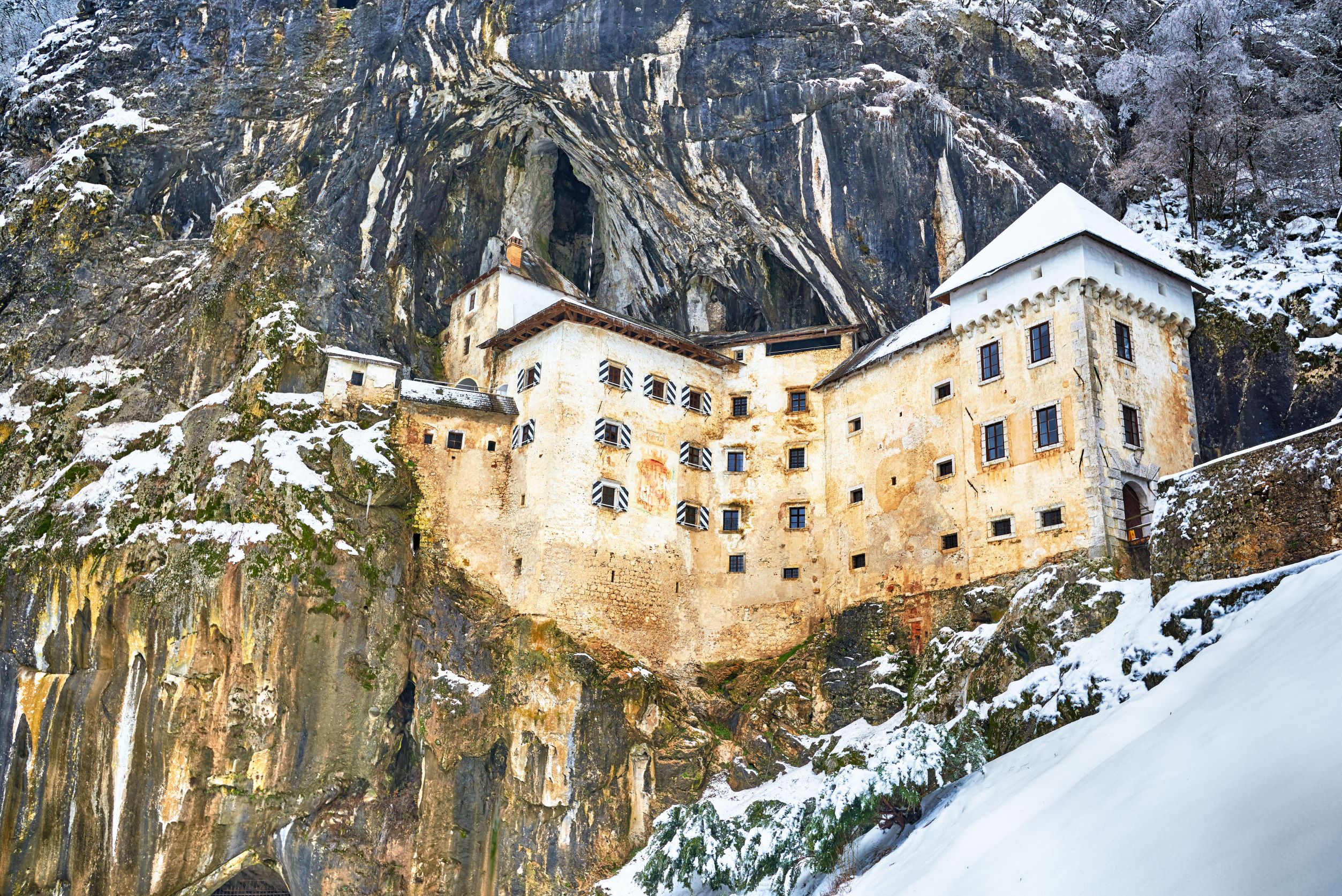 Legend holds, Erasmus taunted his foes by pelting them with fresh cherries and throwing roasted oxen down from the ramparts during the winter, as he knew they must be hungry. The knight reportedly even invited the army's commander to dine on lamb with him on Easter. Such was Erasmus's audacity.
The siege allegedly ended when one of his servants betrayed him by hatching a plot with the army's commander: when Erasmus went to use the outhouse—an exposed part of the castle, extending out onto the cliff, vulnerable to cannon fire—the servant signaled the army by lighting a torch. They released a volley of cannon fire and took out the unsuspecting brass knight once and for all—while seated on his throne.
Locals say Erasmus's beloved later planted a linden tree where he was laid to rest; that very same tree, though damaged by fire in 2001, still grows there today.
After Erasmus's fall, the Oberburgs acquired the castle. It was then rebuilt by the Purgstall family in the 16th century before being destroyed in an earthquake in 1511. It eventually came to be owned by Baron Philipp von Cobenzl, and was rebuilt in the style of the Renaissance in 1570—remaining virtually unchanged to this day.
Today, Predjama Castle displays a wolf coat-of-arms—not unlike the house of Stark's—representing the Windisch-Grätz family, the last owners of the castle, who used the fortress as a hunting lodge until the end of World War II. Then it was taken over by the communist Yugoslavian government and turned into a national museum.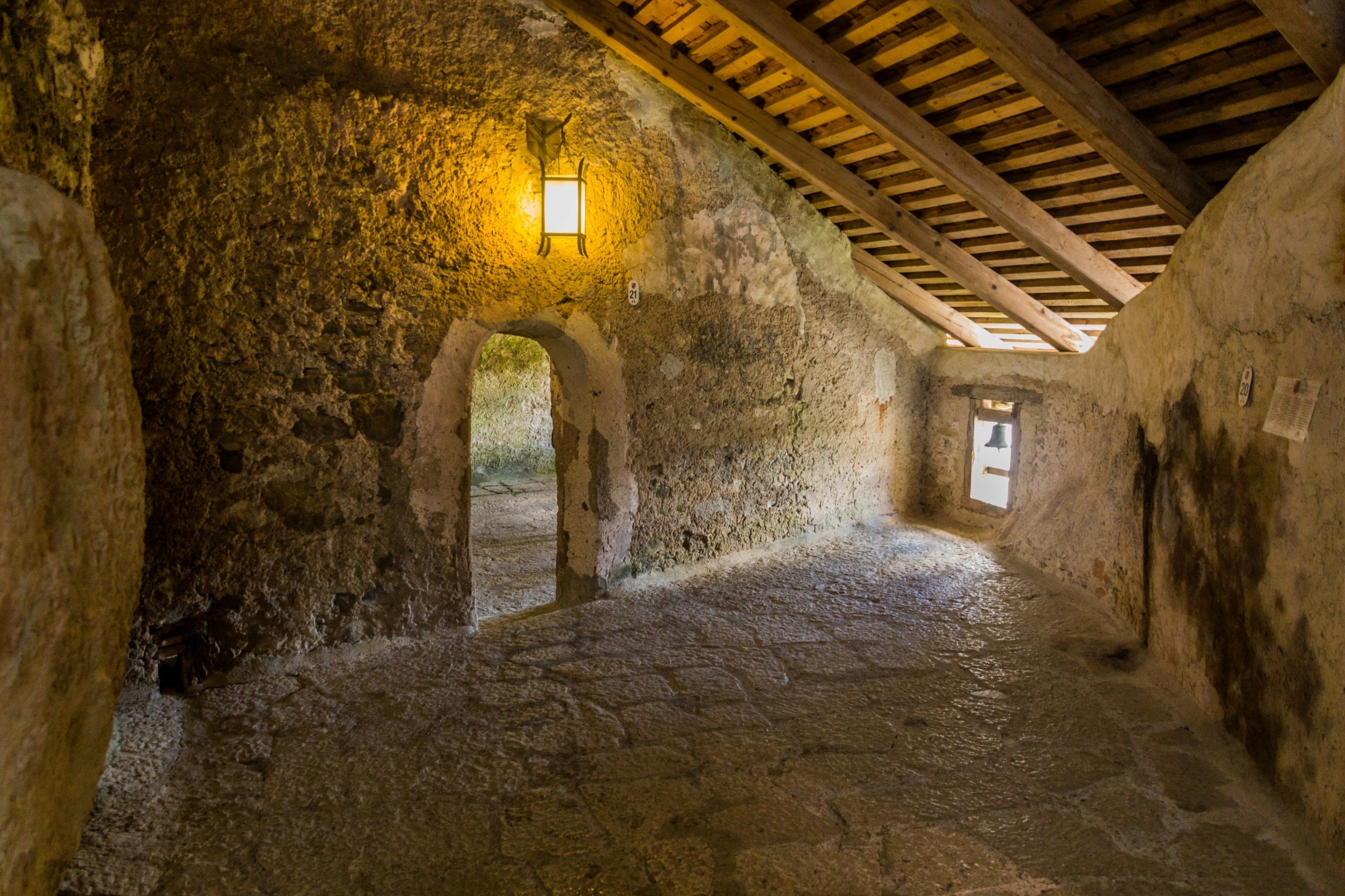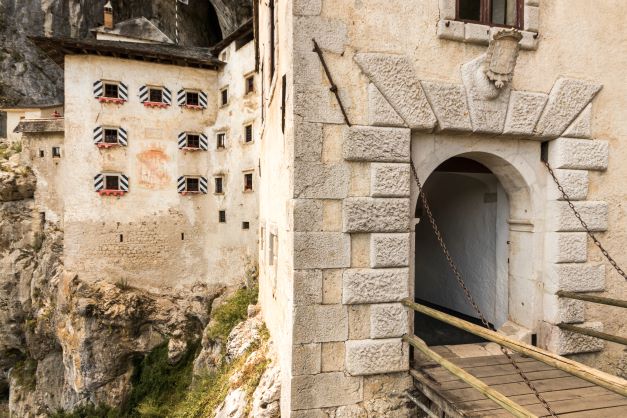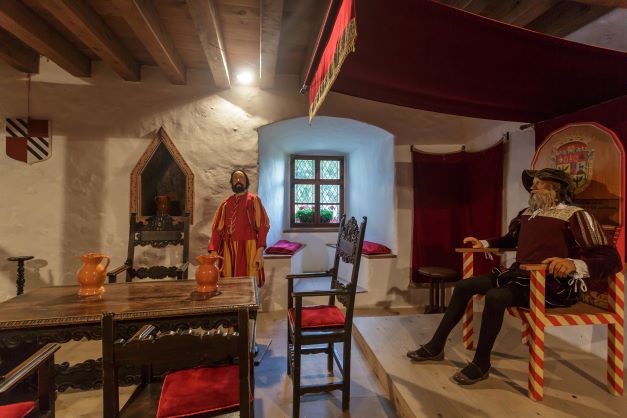 Now, visitors are welcomed year-round to tour Predjama Castle, located just 15 minutes northeast of the town of Postojna. The fort goes practically unseen from its flanks along the valley until the last bend entering the alcove. Its front doors, now lowered, are accessible via a drawbridge.
Inside, past the thick wooden doors, a passage leads, unnervingly, to a hatch where condemned prisoners, or unwanted guests, could unceremoniously be tossed down a 200-foot pit to their death. Adjacent this, a torture chamber/ dungeon features a rack for stretching prisoners, a horse—wooden mount with points on it that prisoners would straddle, and a flogging post.
Past these unpleasantries lies a more inviting dining area, featuring walls over five feet thick, warmed by a small but functional kitchen.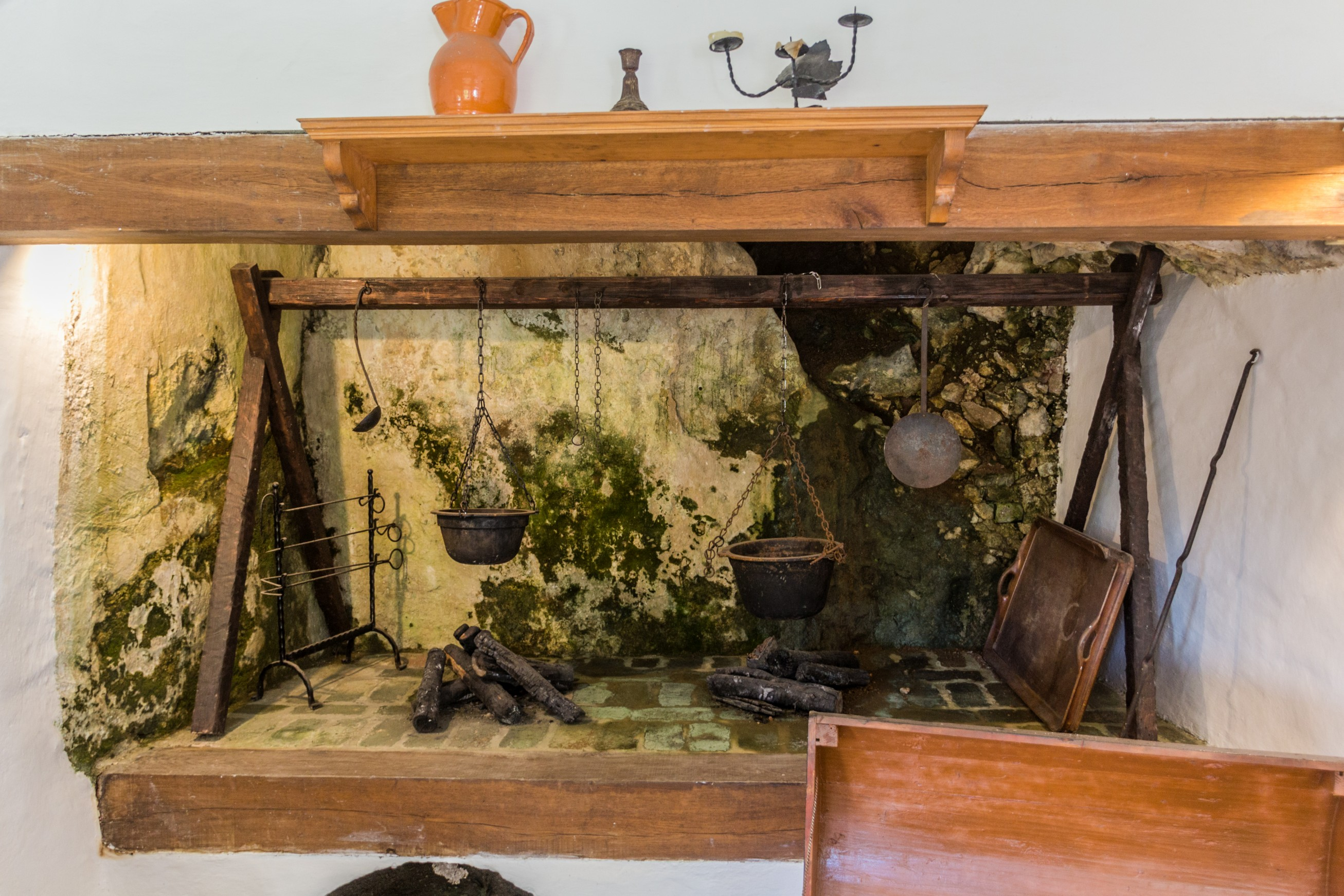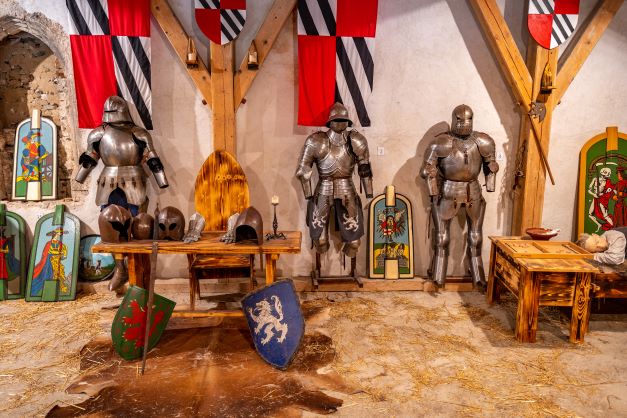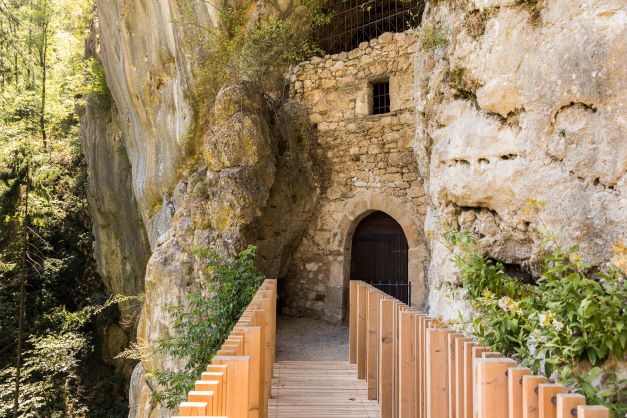 From here, stairs lead to an attic which served as a barracks and lookout post, but now has been converted into an armory for showcasing suits of armor, lances, swords, battle hammers, longbows, crossbows, halberds, and lion-emblazoned shields.
Also upstairs, guests may take in a breathtaking vista overlooking the Lokva Valley from the castle's open terrace, right next to which sits that very same outhouse (rebuilt) of legend. One may also gaze on what are apparently the very same cannonballs that sealed Erasmus's fate.
Nearby, there is the master bedroom—the only room in the castle with a fireplace—where keepers of the castle resided until 1980.
Visitors seeking an epic fantasy escape with a douse of romance are welcomed to Predjama Castle, where guided tours are offered year-round. The Postojna Caves, descending four floors below the fortress, are part of the tour; the remainder of the sprawling subterranean network can be accessed as part of a spelunking adventure from June to August only, as the cave is home to a colony of bats which hibernate during winter months. There's ample parking and even a bar and restaurant selling refreshments to enjoy after a day well spent in the world's largest cave castle.
Share your stories with us at emg.inspired@epochtimes.com, and continue to get your daily dose of inspiration by signing up for the Inspired newsletter at TheEpochTimes.com/newsletter