Theater Review: 'If/Then'
Interesting concept, so-so execution
May 2, 2014 5:32 am Last Updated: May 2, 2014 6:36 am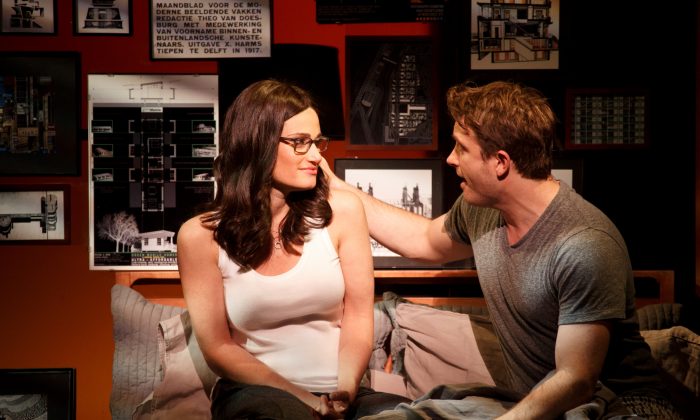 NEW YORK—Every choice we make causes a series of events to happen. Those events depend as much on the choice we did not make as the one we did, says the Broadway musical If/Then (music by Tom Kitt, book and lyrics by Brian Yorkey) at the Richard Rodgers Theatre. Sadly the show's creators seem in love with their own material, for what could have been a wonderful 90-minute tale clocks in at 2 hours, 45 minutes.
Elizabeth (Idina Menzel) has just returned to New York City after more than a decade in Phoenix, Ariz., and a failed marriage. Meeting Lucas (Anthony Rapp), a community activist and old school friend, she must decide to either go with him to a neighborhood rally or instead go with her friend Kate (LaChanze), who she met when she moved back to NYC, to listen to a guy playing guitar in the park.
As it turns out, the audience gets to see Elizabeth play out both scenarios. In one, she goes with Kate and meets Josh (James Snyder), a doctor and U.S. Army reservist just back from Iraq. Kate and Josh so enjoy their time together that she neglects to answer her cell phone and misses out on a job offer.
The offer from Stephen (Jerry Dixon), another old school chum, was for a position as a city building planner.
When she goes with Lucas to the rally, she answers her phone and accepts the job. But she finds herself caught between those who want to develop areas in the city and Lucas and his community-minded friends who want to preserve them.
Elizabeth begins a relationship with Josh in one storyline, while in the other, throws herself into her new job and contemplates an assignation with the already-married Stephen.
Elizabeth's fear of commitment is a common thread in both possibilities presented. While Elizabeth's different tales play out, Lucas and Kate have their own individual relationship highs and lows, all contingent upon what Elizabeth initially chooses.
This concept has great potential, but unfortunately Yorkey and Kitt put too much into the mix, especially in the first act when the cast performs one song after another, none being particularly memorable, and all of which start to feel repetitious.
The audience is also shown at least three possible endings to the first act, from Elizabeth sleeping with different partners to finding out she's pregnant and having two completely different crises of confidence. It's as if no one could decide the proper way to close before intermission.
In another example of "too much of a good thing," the musical introduces too many characters too quickly. In addition to Elizabeth, Josh, and Lucas, there's Josh's fellow doctor David (Jason Tam), Kate and her girlfriend Anne (Jenn Colella), and Stephen, and the different relationships everyone has with each other.
Things might have worked better had the show focused more on the central storyline rather than giving just as much emphasis to what was going on around it.
Menzel takes the role of Elizabeth and hits it out of the park, easily switching from a woman getting a second chance at love to one focusing on work and quickly learning to play the political game, making everyone happy in her rise to power.
Menzel's singing voice has lost none of its vitality since her last time on Broadway over a decade ago, doing great justice to the various tunes she performs.
LaChanze is great as Kate, a woman who believes in fate, the stars, and love; unlike Elizabeth, who is more concerned with the why and wherefore of things. Like Menzel, LaChanze has a strong singing voice and makes for a memorable supporting character in both of the storylines presented here.
Rapp is okay as Lucas, though he comes off a bit stereotypical as an aging liberal battling the system. Snyder is somewhat bland as Josh, the character written more as an idea rather than anything fully flesh and blood. Dixon is interesting as Stephen, who has eyes for Elizabeth even while being in love with his wife.
Michael Greif's direction is good, especially with his handling of the transition sequences. All occur flawlessly with the characters changing course at the drop of a hat. However, like the actors, he is hamstrung by the unwieldiness of the script.
Mark Wendland's sets are interesting, though a sequence set in New York's Madison Square Park doesn't really ring true. But the use of the New York City transit system as a sort of lighting grid at one point was a nice touch.
If/Then is a pleasant enough musical about what ifs and what could have been, and with some judicious cutting could have been something very special. Still, Menzel and LaChanze's performances certainly make the show worth checking out.
Also in the cast are Tamika Lawrence, Joe Cassidy, Miguel Cervantes, Curtis Holbrook, Stephanie Klemons, Tyler McGee, Ryann Redmond, Joe Aaron Reid, and Ann Sanders.
If/Then
Richard Rodgers Theatre
226 West 46th Street
877-250-2929 or  visit ticketmaster.com
Running Time: 2 hours, 45 minutes
Closes: Oct. 12
Judd Hollander is the New York correspondent for the London publication The Stage.