NEW YORK—The great thing about a classic is how, in the right hands, it can be transformed into something fresh while keeping those elements which made it a classic in the first place.
Richard Wagner's four-part operatic work, commonly known as the "Ring Cycle," was condensed and refashioned in 1991 as the musical comedy "Das Barbecü," with the story moved to present day Texas—a place where "long-necked beer is the national brew."
On Site Opera has revived this show as a site-specific, immersive experience at Hill Country Barbecue Market, in a downstairs performance space, with audience members seated at picnic tables.
Boasting a joyously energetic cast and offering flat-out fun for all, the event also offers a barbecue dinner, complete with dessert. The performers move about the space and often take part in a scene or song barely a foot away from those in attendance.
Taking into account that not everyone in the audience will be die-hard Wagner enthusiasts, this writer included, the show offers a brief but detailed prologue, complete with diagrams to bring everyone up to speed. The idea is to impart just enough information before people's eyes start to glaze over.
The cast explains in both dialogue and song how, a time long ago, deep in the heart of the Lone Star State, there was a "hunk of gold" that ended up on the bottom of a river. For centuries, it was protected by three beautiful rivermaidens. Then a dwarf named Alberich (David Hughey), someone later classified by the Texas Rangers as "Public Enemy Number .1," stole the gold and fashioned it into a ring.
A ring grants the wearer great power but also contains a dangerous curse. Alberich placed the curse upon the ring after it was stolen by Wotan (Robert Wesley Mason), a mysterious, one-eyed traveler. Long-time foes Alberich and Wotan each have their own plans for the ring, and neither hesitates to use members of their own families to further their ends.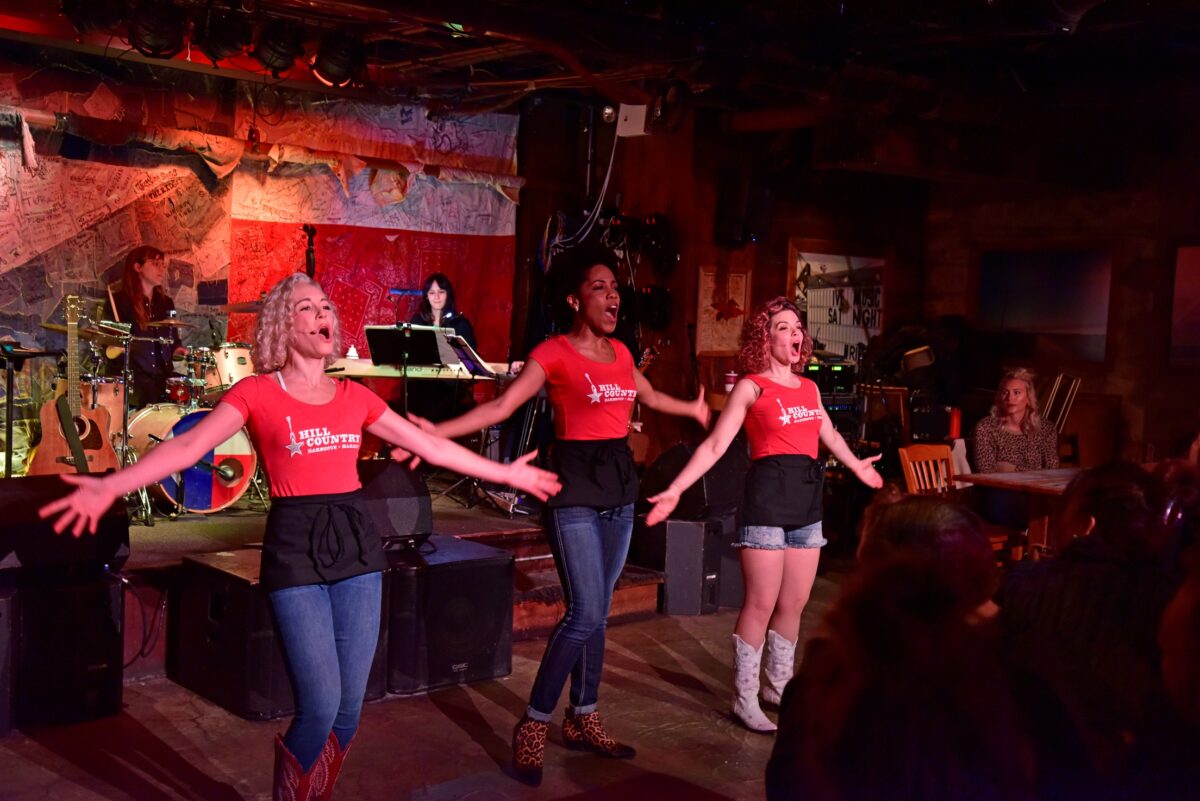 Caught up in all this scheming is Wotan's grandson Siegfried (Hughey), who is planning to marry the lovely Brünnhilde (Jessica Fishenfeld). Siegfried freed his intended from a 20-year sleep.
Standing in their way is Alberich's daughter Gutrune (Justine Aronson), who has her eyes on Siegfried, and her brother Gunther (Mason), who wants nothing more than to carry—literally if need be—Brünnhilde down the aisle himself.
Showing time and again the follies of blind ambition, which in this case has ruined relationships, caused a woman to be carried off by two giants, and reduced the rivermaidens to working as mermaids in a local aquatic show, the underlying message of "Das Barbecü" is about finding the courage to do what's right, no matter how dear the personal sacrifice might be.
With so many of the characters having their own agendas, it's interesting how often rivals come together for a greater good, or at least for their own self-preservation and peace of mind. In one hilarious sequence, Alberich and Wotan wonder how different things might have been if they hadn't spent all their time hating each other.
Siegfried and Gunther, and Brünnhilde and Gutrune also find themselves becoming frenemies, albeit each pair for completely different reasons. There's also the realization that, rather than wandering the world seeking answers, often the things one needs most can be found where his or her journey actually began.
First and foremost however, "Das Barbecü" is determined to show its audience a foot-stomping good time. The book by Jim Luigs zips along from one situation to the next with characters and subplots not particularly crucial to the central plot dispatched with a quick line or standalone song.
The text contains more than a few R-rated moments and politically incorrect tweaks, but none that overtly sting or annoy. Each of these instances is calculated to invoke maximum laughter.
Luigs's lyrics and Scott Warrender's music are a perfect fit. The musical numbers give the show an infectious honky-tonk feel. Be it a comic offering on the secret to a happy marriage ("Makin' Guacamole"); a quiet romantic ballad between lovers ("Slide a Little Closer"); a rousing declaration ("Rodeo Romeo"); or the opening number which sets the tone ("A Ring of Gold in Texas"), each scores a homerun in its delivery.
The entire cast, all of whom play multiple roles, are excellent, with characterizations changing at the drop of a hat. Zuri Washington is the standout, with a wonderful singing voice, and striking a particularly poignant note as Fricka, the woman Wotan seems to have left behind.
Especially effective are Mason as Wotan, Aronson as Gutrune, and Fishenfeld as Brünnhilde. The entire company is helped tremendously by the efforts of an onstage, six-piece band, and some very strong work by co-directors Eric Einhorn and Katherine M. Carter, and music director, conductor, and keyboardist Emily Senturia.
"Das Barbecü" doesn't so much skewer its source material as pay homage to it. It takes the audience on a trip through a world of good ole' boys, heroes, villains, star-crossed lovers, and otherworldly creatures, some of whom learn a valuable lesson before the end.
'Das Barbecü'
Hill Country Barbeque Market
30 W. 26th St., New York City
Tickets (with or without dinner): OSOpera.org
Running Time: 2 hours, 25 minutes (one intermission)
Closes: Feb. 11
Judd Hollander is a reviewer for Stagebuzz.com and a member of the Drama Desk and the Outer Critics Circle.