You have a number of choices when it comes to the flooring in your bathroom, from linoleum to tiles and more. If you are looking for something sleek and elegant, a popular option is to have the floor tiled with mosaic glass. The tiles come in many different sizes, and while square is the most common shape, there are a variety of other shapes available. But, there are some drawbacks to having this type of flooring. For instance, if you have a large family and a lot of traffic, it is not the best flooring option. It can also be quite expensive to install and maintain, so it is definitely something to put a lot of thought into before doing. If you are considering this type of flooring, you can find the best deals on tiles at Wholesalers USA.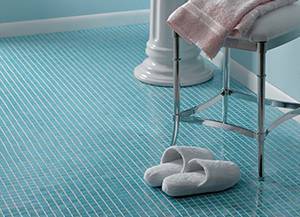 There are many advantages to having your floor made from mosaic glass tiles, such as: 
Clean – This is one of the easiest types of floors to keep clean. The tiles are stain resistant, and they don't get mold or mildew build-ups. They also don't show dirt as easily as other types of flooring. They are non-porous, so dirt won't soak into the tiles, and they are extremely easy to clean with just a damp mop and warm water. 

Unique – You can create so many different and beautiful designs with mosaic tiles, and your bathroom will be completely unique to you. As long as they are properly installed, they can be laid in just about any design you can imagine. You can choose from solid or multicolored tiles, and there are also repeating pattern tiles that can be used to create really complicated designs. 
Environmentally Friendly – It takes a lot less time to create glass tiles than it does to make ceramic tiles of the same size. Reclaimed glass refuse is often used to make recycled glass tiles. 
Strength – Tiles are strong as flooring material, and resist cracking when sharp force is applied directly. Although it is not recommended, you can even hit it with a hammer and it shouldn't break.
Luminosity – If you use a lot of dark tiles, you will notice that they reflect light, and they will almost glow.
While there are many advantages to this type of flooring, there are also disadvantages. Some of the cons include:
Expensive – These tiles are not cheap. Generally, the nice colors run between $30 and $40 per square, with repeating patterns costing as much as $100 for one square foot. 
Difficult to Install – You need to be extremely careful installing mosaic glass tiles, so the adhesive can't be seen. It is best to hire a professional installer, which is going to add to the overall cost of the project. 
Scratches – While glass tiles are hard to break, they are pretty easy to scratch. Over time, there will be a lot of scratches, and the floor will need to be replaced. Certain colors and finishes can hide the appearance of scratches.
Breaking – Mosaic glass tiles may not be easy to break, but when they do, the breaks are sharp. Once a tile is broken, never walk on it with bare feet.
Slippery – Even though there is a bit of traction with the grout, glass is slippery by nature because it is so smooth. You may want to use a non-slip bathmat or throw rug to avoid slip and fall accidents.
Having a bathroom floor that is designed with glass mosaic tiles is beautiful, but it is also expensive to install and repair. Eventually, it will need to be replaced.