The U.S. Uyghur Forced Labor Prevention Act (UFLPA) came into effect on June 21. This potentially far-reaching legislation prohibits imports that are made by forced labor in Xinjiang, China, which includes cotton products.
About 90 percent of China's cotton is produced in Xinjiang, and the region has almost no capacity to provide evidence that forced labor is not used. The situation may cause China's textile and garment factories to avoid using Xinjiang-produced raw materials if they want to export their products, unless the Chinese regime stops slavery in Xinjiang.
The European Union adopted a resolution on June 9, condemning the crimes against humanity toward  Uyghurs and calling for a restriction on imports of products made via forced labor.
UFLPA
The State Department implemented the UFLPA on June 21.
The State Department is committed "to continue combating forced labor in Xinjiang and strengthen international coordination against this egregious violation of human rights," read the State Department statement.
The Act was signed into law by U.S. President Joe Biden on Dec. 23, 2021.
The State Department said in its 2021 report on international religious freedom, released on June 2, that the White House estimated that the Chinese regime "has detained more than one million Uyghurs, ethnic Kazakhs, Hui, and members of other Muslim groups, as well as some Christians, in specially built internment camps or converted detention facilities in the Xinjiang" since April 2017.
Although Beijing denies any violation of human rights, the State Department stated on Tuesday: "We are rallying our allies and partners to make global supply chains free from the use of forced labor, to speak out against atrocities in Xinjiang, and to join us in calling on the government of the PRC to immediately end atrocities and human rights abuses, including forced labor."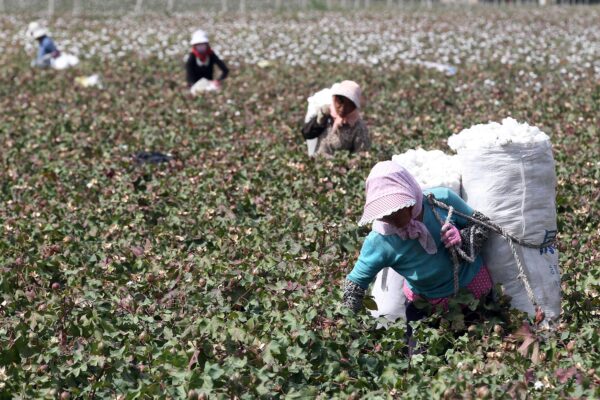 The UFLPA impacts the production of Xinjiang cotton, which impacts China's textile businesses that use cotton as one of its raw materials. As the Chinese regime proudly claimed, China is the world's largest textile exporter.
According to Statista, China exported textiles valued at $154 billion in 2020, accounting for 43.5 percent of the world's textile export market.
Xinjiang is suited for growing cotton due to its vast lands and a desert climate. The Chinese National Statistics Bureau released on Dec. 14, 2021, said that Xinjiang produced 89.5 percent of China's cotton in the year using 82.8 percent of the country's total cotton planting area.
In 2022, Xinjiang's cotton planting area used 86.4 percent of China's total cotton planting area, which means its output will share more than 90 percent of the country's total production, China Cotton Association reported on May 25 after conducting a nationwide survey.
Xinjiang is divided into north and south by the Tianshan mountains. In northern Xinjiang, over half of the residents are of Han ethnicity. The farmers plant short staple cotton, which enables them to use machines to plant and harvest the crop.
In southern Xinjiang, the majority of people are Uyghurs. The cotton planted there is the long staple species, which is the best quality cotton in China. However, cotton harvesting relies on hand-picking.
Labor costs in Xinjiang are relatively low. The cotton is picked by hand in south Xinjiang and partially in north Xinjiang, which might involve the use of forced labor. In recent years, more and more cotton farmers in north Xinjiang started using machines to harvest the crop. According to the Chinese regime, 69.83 percent of cotton was picked by machines in 2020.
According to the UFLPA, the exporter, who wants to sell the textile or apparel products to the United States, must present conclusive evidence that no forced labor was involved in the products. Since most of the textile and apparel are made from cotton, the exporter needs such evidence if the cotton is from Xinjiang.
However, textile industry insiders said that there's no independent auditing service in Xinjiang, which means the exporters who use Xinjiang cotton can't verify that their products are free from the use of forced labor.
"The law will essentially act as a trade embargo against goods with input from Xinjiang," Doug Barry, vice-president of communications and publications with the US-China Business Council, told South China Morning Post on June 20.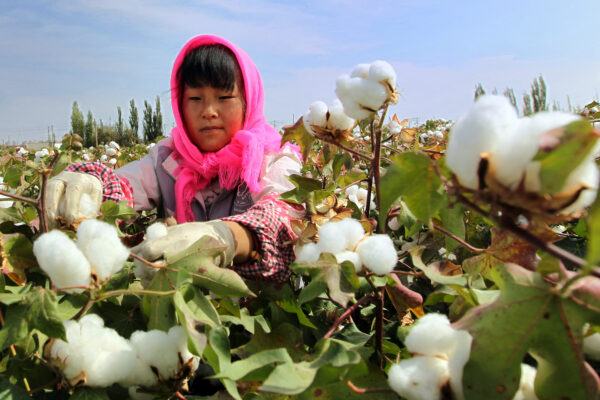 China's Cotton Industry
As the world's largest textile manufacturer, consumer, and exporter, China produced 54.3 million metric tons of fiber in 2017,  over 20 million tons of which were exported to other countries, the China Cotton Association (CCA) reported on Dec. 21, 2018.
Based on a CCA report, 36.8 percent of China's fibers are exported, and the United States is China's biggest importer.
At the same time, China imports cotton from the United States, Brazil, India, Australia, and other countries. According to China National Cotton Information Center, 25 percent of China's cotton used in 2021 was imported, and this percent will decrease to 24 percent in 2022 due to the high cotton price in the global market.
To meet the textile and apparel export volume, China needs to import more cotton because Xinjiang cotton isn't qualified to export to the United States.
UFLPA Impact
"The UFLPA is great for Chinese people and the global supply chain," Wang He, U.S.-based China affairs commentator, told The Epoch Times on June 22.
Wang believes that not all Chinese textile companies could immediately purchase qualified cotton to produce the products for export, but have to catch up because more and more countries and regions will follow the United States and ban forced labor products.
"I think that citizens of the EU would be shocked to know that a ban on products known to be made with forced labor does not already exist," Laura Murphy, a human rights professor at Sheffield Hallam University in the UK, told BBC on June 20. "The EU also needs to be a leader in passing mandatory human rights due diligence. Both these tools are necessary to ensure that companies address the forced labor and other abuses in their supply chains."
The textile industry contributed 11.4 percent of China's exports in 2020, valued at $296 billion, according to China's Ministry of Commerce.
"Being unable to use Xinjiang cotton for the textile and garment exporting industry is a disaster for the Beijing regime," Wang commented. "The Chinese economy is damaged badly by the regime's COVID-19 zero tolerance policy because cities are locked down one after another and people aren't allowed to work. The regime relies on the textile industry because China's textile and apparel exports earn almost $300 billion every year, and contribute over 50 percent of China's trade surplus."
Wang said the importers might face difficulties in finding alternatives to China-made textiles in the global market for a while. But in the long term, the world will enjoy the benefit.
"In fact, the UFLPA forces the international brands, such as H&M and Nike, to search for their original equipment manufacturers (OEM) in other countries. This can diversify the global supply chain and prosper the economy of other developing countries."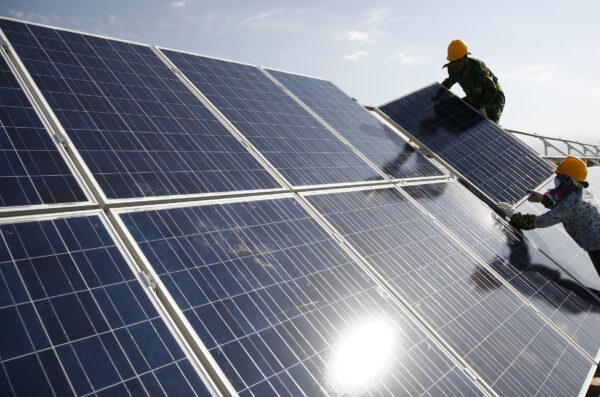 In addition to cotton, the polysilicon, a-silicon, and amorphous silicon, used in the solar energy industry will be impacted by UFLPA as well. According to China Photovoltaic Industry Association, China accounted for 97.3 percent of global silicon used for solar energy in 2021. State-run Xinjiang Daily reported on Feb. 28 that Xinjiang produced 58.9 percent of China's output.
The United States has banned the import of goods produced by forced labor since 1930, when section 307 of the Tariff Act went into effect. The U.S. Customs and Border Protection (CBP) announced on its website the entry into force of the UFLPA and released operational guidance for importers on June 13.