The Hunt is Over! 260 Big Easter Eggs Unveiled at Rockefeller Center
April 20, 2014 7:11 am Last Updated: April 22, 2014 7:34 pm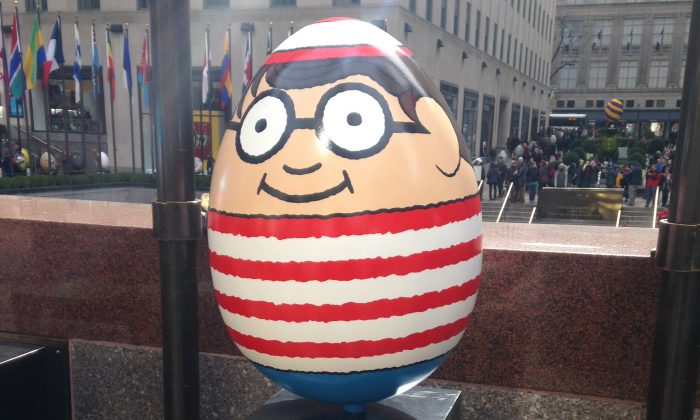 NEW YORK—In anticipation of Easter, 268 unique egg sculptures were set up for display Friday at the Rockefeller Center. This exhibition serves as the finale for the citywide Fabergé Big Egg Hunt. 
Each egg is designed by a different artist or fashion designer, and all of them will be sold for charity. 
The price of the eggs range from $500 to $360,000, with the highest starting bid going to the egg by contemporary artist Jeff Koons. The top bidding 35 eggs will be auctioned off at Sotheby's and the rest will be sold online. 
The proceeds made from the auction will go to two different charities: Studio in a School, a NYC-based student arts nonprofit, and Elephant Family, a UK nonprofit dedicated to protecting the endangered Asian elephant. Elephant Family created the Big Egg Hunt.
"As Asia and Africa are facing an extinction of species, this is rebirth. Eggs produce. So that is the connection," said Mark Shand, co-founder and chairman of the Elephant Family.
Before the eggs were moved to the Rockefeller Plaza, they were hidden at various locations throughout the five boroughs. The public was encouraged to participate in the hunt for these eggs. The Big Egg Hunt was held in London in 2012 and raised $1.5 million for charity. 
Faberge, a luxury jeweler that specializes in egg themed jewelry, sponsored the event. Russian jeweler Peter Carl Faberge created the original Imperial Faberge jeweled eggs that were made for Russian Tsars more than a century ago.
"Fabergé himself in the old days was very much tied into sponsoring young artists, that is the case here with the Fabergé Easter Egg Hunt. A lot of artists have produced masterpieces for this exhibition," said Geza von Habsburg, curatorial director of Fabergé.
One participant is couture designer Maggie Norris. She spent 6 months creating her egg, which is currently on auction for $500 dollars. It is covered in silk velvet and encrusted with Swarovski crystals. 
"I was very inspired by Fabergé and his beautiful eggs, and I chose the Imperial Rosebud egg, and I used that as my inspiration for my egg," said Norris. 
The exhibition attracted many New Yorkers and tourists who were delighted to see the eggs right before Easter. 
"I think this is the most fantastic Easter experience you could ever have. It's such a great way to show the variety of artists in the city," said Joan Shrensel, a New Jersey resident.
The eggs will be on display at the Rockefeller Plaza until April 25. 
Yi Yang is a special correspondent in New York.