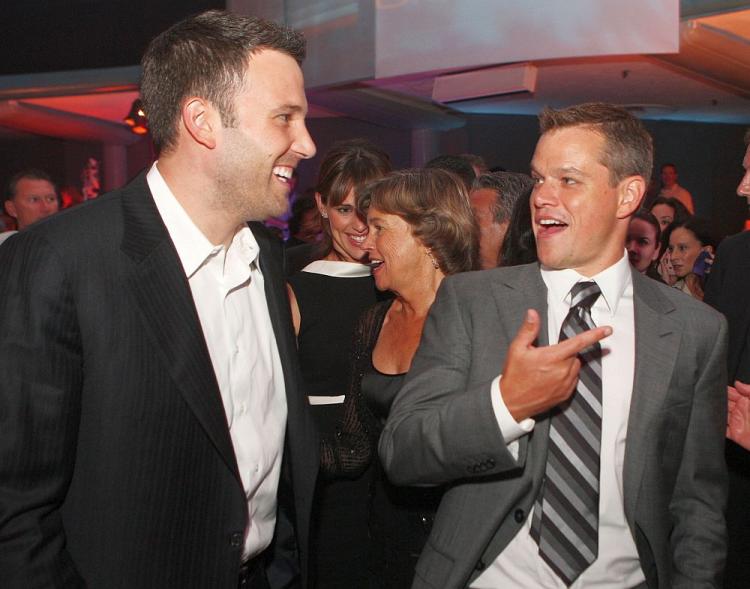 Matt Damon and Ben Affleck: Friends and Cousins?
The New England Genealogical Society has discovered evidence that actors Matt Damon and Ben Affleck share a descendant and are, in fact, 10th cousins, once removed. The two famous friends are distantly related to Mr. William Knowlton Jr., a bricklayer who emigrated from England in the 1630s, according to the report. The New England Historic Genealogical Society is the country's oldest and largest non-profit genealogical organization.
Duggar Family Welcomes Grandbaby
Reality television family The Duggars added one more to their ever-expanding brood this week as Joshua and Anna Duggar welcomed the birth of daughter Mackynzie Renee on Oct. 8. This is the first grandchild for Jim Bob and Michelle Duggar, the famous parents of 18—soon to be 19—children. All family members are reportedly very happy and doing well. Little Mackynzie's birth will be featured in the next episode of "18 Kids and Counting" on TLC.
Sigourney Weaver Maintains Dedication to Gorillas
Actress Sigourney Weaver, the honorary chair of the Dian Fossey Gorilla Fund, spoke in support of the organization's current initiative. The orilla Rehabilitation and Conservation Education (GRACE) center will open in March 2010 in the Congo. Weaver said on Saturday that orphaned gorillas are in desperate need of the facility. Weaver first became interested in gorilla rescue when she played the role of Dian Fossey in the 1980s film "Gorillas in the Mist."
Bill Pullman, Julia Stiles Star in 'Oleanna'
David Mamet's "Oleanna" opens on Broadway this week with two Hollywood stars. The drama stars Bill Pullman ("Sleepless in Seattle," "Independence Day") and Julia Stiles ("Save the Last Dance," "Mona Lisa Smiles"). This marks Stiles' Broadway debut. The show is running at the John Golden Theatre.
For Miley Cyrus, That's a 'Rap'
In a pop culture moment this past week, singer Miley Cyrus (Hannah Montana) shut down her popular Twitter page and posted a rap video of sorts on YouTube explaining why she did it. The pop star was being followed by over two million people before she put a stop to it all. In her rap, she explains, "I want my private life private. I'm done trying to please. I ain't living for tabloids. No, I'm livin for me."