Texas Gov. Greg Abbott's administration is filling U.S.–Mexico border barrier gaps with repurposed shipping containers, a spokesperson confirmed.
Shipping containers were deployed around Eagle Pass, Texas, starting in October to curb a surge of illegal immigrants trying to cross into the United States, Abbott spokeswoman Renae Eze told news outlets. Previously, images taken along the border showed that the containers—which are generally between 10 and 40 feet in length, about 8 feet high, and 8 feet wide—being stacked along the border.
"Texas Gov. Greg Abbott directed state agencies … to begin placing large storage containers end to end at low-level water crossings to physically block any illegal immigrants from entry," Eze said.
Her comments came in response to a Fox News interview with Rep. Troy Nehls (R-Texas), who said that Abbott found a cheap and resourceful way to curb illegal crossings. The shipping containers are placed in a strategic way so as to divert illegal aliens to areas where there are more Border Patrol agents and police.
"It's a tool that the governor is using to try to help slow down, curb this invasion," Nehls said in the interview last week.
Thousands of National Guard soldiers and DPS troopers are being deployed to place the containers as well as erect additional barriers with razor wire, Eze said. Eze told news outlets that she would not comment on how Abbott obtained the shipping containers or how many are being deployed to the Texas Department of Public Safety (DPS).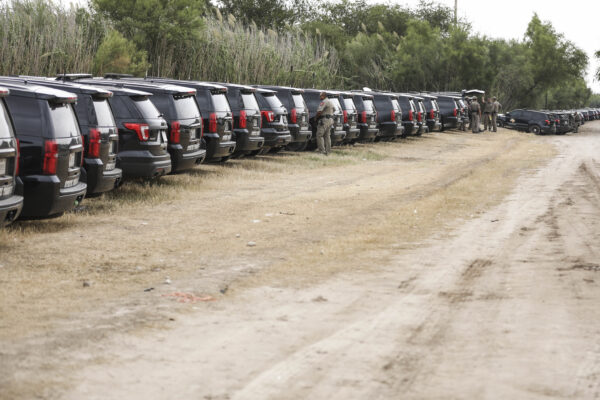 But Abbott told Fox News on Oct. 28 that his administration is placing them in areas that could be targeted by illegal immigrant caravans.
"We begin dropping these large containers that you see on 18 wheelers, you also see on these ships that are going across the ocean," said Abbott. "We're dropping them down on locations that could be crossings that would be used by these caravans to serve as a blockade to prevent them from coming across the border.
Earlier in the year, Abbott signed a $1.8 billion border security bill that would include up to $750 million for the construction of a Texas-Mexico border wall.
"We have 1,250 miles of border in Texas. That's a lot of area to cover and we're doing the federal government's job for them because they refuse to do it on their own," Nehls told Fox News before blaming the Biden administration for having rescinded a Trump-era order that suspended federal construction of the wall.
Border patrol authorities have detained more than 1.7 million illegal aliens along the U.S.–Mexico border so far during the 2021 fiscal year, according to data released by Customs and Border Protection. That figure exceeded a record set in 1986 when 1.69 million arrests were made by border agents.