Maddie Warden, a 16-year-old daughter of sheep farmers from Walgett in New South Wales, Australia, needed to catch a break. Droughts had ravaged the region and Maddie spent the bulk of her holiday dragging thirsty, drowning sheep from the family's reservoir.
Luckily, her break came in the form of a drought-relief concert in Tamworth and an unexpected surprise from singer Keith Urban. Country music legend Keith flew into Tamworth especially for the exclusive relief gig at the city's country music festival.
🎸🎤WHAT A NIGHT FOR MADDIE!🎤🎸Maddie Warden was given a ticket to Keith Urban's concert when a family member couldn't…
Keith pulled Maddie from the crowd and gave her his electric guitar. Maddie, herself a musician, was completely blown away.
It turns out, her presence at the concert was never a sure thing: "My dad and mom were meant to go," Maddie revealed, talking to ABC, "but my dad couldn't come, so I got the ticket … It was a bit of a freak accident."
The teenage student and sheep farmer traveled to the Tamworth Country Music Festival for a much-deserved change of scenery, knowing she would have to replenish her spirits in order to return to the drastic situation at home on the farm. The area is in desperate need of rain. "All our water's running really, really, drastically low," Maddie said. "The dams are getting way too low and [the sheep are] just getting stuck trying to get a drink."
Traveling to the gig had been worth Maddie's effort. Not only were her spirits leavened, but she now has a beautiful new guitar, with Keith Urban's stamp on it, to take home with her.
Hopefully, Maddie's renewed positive outlook will inspire her family. They have a tough journey ahead, recovering from the drought and restoring their farm. However, it sounds as though Maddie and her family are already coming from a place of strength: "You've always got to remember you'll get through. I've got my family and everything," Maddie said.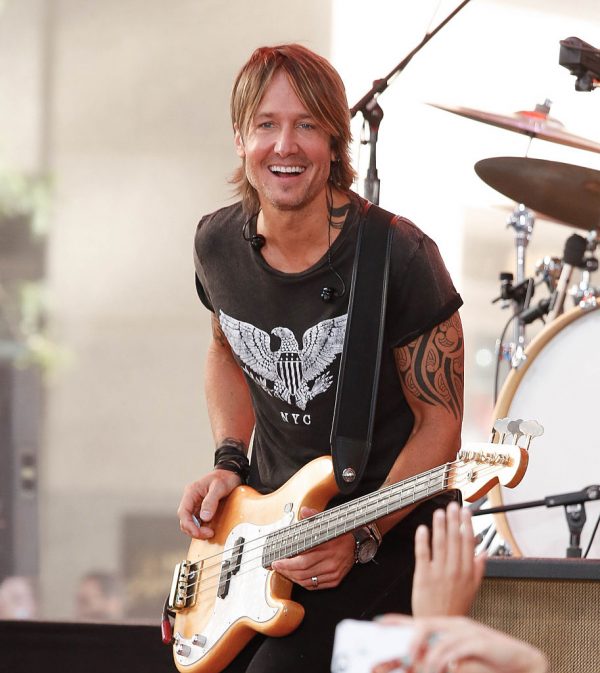 Musician Keith told ABC that the Tamworth concert was a homecoming: "It was just the most amazing feeling coming back to this hall, it feels like it hasn't changed. It all began here … knowing that it all started here, feels full circle."
Keith even posted photos of himself as a boy, playing in the very same venue, the Tamworth Town Hall. Fond memories overflowed. Keith even won a trophy in the junior category of the Capital Country Music Association Awards as a 9-year-old. "Tamworth and I go back a long way," he recalled, fondly. "When you're nine, this thing looks like a stadium."
Tamworth Mayor Col Murray was hugely appreciative of Keith's visit to the drought-stricken town, saying that he was very grateful that Keith had acknowledged the issues that regional Australia is facing. "It's a great gesture and quite fitting," he expressed. Mayor Murray knows that Keith's visit was not only respite for local country music fans but also helped garner attention for the region's plight, and the scale of the wider environmental issue.
Keith was able to aid the relief of the drought whilst also revisiting a venue that played a huge part in his early musical career. Not to mention, he brought delight to one deserving teenage fan who won't be forgetting this concert in a hurry.
There were a huge number of Keith Urban fans in Tamworth before the drought-relief gig. We're willing to bet there are a whole lot more, afterwards.
We love you, Keith! Spread word of the devastating drought and Keith's generous gesture by sharing this story.