Driving in the midst of snow and ice can be rather treacherous. Worse yet, if your car gets stuck, you may then put yourself at risk of frostbite or hypothermia. Luckily for one Canadian truck driver, a kindhearted teen looked out for him when he was trapped in such a scenario back in 2017.
From their home in Manitoba, Canada, teenager Eileen Eagle Bears and her mom saw a semi-truck stranded on Highway 10 in Souris Valley amid a heavy snowstorm. They tuned in to real-time webcam footage to see traffic conditions along Manitoba highways on the night of March 6, 2017.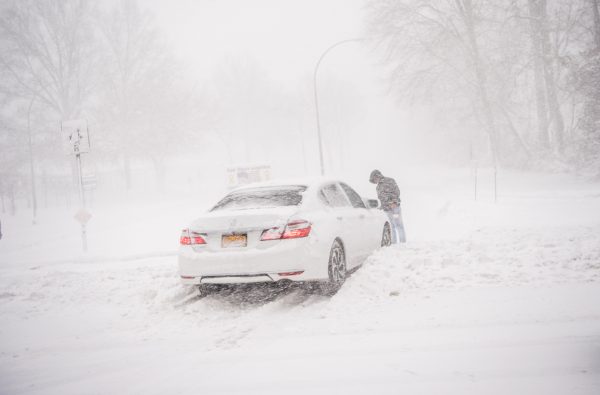 Wanting to help, Eagle Bears planned to bring the stranded truck driver some hot coffee if he was still stuck there the next morning.
Keeping up her determination, she surely did.
After noticing the semi-truck remained in the same position on the highway, Eagle Bears hopped on her horse, Mr. Smudge, and rode for an hour despite the icy conditions. She rode a 6-mile round trip up and down the hill just to deliver a thermos of hot coffee to the stranded truck driver.
"There was a lot of ice on the road from the rain that we had got and drifts were bad in a few places. But the morning wasn't too bad to get there and come back," Eagle Bears told CBC.
Manitoba teen rides horse through snowstorm to bring coffee, dinner to stranded truck driv… https://t.co/Uoc0lAQXpv pic.twitter.com/qMOoQh6nUY

— CBC Manitoba (@CBCManitoba) March 9, 2017
The stranded truck driver—Peter Douglas, of Winnipeg—found himself stuck in his semi-truck on Highway 10 at around 4 p.m. on March 6, 2017, as he was traveling to Brandon from Boissevain.
"The Souris Valley was one sheet of ice and I couldn't pull the whole thing. I was trapped," Douglas told CTV News.
Unfortunately, Douglas had to sleep in his truck that night. But when he woke up the next morning, he received a lovely surprise: Eagle Bears was there with her thermos of hot coffee.
"Lo and behold, first thing in the morning, I look out my window and there was a horse and a young lady by the name of Eileen Eagle Bears," said Douglas, who was blown away by the teen's kind gesture. "She brought me coffee."
In a total display of kindness, the generous Eagle Bears even invited Douglas to her home; however, he declined as he wasn't allowed to leave his truck on the road, Indy100 reported.
Keeping her promise, Eagle Bears made the trip again with her reliable steed, Mr. Smudge, later that evening, delivering water and a thermos of stew and potatoes.
Douglas was caught surprised, yet again.
Alluding to her compassionate deed, Eagle Bears, said: "I just did it because I wanted to help, so I just feel like I did the right thing."
"He was just really glad that someone knew that he was there and that someone cared," she added.

While Eagle Bears was doing the delivery, her mom, Heather Eagle Bears, was watching her movements on live webcam footage.
She then posted a webcam image sharing her wonderful act of kindness on Facebook. She wrote: "Highway cam on #10 caught a pic of Eileen Eagle Bears delivering coffee…on horseback…to stranded trucker in the storm…she rode 3 miles each way to check on him."
Unsurprisingly, Eagle Bears's good deed went viral, garnering more than 2,700 reactions and over 1,600 shares, winning praises from social media users.
"She was that drivers saving grace! Thank you young lady for your kindness you shared has [sic] touched more than just that one driver. But it has touched each one of us that has read about your sacrifice to make sure a stranger is taken care of. You are a true angel," one wrote.
Another one commented, "Very thoughtful and brave young lady!"

While one remarked: "What a shining example of a caring person!!!! This world would be a better place if we all looked out for one another as your daughter did for this trucker!!!! You should be very proud!!!"
Heather Eagle Bears later revealed in the comment thread: "She's a good rider and took Mr. Smudge…she rode where drifts were smaller and knows [sic] the road."
"For those that don't know…Eileen Eagle Bears is just 18 years old…showing maturity beyond her years," the proud mom wrote.
Indeed, we couldn't agree more.

According to Eagle Bears, Douglas got towed away later that night.
Eagle Bears's gesture has warmed the cockles of our hearts. Though Douglas was stranded in the cold on the highway for nearly 28 hours, his heart was filled with warmth of love.
Kudos to the thoughtful and big-hearted Eagle Bears, as well as Mr. Smudge, for going the "extra miles" to lend a helping hand to a stranger in need.

Watch the video: